We welcome our newest and smallest long-termer – the very striking Diana Green Hyundai Santro.
The Santro's finally back and it's the first small car from Hyundai in our fleet in a long time – around five years after the Grand i10 diesel (January to June 2014) and seven years since the Eon (March to September 2012). Our Santro is finished in the funky Diana Green shade and comes with all-black interiors and colour-coded bits on the dashboard, which actually looks better than the common, dual-tone black-beige theme. The new Santro is definitely more upmarket than the original one and, as pointed out in our road test, it is more of an i10-level hatchback now. Hyundai has loaded the top-spec car with all the bells and whistles. You get steering-mounted audio controls, rear wash and wipe, a tachometer, all four power windows and the works, as well as a 7.0-inch touchscreen infotainment system that's part of the standard fitment list these days.
EASE OF ACCESS: Front and rear doors open wide helping smooth ingress/egress.
Getting into the Santro, I didn't like the lift-type handles on the door; their quality and functioning are quite slick but they look outdated. Hyundai also call this Santro a tall-boy hatch, but I found the front seats to be positioned a tad low; there is no height adjustment here. Also, the seats are a bit narrow and feel one size small, especially for me, as I am coming from a Tata Tigor, which gets a considerably large front seat (so does the Tiago). The seatback on the Santro is one-piece – which means you get a fixed headrest – and it has thick bolstering on its sides; this setup will work well for drivers with a shorter frame but I found it to be a bit uncomfortable. The headrests are also a bit smaller than those in the Maruti Celerio which has a similar front-seat setup. The cushioning, however, seems just right.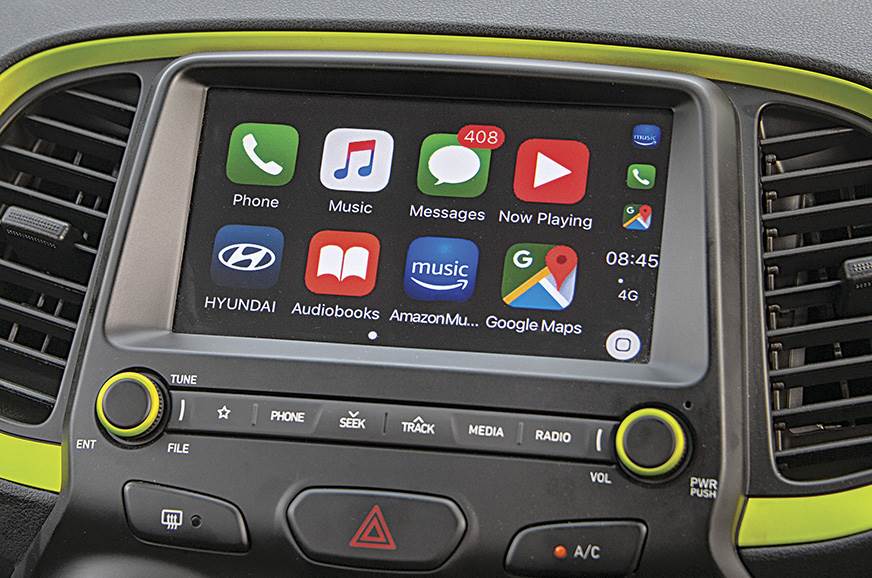 SMOOTH AND LOADED: Slick infotainment system gets Apple CarPlay and Android Auto.
Though the parking space inside my apartment complex is a bit tight, the Santro's compact dimensions and light steering make wheeling it in a breeze. I haven't yet taken the car out for a long drive and it's only been run in the city, where its clutch and steering feel super light.
The high-set gear lever is also very convenient to use. While the positioning is the same as the Grand i10 and the now-discontinued i10, shifts are not as slick and feel very mechanical. However, that does not affect the driving experience much, once you get used to it. Overall, the switchgear feels quite premium and some of it is shared with larger and more expensive Hyundai models, and that is a good thing.
ONE-PIECE: Tall drivers will find the fixed headrests to be uncomfy.
Hyundai has placed the power window switches centrally, in between the seats. The buttons are placed at the same level and are distinctively marked, but they are not embossed – this makes it difficult to locate the right one without shifting your gaze below. Also, the switches aren't backlit; I faced some trouble locating them when driving at night.
The 1.1-litre engine is quite refined for its class. There's almost no vibrations at idle and it's not that hard to forget that the engine is actually running. The Santro won't race off the line but there is enough performance on tap to keep up with the flow of traffic, overtake when needed, and cruise happily at city speeds. I had a chance to take the car briefly onto the highway and it does not feel that stressed in the 80-100kph band, with five on board; however, there's some engine noise that enters the cabin if you rev it harder.
SWITCH PLACEMENT: Window controls aren't backlit and take some getting used to.
The Santro has been with us for around a month and we've clocked slightly more than 3,500km on it. In my daily commute of around 30km, which includes a lot of bumper-to-bumper traffic, the Santro delivers a decent fuel economy figure of around 12.5kpl; I think it will go up as the car clocks more kilometres.
I've got an intercity trip that's expected to happen soon. And that will give me more time with the car and also let me fiddle around with its features, like the infotainment system that gets Apple CarPlay and Android Auto, which I have tried only briefly so far. More on that and how the car performs while munching more kilometres in my next report.
Hyundai Venue N Line vs Mahindra XUV300 TurboSport drag race
396 Views|5 hours ago
Hyundai Exter vs Tata Punch comparison video
32250 Views|1 month ago