Soon after it arrived in our fold, the Passat quickly established its long-distance credentials.
Mumbai-Mahabaleshwar-Mumbai-Pune-Lonavla, and a bit of running around in each town, all on one tank of diesel. Or, 901km without popping the electrically operated fuel-filler flap. That's the sort of real-world range an electric car can only dream of (for the next decade at least), and that's the range our long-term VW Passat comfortably gave me. With a bit of light footing, I could have easily crossed the 1,000km mark on a single tank, which would have been some record of sorts, but a drive that involves Mahabaleshwar can never be done with a light foot!
My first date with any car is a customary weekend in Mahabaleshwar; it's my way of getting to know a car intimately. So I was happy to discover that, like a good weekend guest, the Passat didn't trouble me with a drinking problem. The fuel gauge needle dropped by only a quarter after the 280km drive to Mahabaleshwar and put my biggest worry to rest – refuelling at the hill station. The one thing I hate doing in Mahabaleshwar (even more than going for long walks) is tanking up. There are only two fuel pumps in the entire hill station and that means invariably having to wait in long queues to fill up. To make matters worse, both pumps are located in the busiest part of town, which during peak season is overwhelmed with tourists and permanently gridlocked with traffic. It's easier to get diesel from Iran!
RANGE EXTENDER: 900km on a single tank of diesel.
The Passat's huge reserve of fuel set the tone for the car's astonishing practicality that is best appreciated on long drives. The huge 586-litre boot came in handy and swallowed not just bags but even random household items that we usually take to stock up the house with, after a four-month monsoon break. It's a superbly designed boot, with no major intrusions, a flat floor and a full-sized spare underneath.
It's also on a long drive that you discover how comfy the seats really are and I can safely say the Passat's are the best I've experienced by any standard. The true test of a good seat is if someone like me with an age-old back injury can emerge after a 4-5 hour drive without aches or twinges. I felt as fresh as the mountain air after reaching Mahabaleshwar, thanks to a seat design that is pretty much faultless. Made for large Americans and Europeans (the Passat's core customer base) the seats are big but yet snug thanks to the perfectly designed side bolsters. The 12-way electrically adjustable driver's seat allows me to find the perfect driving position, but the secret is the seat cushion, which has the right amount firmness and density – it's not too hard and not too soft.
I haven't really got a chance to sit at the back just yet and that's because I'm enjoying the easy nature of the Passat from behind the wheel.
SEAT TREAT: Incredibly comfy front seats keep you fresh for hours.
The 2.0-litre diesel mated to a 6-speed DSG is a tried-and-tested combo that's possibly the most prolific on VW Group cars, at least. It's a very familiar powertrain that I've experienced in Audis, Skodas and other VWs too. The engine note has a characteristic gruffness that's heard only when you rev the motor hard, but while cruising, the engine is pretty quiet and on the Mumbai-Pune Expressway, it's drowned by the noise generated by the coarse concrete surface.
The Passat is an outstanding cruiser and feels wonderfully tied down at expressway speeds. The steering, though benign and devoid of any engagement, has enough heft to give you a great sense of security. In fact, the Passat's solid build, nine airbags and the overall feeling of safety you get at speed is hugely comforting. It's a car you'll want to travel in with your loved ones for this very reason.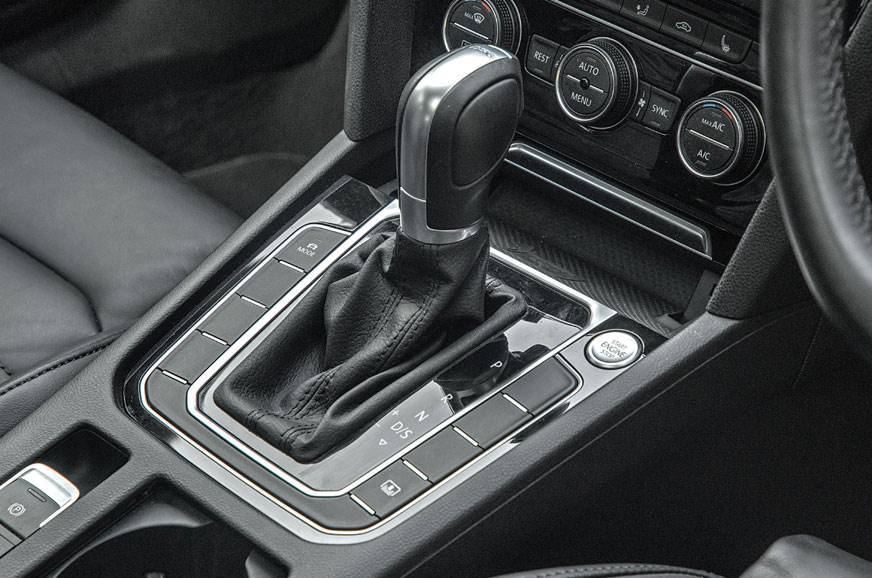 DELAYED REACTION: Hesitation from DSG unit can be tricky in the hills.
The DSG 'box imperceptibly glides from one ratio to another and nicely smoothens out the spikey power delivery this engine is known for. But, the DSG's main flaw, that momentary hesitation when you slam your foot down, is still there.
This delay or gearbox lag was most worrisome on the last 40km before Mahabaleshwar. It's a single-lane road and around 30km are up in the hills where you want an instant response when you flex your right foot, to overtake or power out of a corner. In such instances, it's best to go manual and use the nicely crafted paddleshifters, which gives you more control of the engine.
The ride quality is pretty good too but it's not exemplary and I can think of many other sedans and SUVs that cosset you better. The primary ride over uneven roads is impressive and the Passat soaks up patchy bits with a gentle lope. It is sprung a touch on the soft side, which suits our low-speed environment well. What catches the Passat out, however, are the ruts and edges, which clunk quite audibly through the cabin. This harshness is typically a consequence of short tyre sidewalls, but in the Passat's case, the 215/55 R17 rubber has a tall enough profile to absorb the shocks. My guess is that the issue is with the rebound damping of the suspension.
SUSPENDED MATTER: Suspension clunks loudly over sharp edges.
Overall, the Passat has been an utterly dependable long-distance companion and a pretty economical one at that. On the highway, the best figure I got was 15.2, while the overall figure is also an impressive 13.1kpl.
My chatter in the office about the Passat's cross-country capabilities has caught Sergius' attention and I suspect he's planning a quick trip to Goa in it.