The Mahindra XUV700 and Tata Safari have been among the newsmakers of 2021. We bring the two flagship SUVs together for one big fight.
The Tata Safari and Mahindra XUV700 are easily two of the most talked about new SUVs in India at the moment. Being the flagship models of India's very own automotive brands, there's a nationwide interest in knowing what they're like, but there's more to the mania. Big in size, tough in build, and versatile with three rows of seating, the Safari and XUV700 fit the image Indian buyers have of 'proper' SUVs, an image, perhaps, subconsciously cemented by none other than the original home-grown heroes, the Tata Safari and Mahindra Scorpio from two decades ago. Sure, the new Safari and XUV700 are far removed in their monocoque construction and front-wheel-drive layouts, but the fundamental SUV-ness is very much there.
Dual 10.25-inch screens lend XUV cabin a new-age techy look.
Of course, a lot of the chatter around these two is centred around which one's better. And that's where we come in. We'll be blocking out the noise to give you an objective analysis of these cut-throat rivals. As ever, we'll judge the contenders on a wide variety of parameters to pick one definitive winner.
Standing tall
Measuring over 4.6m long, the XUV700 and Safari are a full size larger than the crop of midsize SUVs better known as the 'Creta class'. A spec check will reveal that there's mere millimetres between the XUV and Safari in length, width and height, but you sure won't confuse one for the other.
XUV's middle row is big on space and seats are comfy too.
To my eyes, the XUV700 is handsome in its basic design, but styling is overdone at places. The headlights with their comma-like LED DRL extensions, for instance, are distinctive but too jazzy. Simpler looking tail-lamps too would have done the job just as well. But to a typical buyer, the XUV does wow with its upmarket looks and details like the flush-fitting door handles that, on fully loaded versions, automatically pop out on unlocking.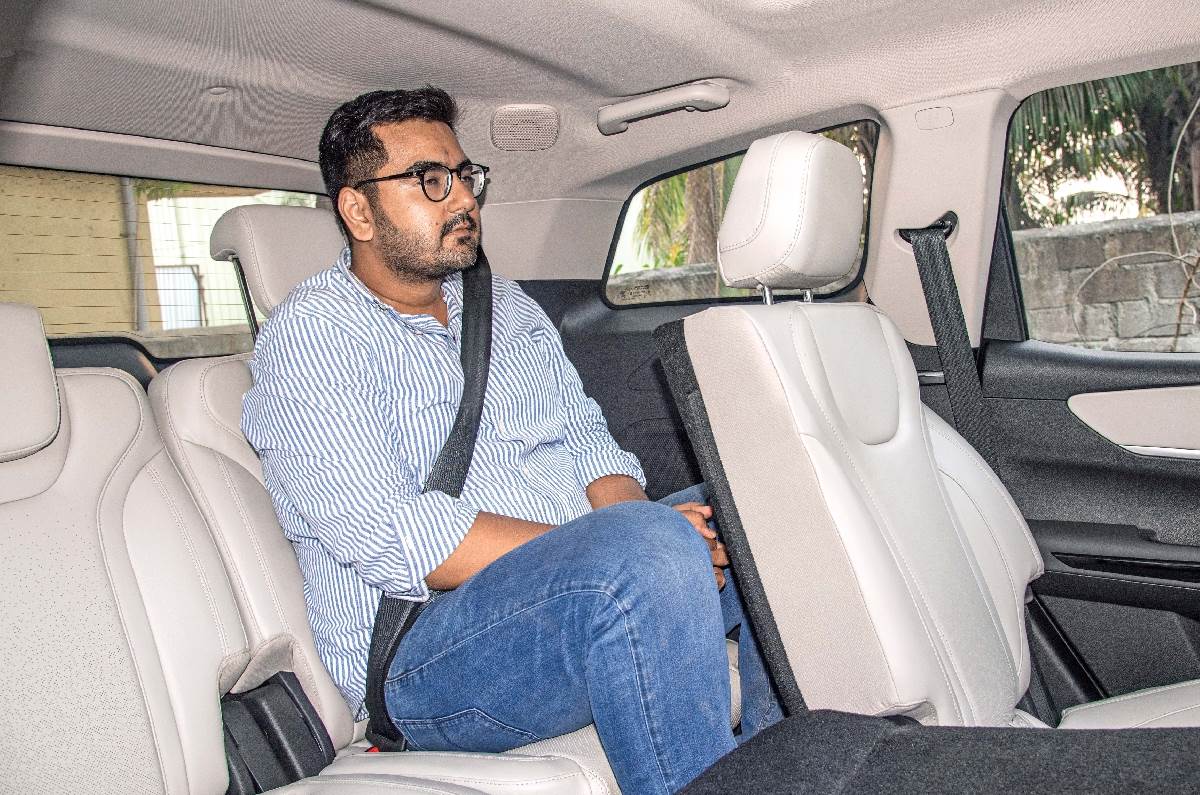 XUV's third row is tight on space and best for short stints only.
Parked alongside an XUV700, the Safari comes across as more outdoorsy in look. And while no larger than the Mahindra, it's the Tata which comes across as more rugged. The chunky wheel arches and high bonnet sure help with this impression. And while that split headlamp set-up is shared with the 5-seat Harrier, the Safari's stepped roof, roof rails and upright tail (inspired by the original Safari) really help it stand out.
XUV's ADAS features a selling point in their own right.
Cabin pressure
Getting into a Tata Safari requires a bit of a step up, but once inside, you'll like what you see. The dashboard with that thick metal-look band running its width is stylish, and the soft touch material on the dash top, among other elements, also conveys quality. Drivers will also like their commanding view out and the feeling of being in something big and tough. But as nice as the Safari's interior is, the XUV's is in a different plane.
XUV's 360-degree camera is high-res but a bit laggy.
It starts with the welcome gesture (on AX7 Luxury variants) that has the driver's seat slide back for easier ingress and egress, which is something you'd typically get in a car of twice the price. The XUV's front seats themselves are more accommodating than the ones in the Safari (there's too much side bolstering), and then there's the general look and feel of things. Material quality, for one, is a step up, with the Mahindra being more generous in its use of padded materials on the dash and doors, while smaller details like gloss plastics for the door window switches only enhance the premium experience inside. That said, the piano black surfaces aren't well finished and look a bit tacky. Of course, the major talking point inside the XUV700 are the dual 10.25-inch displays for the dials and infotainment unit system. The high-res and vibrant screens give the XUV's cabin a very tech-heavy vibe. In comparison, the Tata's part-digital dials and fuzzy 8.8-inch touchscreen arrangement looks outdated.
Equipment
Mahindra XUV700
Tata Safari
Airbags
7
6
ESC
Yes
Yes
ADAS
Yes
No
Headlights
LED
Xenon/halogen
Auto lights/wipers
Yes
Yes
Auto-dimming mirror
No
Yes
Powered driver's seat/memory
Yes/Yes
Yes/No
Digital dials
Full
Partial
Blind view monitor
Yes
No
Tyre pressure monitor
Yes
Yes
Climate control
2-zone
1-zone
Touchscreen
10.25-inch
8.8-inch
Wireless Android Auto/Apple CarPlay
Yes
Yes
Connected tech
Yes
Yes
Wireless charging
Yes
Yes
Electronic parking brake
Yes
Yes
Parking camera
360-degree
Rear
Panoramic sunroof
Yes
Yes
Drive modes
Yes
Yes
And that's the thing. Mahindra's gone to such lengths to load the XUV700 that it makes the otherwise well-equipped Safari come across as relatively basic. In addition to all that's been mentioned already, features exclusive to the XUV700 (pictured here in the range-topping AX7 Luxury Pack guise) include a 360-degree camera (it's crisp, but a bit laggy), blind view monitor (it appears on the dials on activating an indicator) and dual-zone climate control. The XUV700 also has the edge with a slightly larger panoramic sunroof. Curiously, though, an auto dimming rear view mirror is not available on any version of the XUV. Of the other things, wireless phone charging and wireless Android Auto/ Apple CarPlay are features you'd find on both, though it's worth highlighting that these are recent additions on the Tata. Safaris in limited-run Gold Edition form also get ventilation for the front seats (and rear seats on 6-seat versions) and it's expected that these features will be rolled out onto the standard range in the days to come. Both SUVs get good sound systems.
As loaded as it is, XUV misses auto-dimming mirror.
The XUV's 12-speaker Sony 3D set-up does offer more fine-tuning and variation while the Safari's nine-speaker JBL system is richer in bass.
In terms of safety equipment, both models get ABS and electronic stability control, though the XUV has the upper hand with seven airbags (including one for the driver's knee) to the Safari's count of six airbags. That the XUV's curtain airbags extend all the way to the third row is reassuring to know too. While both models comply with latest Indian safety norms, only the XUV700 has a Global NCAP rating too – 5 stars on adult occupant protection and 4 stars on child safety. Where the XUV700 blows the Safari away is in the Active Safety department.
Safari interior is stylish and gives the feel of being in a big SUV.
The XUV has the huge distinction of being the only one with camera and radar-based ADAS or advanced driver assistance systems. Over the few days of testing, we found features like adaptive cruise control, traffic assist (that automatically accelerates and brakes in stop-go traffic) and auto high beam assist (it switches to low beam on detecting oncoming vehicles) calibrated well for average Indian conditions. Thankfully, the forward collision warning and autonomous emergency braking didn't come into play at any point. However, the lane keep assist that steers the vehicle to the centre of a lane was often thrown off by our poorly marked roads and was the one ADAS feature we kept off.
Safari gets option of captain's chairs though bench is comfier.
Comfort plus
Before we talk second- and third-row comfort, it's essential to bring in the different seat arrangements these SUVs can be had with.
Lower trims of the XUV700 are offered in a 5-seat format, with a bench in the middle row. Higher-spec 7-seat versions add in a pair of seats as the third row. The Tata Safari, on the other hand, gets a third row as standard, but you can opt for a pair of captain's chairs or a 3-seat bench for the middle row.
The Safari has the far more accommodating third row.
The XUV700's middle-row bench scores well on comfort. Space is aplenty, the seat is well cushioned, there's a good amount of support and the 60:40 split seats offer plenty of recline too. The flat floor makes life better for a middle-seat passenger too, and it only helps that the XUV also has the slight advantage in shoulder room. Also, boss mode lends the option to move the front passenger seat forward at the pull of a lever, to free up additional legroom for the middle row.
Terrain modes part of Safari's arsenal, but there's no AWD.
You do get more flexibility in a Safari. Boss mode aside, there's the option to move the middle row seats fore and aft to balance legroom for the last row of passengers, and bench seat-equipped versions also feature ample recline. Were we speccing our Safari, we'd opt for the 7-seat configuration with the bench middle row. The 6-seater might be designed for the chauffeur-driven, but its captain's chairs aren't as large or comfy as they should have been. Irrespective of the version you opt for though, you'll appreciate the stadium seating and the great view out the Safari gets you. We also found the Safari's air-con vents, which sit on the B-pillar, more effective at channelling cool air than the XUV's second-row vents that are positioned lower down at the rear centre console. Just wish Tata could also find a better position for the rear USB slots that are positioned low and out of sight.
Back to back
Reaching the third row is tricky business in both SUVs, with access via the rear door. The 7-seat versions of both models get slick single touch tumble and fold mechanisms for the kerb side middle row seats. Sadly, the resulting openings on both models aren't all that large and adults, especially, will have to contort their way in. Access to the back is (slightly) more convenient on 6-seat Safaris, thanks to the option of walking in via the narrow passage between the middle-row captain's chairs.
Safari's 8.8-inch touchscreen isn't as slick as it ought to be.
At the very back, you or your passengers will be happier in the Safari. It's not perfect, but the Tata has the comfier seating position, offers that crucial bit more headroom and kneeroom, and the option to slide the middle-row seats also means you can free up space for a large adult, if just for a short stint. The high-set air-con vents also count for a lot and Tata has thoughtfully added in two USB charging sockets at the very back too.
The XUV's third-row experience isn't quite as nice. The knees-up seating position, limited headroom and foot space relegate the seats for occasional usage only. The XUV gets third-row air-con vents and blower controls like the Safari but there's only a 12V socket to juice up your phone with.
High set vents effective in keeping Safari's third row cool.
With all seats up, the XUV offers just about enough space to store a few soft bags behind the rearmost seats. In the Safari, there's even lesser room. Both models do give the option to fold the split third-row seats flat, and this frees up a lot of space. Again, it's the XUV that offers more room for luggage, thanks to its wider bed.
When it is time to load luggage, you'll note it's the Safari's heavy metal tail gate that requires quite a bit of effort to open. The XUV's plastic composite tail gate is lighter and more convenient to open/close. But how easy will it be to repair in the event of a rear collision?
Powering up
The Tata Safari's engine and gearbox line-up is pretty straightforward. There's a sole 2.0-litre diesel engine that can be had with either a 6-speed manual or a 6-speed auto transmission. The XUV's powertrain matrix is a lot more complex. There's the choice of a 2.0 petrol engine, with manual and auto gearbox options; there's also a 2.2 diesel in two states of tune, with the higher powered version further offered with manual and automatic gearboxes; and you can even have the diesel- auto with all-wheel drive. Phew! For this comparo, we've taken the popular diesel-auto versions of both, with the test XUV in Safari-like front-wheel-drive avatar.
Specifications and performance
Mahindra XUV700
Tata Safari
L/W/H
4695/1890/1755mm
4661/1894/1786mm
Wheelbase
2750mm
2741mm
Tyres
235/60 R18
235/60 R18
Engine
4 cyls, 2184cc, turbo-diesel
4 cyls, 1956cc, turbo-diesel
Power
185hp at 3500rpm
170hp at 3750rpm
Torque
450Nm at 1750-2800rpm
350Nm at 1750-2500rpm
Gearbox
6-speed auto
6-speed auto
Suspension (f/r)
Independent, MacPherson strut, coil springs, anti-roll bar/ Independent, multi-link, coil springs, anti-roll bar
Independent, lower wishbone, MacPherson strut, coil springs, anti-roll bar/ Non-independent, torsion beam, coil springs
Brakes (f/r)
Discs/discs
Discs/discs
PERFORMANCE
0-100kph
10.12s
12.00s
0-120kph
14.04s
17.53s
20-80kph (in kickdown
5.89s
7.10s
40-100kph (in kickdown)
7.30s
9.03s
You'll like how the Safari delivers its power. The Fiat-sourced 170hp and 350Nm, 2.0 diesel engine actually feels stronger than the numbers suggest, and there's enough pulling power even when travelling with a full house. Sport mode adds a spring in the Safari's step and what's nice is that the Hyundai-sourced 6-speed gearbox is well in tune with the characteristics of the engine. Gearshifts are smooth and timely, though there is a bit of a delay at the gearbox when you suddenly mash down on the accelerator. Manual inputs at the gear lever are well catered to, however. What isn't all that nice is the engine's refinement. It's audible at idle and sounds grumbly when building speed.
Where the Safari's powertrain is good, the XUV700's is great and quite frankly in a different league. The Mahindra's 2.2 diesel engine not only has the displacement advantage, but its 185hp and 450Nm make it a whole lot more powerful too. And you can feel the added power. The XUV feels light on its feet and peppy, in a way you just wouldn't expect an SUV in this category to be. The impression is backed by the performance numbers. The XUV is significantly quicker in kickdown acceleration (see table) and, if only for theoretical interest, is faster from a standstill to 100kph too (with a time of 10.1sec to the Safari's 12sec best figure).
XUV700 offers a more sophisticated driving experience.
Standard Zip mode is more than adequate for most scenarios, though you'll find yourself switching to Zap and Zoom driving modes that give access to all of the engine's power. The 6-speed auto also goes about its business with great smoothness and you'll like how on the ball it is, ready with a quick gearshift in Zoom mode.
Even manual gearshifts via the gear lever are slick. The XUV's diesel unit does sound gravelly when you're starting out, but engine refinement on the whole is much better than the Safari's. Also if it's ultimate refinement you desire, you'd, perhaps, be better served by the XUV700 petrol.
Twist and turn
It's in the area of ride and handling that the XUV truly distances itself from the Safari. For starters, the XUV's electric power steering is really well judged. It's light and easy to twirl at low speeds (helping the XUV feel smaller than it is) and weighs up adequately and remains linear when you go faster. The drive modes add more weight, but the difference in feel is limited at best. It's not intended to be a corner carver, but you'll be more than satisfied by the poise with which the XUV changes direction.
An all-independent suspension with sophisticated frequency selective dampers have been employed on the Mahindra and have resulted in a very un-Mahindra dynamic experience, especially if the old XUV500 is your point of reference. The XUV700 also does a great job of smoothening out surface imperfections, particularly at low speeds.
Top-spec XUV's door handles pop out on unlocking.
In the same city settings, you'll find the Safari's low-speed ride a bit jittery, the steering feels heavy at parking speeds and there's a general awareness that you're piloting something large. The Safari experience gets better as you pick up the pace. There's a confident heft with which the Tata cruises, and you'll particularly appreciate how unfazed it feels over broken patches of road taken at high speeds. However, the Tata's hydraulic steering is the weak link in the experience. There's kickback on bad roads, torque steer under hard acceleration and an inconsistency that takes away some confidence at high speeds.
It's when the going gets tough that the Safari feels its best. On mild trails, you'll find yourself taking more liberties in the Tata that feels built to take a beating. The Tata is built on a Land Rover-derived platform and that inherent toughness comes through. Dedicated terrain modes are also part of the package on the Tata. The XUV isn't a softie, either. It's tough in its own right and will do all that the Safari can, but you'll find yourself going easier in the Mahindra. The XUV does have the critical advantage with optional all-wheel drive, though.
Safari's stadium seating gives great visibility in all rows.
Both models feature front and rear disc brakes but both have their quirks in panic braking scenarios. Where the Safari's pedal feels mushy, the XUV exhibits considerable dive in hard stops.
Question of the hour
So now that you know what they're like, time to bring in prices. The Mahindra XUV700 diesel-auto in AX7 Luxury trim has a price tag of Rs 20.89 lakh, while the Tata Safari XZA+ is on sale for Rs 20.79 lakh (both prices, ex-showroom, Delhi).
Price and verdict
Mahindra XUV700
Tata Safari
Variant
2.2D AT AX7 Luxury Pack
2.0D XZA+ 6-seater
Price (ex-showroom, Delhi)
Rs 21.89 lakh
Rs 21.79 lakh
Verdict
Plush, feature-packed and great to drive XUV is a class act.
Tough, powerful and likeable, but lags behind XUV in tech and overall finesse.
Rating
9/10
8/10
Factor in what they cost and see what both get you for similar money and it's a convincing win for the XUV700. Sure, the Safari exudes toughness and has that roomier third row, but in all other areas it plays second fiddle to the game-changing new XUV. The Mahindra is plusher inside, is loaded with tech and features, has the stronger engine, is easier as well as more entertaining to drive and generally feels like a more sophisticated package.
Mahindra really has hit it out of the park with the XUV700, and the 75,000+ strong order bank is also telling that buyers like what they see.
Which of these flagship SUVs would you buy? Let us know in the comments below.
Also see: