In this first-of-its-kind comparison, we test two premium all-electric cars to find out how practical and usable they are in the real world.
From once being mere 'green' statements, electric vehicles (EVs) today have evolved into everyday cars that can be as practical as their internal combustion engine (ICE) counterparts, if driven within a limited range.
Hyundai was the first to enter the electric space in India with its premium offering in the shape of the Kona Electric priced at Rs 23.72 lakh (ex-showroom, India). We have extensively tested this car and opine that it's an impressive EV that's set the bar for future entrants. To rival the Konal Electric, MG has launched the all-new ZS EV. After tasting success in India with the Hector, MG has incorporated some of its learnings of the Indian consumer into the ZS EV as well. It carries a battery pack that's larger than the Kona's; its prices range between Rs 20.88 and 23.58 lakh (ex-showroom, India), so it caters to a wider set of buyers; and with connected car tech and a panoramic sunroof, it is in tune with present-day buyer demands. And just like the Hyundai, the ZS EV also comes with an eight-year warranty on the battery pack and motor to boost buyer confidence. So it all seems very promising, but is it better than the Kona? We put these two all-electric cars to the test to answer this question as well as address some common concerns relating to travel range, daily usability, as well as crucial bits like charging times and running costs.
Design
To start with, both the EVs are based on heavily modified platforms of their respective ICE versions that are currently on sale in international markets. What's reassuring is that the MG ZS EV secured a 5-star Euro NCAP safety rating; and even though the Kona Electric hasn't been crash tested yet, its ICE version did secure a 5-star rating in the test.

There's a lot to like about the ZS EV's no-nonsense design. Its flat bonnet, upright stature and conventional 'SUV' styling cues are likely to garner wider acceptance, especially among 'SUV' lovers. For starters, the chrome-studded front grille housing the large 'MG' logo looks bold and distinctive. What's unique is that it cleverly conceals the charging socket that can be accessed by pressing the logo and raising the 'flap'. While this concept is neat, the touch and feel of the flap is quite plasticky. The turbine-inspired 17-inch alloys look rather stylish but the 'Electric' badge on the fenders and the 'Internet Inside' badge could have been more tastefully executed. The Kona, on the other hand, stands out in a crowd thanks to its unconventional front grille, and some distinctive elements like the split headlamps and the striking alloy wheels that nicely fill the wheel arches. The thick plastic body cladding all around conveys its SUV pretensions, but it's still more crossover than an imposing SUV. It is smaller than the MG in nearly every way and only boasts a longer wheelbase. Also while both these cars weigh a little over one-and-a-half tonne due to their heavy battery packs, the Kona is heavier by 17kg.
Interiors & Equipment
Getting into the MG's cabin is rather easy, given its upright stance and high seating. There's an uncanny German design influence on the inside, with several parts resembling those on Volkswagen vehicles, and the quality of materials and tactility of switches feel very premium. All the touchpoints are padded and these lift the cabin's appeal, as does the panoramic sunroof that floods the interiors with light. The driver's seat has electric adjustment, but the front seats lack lumbar adjustment, and due to the short seat base, thigh support is inadequate.
The ZS EV's cabin feels quite premium and has a German design influence. Several soft-touch surfaces all around.
While there isn't any reach adjustment for the steering, getting into an ideal driving position is fairly easy, and most drivers will appreciate the fact that visibility all around is very good and the bonnet lies in their field of vision. The ZS' backseat is the more spacious of the two and the cushioning is softer, but it isn't too comfy as the passengers are seated in a knees-up position (due to the battery placed beneath the floor), and thigh support is also lacking.
Cushioning is soft but the ZS' seats aren't supportive enough.
Coming to the Hyundai Kona, its cabin feels rather underwhelming as the all-black interiors and small glass area affect the sense of space. Also, the hard plastics and several bits shared with other Hyundais don't feel special enough in this Rs 23.74 lakh car. The free-standing touchscreen looks rather dated, but the large shortcut buttons make it very convenient to use on the move.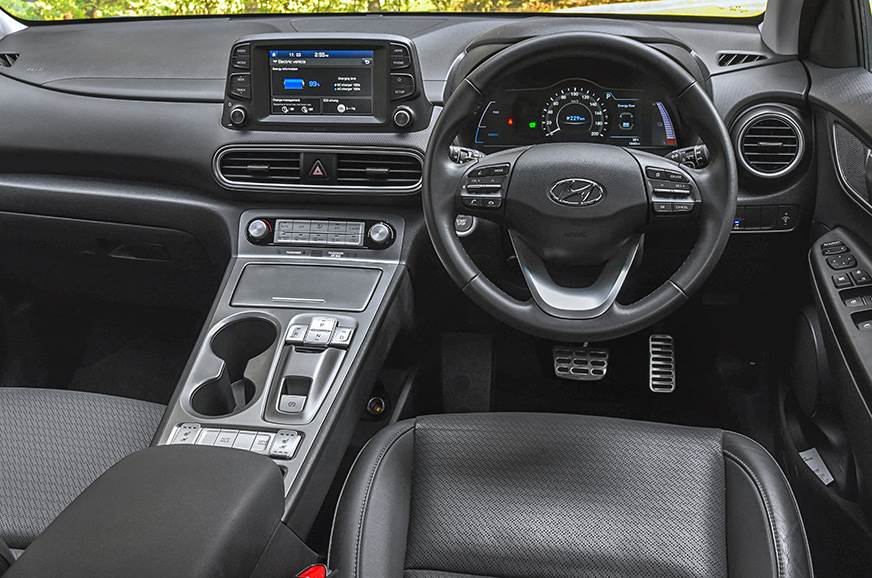 Simple dashboard but free-standing touchscreen stands out in the Kona. All-black cabin and shiny plastics lower feel-good quotient.
The best part about the interiors are the front seats; they are way comfier, and offer more adjustment and support than the MG's. What's more, the seat-cooling function really elevates the drive experience. Visibility, however, is poor due to the small rear windscreen. Like the MG, the Kona's floor is also raised, so passengers in the rear are seated in a knees-up position, and space, especially knee- and foot-room, are pretty tight. The backseat is better shaped here and comfier, and it gets an armrest as well as a third (adjustable) neck restraint, both of which are missing in the ZS EV.
The Kona's rear seat comfort is hampered due to limited space.
Both cars have ample storage areas in the front and rear. While it is the MG that leads when it comes to boot space (359 litres vs the Kona's 332 litres), the Hyundai offers the flexibility of 60:40 split rear seats to accommodate more cargo.
The ZS EV's massive sunroof lifts the cabin's premium appeal and makes it feel airy.
For the money, these cars offer standard safety kit like hill-start assist, six airbags, ESP and all-wheel disc brakes to name a few. Both get equipment such as a tyre pressure monitor, auto headlamps, electric driver's seat, sunroof, 17-inch alloys, cruise control, touchscreen with Android Auto and Apple CarPlay, and driving modes. MG has packed in a panoramic sunroof as well as SIM-based connectivity features, which have caught the fancy of buyers lately. Those aside, the Kona gets even more premium kit like LED headlamps, wireless charging, cooled/heated front seats, paddleshifters, auto-dimming inside mirror, automatic climate control and a rear armrest, all of which are missing on the ZS EV.
What you get for your money
MG ZS EV Exclusive
Hyundai Kona Electric Premium
Price (ex-showroom, Delhi)
Rs 23.58 lakh
Rs 23.72 lakh
EQUIPMENT
ESP
Yes
Yes
Hill-start assist
Yes
Yes
All-wheel disc brakes
Yes
Yes
Sunroof
Panoramic
Yes
17-inch alloys
Yes
Yes
Auto climate control
NA
Yes
Cooled/heated seats
NA
Yes
SIM-based connectivity
Yes
NA
Tyre pressure monitor
Yes
Yes
Wireless charging
NA
Yes
Electric parking brake
Yes
Yes
Airbags
6
6
LED headlights
NA
Yes
Driving modes
3
4
Cruise control
Yes
Yes
Android Auto/Apple CarPlay
Yes
Yes
Performance
MG has deployed a larger 44.5kWh battery pack to power the ZS EV's motor, which makes 143hp and 353Nm of torque. The Kona uses a smaller 39.2kWh battery to power its motor which makes 136hp but a whopping 395Nm of torque. The way these perform in the city are quite similar, and both are extremely responsive to inputs – a mere flex of your right foot is enough to zip past traffic with very linear power delivery.
Even in Eco mode, both the cars have enough pep to keep you entertained. These cars have a regenerative braking function wherein each time you lift your foot off the accelerator, the motor uses the kinetic energy (deceleration forces) of the vehicle to recharge the batteries. So, each time you lift your foot, the car begins to decelerate due to this function. Both cars offer three levels of regeneration, with level one being the least intrusive and three being the most aggressive.
Kona Electric's steering-mounted paddles adjust intensity of regen.
To adjust the regen levels in the ZS EV you have to toggle a switch on the centre console. The Kona gets paddles behind the wheel to increase or decrease the regen levels and that's nice because clicking the left paddle mimics downshifting as it increases the regen levels and hence the electrical braking, which is particularly strong here. In max regen mode, you don't need the brakes to slow the car down; the strong electrical braking can bring it to a stop. Driving both cars in max regeneration isn't particularly smooth because every time you lift your leg off the accelerator pedal, it feels like you've dabbed the brakes.
The ZS gets toggle switches for driving modes and regen intensity.
Shift to Sport mode and the difference in performance becomes a lot more noticeable, with the MG's larger battery proving its mettle.
Flat-out, the MG out-accelerates the Kona from 0-100kph, and even proves to be quicker during roll-on acceleration runs from 20-80kph and 40-100kph. It is only beyond 120kph that the Kona begins to reel the ZS EV in, and it goes on to reach a higher top speed of 158kph – 6kph more than the MG.
Being all-electric, there's no sound on start-up or on the move, but the motor emits a faint whine at higher speeds. While ambient and road noises do filter through, the ZS EV's cabin is the better-insulated one here, and this has been authenticated by our sound level meter.
Performance
MG ZS EV
Hyundai Kona Electric
ACCELERATION (kph)
0-20kph
1.18 sec
1.21 sec
0-40kph
2.39 sec
2.44 sec
0-60kph
3.79 sec
4.00 sec
0-80kph
5.82 sec
6.16 sec
0-100kph
8.53 sec
9.09 sec
0-120kph
12.38 sec
12.92 sec
20-80kph
4.56 sec
4.92 sec
40-100kph
5.96 sec
6.52 sec
BRAKING DISTANCE
80-0kph
24.79m
26.97m
OVERALL RANGE
Tested
317km
250km
NOISE LEVEL (dB)
Idle
27.2dB
28.5dB
At 50kph
64.2dB
65.9dB
At 80kph
67.8dB
68.9dB
Idle with AC at half
42dB
44.7dB
Idle with AC full
61.5dB
55.7dB
Range & Charging
Let's get to the most crucial factor of this comparison – range. For our tests, we drove the cars back to back in Eco mode, with the air-conditioning and infotainment system switched on.
Electric cars behave quite differently compared to ICE cars, so while in stop-go traffic ICE cars consume more fuel, the regenerative function in EVs recharges the batteries more often, thus maximising their range. On the other hand, while cruising, EVs consume energy to maintain a constant speed, hence they'd be less efficient on the highway than in the city.
LED lights indicate when the Kona is plugged in and charging.
In a mixed driving cycle (city and highway), the MG ZS's range equated to a respectable 317km, while the Kona Electric delivered a range of only 248km, on the same cycle. That's a huge difference and the ZS EV's ability to go an extra 67km without the need for a charging point could be a deciding factor for many prospective buyers.
In our earlier test, the Kona achieved a maximum figure of 309km but that test was conducted in more favourable conditions. We have since updated our EV range test protocol to be more reflective of real-world conditions and this explains the drop in the Kona Electric's range.
ZS' charging slot neatly concealed by chrome-studded grille.
While it doesn't come as a surprise that the ZS EV travels farther on a single charge in the real world, due to its larger battery pack, the official Modified Indian Driving Cycle (MIDC) test conducted by ARAI, it was the Hyundai Kona that achieved a staggering range of 452km, while the MG managed merely 340km in the same testing cycle. True, the MIDC cycle, which has a top-speed limit of only 50kph, can skew results, but what it also shows that in no way are the MIDC figures representative of real-world conditions and they should be taken with a pinch of salt.
At the end of the day, what matters is that if your daily usage is around 40-50km, you can drive either car for five days in a week on a single charge.
Hyundai and MG provide a three-pin portable charger as well as a 7kWh wall-box unit with the cars (Hyundai's is 7.2kWh). In our tests, using a three-pin socket, both cars recharged roughly 10 percent of their battery every two hours, and while the Kona took 19 hours to reach a full charge, the ZS EV did the same in around 20 hours. Using the wall-box charger, however, does the job faster – Hyundai claims the Kona's batteries will fully charge from zero in around six hours, while the MG should take about eight hours. Both these cars support DC fast-charging too, but this form of charging infrastructure is still scant in the country.
Using a 3-pin portable charger, both EVs recharge their batteries at roughly 10 percent every two hours. Both support DC fast-charging too.
And how much does it cost to run these cars? Considering the cost of electricity at Rs 7 per unit, which is on the higher side, it would cost you around Rs 320 to recharge the ZS EV, while the Kona will set you back by Rs 280 per charge. And purely considering the cost of electricity, their running cost is Rs 1-1.12 per kilometre, which is 5-7 times cheaper than a petrol or diesel car at the same price point.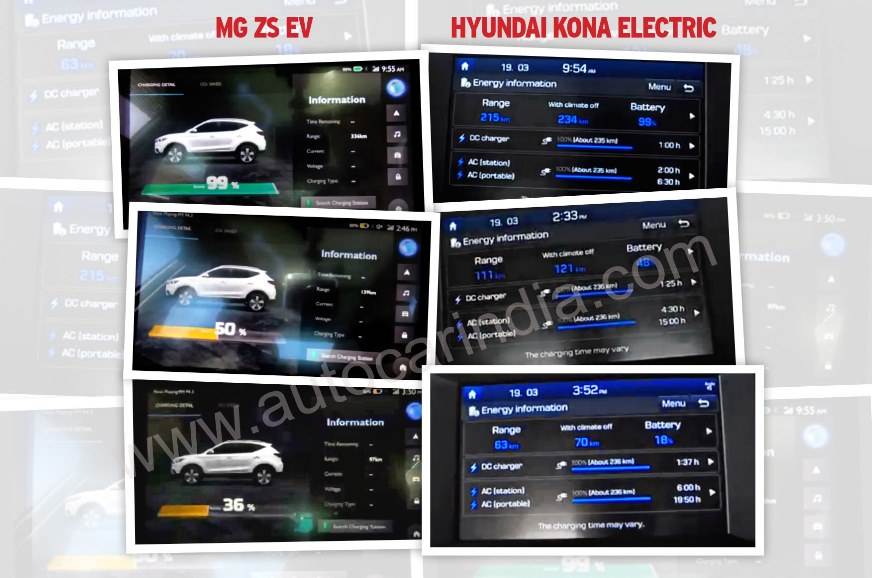 # Kona Electric range on display figure is with climate control on.

Ride & handling
Riding on 17-inch wheels and hard compound, low-rolling resistance tyres, both these cars feel a bit harsh initially over sharp potholes. Get past that initial layer of firmness though and it is the MG's softer suspension that cushions you better from road shocks at low and city speeds. The Kona, on the other hand, with its stiff suspension, feels a lot more composed and planted at higher speeds. These cars have a low centre of gravity as their heavy battery packs are placed beneath the floor, so they change directions rather well and feel nicely planted.
But it is the Hyundai which feels sportier to drive due to its multilink rear suspension and tauter chassis. And while neither car's steering offers the 'connected' feel, it is the Kona's unit that is a touch weightier and imparts more confidence.
Verdict
The Hyundai Kona is an impressive car – it is smooth to drive, and with a range of 250km on a single charge, it's fairly practical too. Then consider all the premium kit it packs in, as well as the more sophisticated multi-link rear suspension, and there's a lot it delivers for the money. Its sportier driving dynamics, comfier seats and Hyundai's strong backing further strengthen the Kona's case. What works against it though is its cramped rear seat, and the fact that its interiors don't feel special or premium enough. It is also the pricier of the two.
The MG ZS EV outperforms the Kona when it comes to two crucial factors – range and interior space, and that makes it the more practical of the two. A real-world range of 317km on a single charge could be reason enough to sway the comparison in its favour, but the MG has a lot more going for it to make it a more complete, everyday EV. MG's five-year standard warranty is very reassuring since long-term maintenance costs on an EV is still unknown.
Yes, it misses out on several features, including something as basic as automatic climate control, but MG has compensated for that by offering a panoramic sunroof and connectivity features. Tally up the pluses and minuses and you'll find that the MG ZS EV wins this all-electric comparison test quite convincingly.
Verdict
MG ZS EV
Hyundai Kona Electric
FOR
Range
Sporty character
Spacious cabin
Well equipped
AGAINST
Misses several features
Cramped cabin
Interiors don't feel premium enough
RATING
8/10
7/10