The Hyundai N Line has established itself as a fun car, but we wonder if it's good enough to take the baton as the enthusiast's choice of hatchback from the Volkswagen Polo GT TSI?
As promising as the latest-gen Hyundai i20's combination of a 120hp, direct-injection turbo-petrol engine and 7-speed dual-clutch transmission seemed, the 'Turbo' hasn't quite managed to cut it with out-and-out driving enthusiasts. It's got the power and it's pleasant in corners, but sporty? Nah. Enter the souped-up i20 N Line that's here to make amends with its stiffened suspension, enhanced steering, stronger brakes and louder exhaust even. Buzz from the first drive media event at Udaipur was that this is a Hyundai that handles. Reason enough to try it on our favourite driving roads on the outskirts of Mumbai.
Large touchscreen and digital instruments help i20 cabin look new-age.
Of course, we needed a point of reference for which we've brought along the VW Polo that, despite its decade-plus vintage, is the most enjoyable of the hatchbacks currently on sale (RIP Abarth Punto). The scarlet example you see here is a GT TSI alright, but in its mechanicals, it's far removed from the OG GT TSI that brought the joys of a turbo-petrol engine and dual-clutch gearbox to hatches way back in 2013. Updated for the BS6 era, the latest GT TSI has had a change of heart with a 110hp/175Nm three-cylinder, 1.0-litre direct-injection turbo-petrol unit replacing the older 105hp/175Nm four-pot 1.2 turbo-petrol. The older GT TSI's DSG has also made way for a 6-speed torque converter auto, so this is effectively a very different car than what you might remember a GT TSI to be.
Polo is old outside, and in, but the driving experience is still up there.
What we're keen to know is if Hyundai (finally) has the car to win over the enthusiast? Or should you make a beeline at your Volkswagen dealer to pick up a Polo before it (finally) drives off into the sunset?
Daily Grind
The drive up to our shoot location is a test in itself because it encompasses heavily trafficked Mumbai roads and faster-flowing sections of the highway.
The Hyundai i20 N Line experience starts with a deeper note upon start up. It's not loud per se, with the sound from the twin tip exhausts fading into ambient noise quickly enough.
Chunky steering looks expensive and is great to hold.
In town, the i20 N Line doesn't feel all too different to the standard Turbo. Sure, there's a bit more weight at the steering, but you don't have to use much more might to twirl for a U-turn. As on the regular i20s, the large glass area equals a great view out and what aids the sense of comfort is the transmission. The 7-speed DCT goes about its business in the background, smoothly working its way through the ratios. Impressively, low speed ride quality hasn't taken a hit despite the move to stiffer dampers. The i20 rounds off the bumps well and, for all intents and purposes, it's as comfy as the standard car in everyday traffic. I do get a bit impatient to experience the good stuff fellow testers have been harping about, but the apt roads are still some way off.
Details like the analogue dials give up Polo's vintage.
Switching to the Polo, there is some readjustment for size. The Polo's cabin is tighter and the higher set dashboard might not find favour with all drivers. There's also some more weight at the steering, but it's far from being heavy. In flowing traffic, the Polo performs smoothly, but you will have to work around some quirks when slowing down and at lower speeds. For instance, there is some shift shock when the transmission goes down from third to second (more pronounced in S mode), something you'd experience on the old GT TSI too; uncanny since the two models use altogether different transmissions. Also, creep mode is set toofast, so you'll need to feather the brake pedal in crawling traffic. That being said, when you do need to overtake, it's the Polo's engine that is readier with its power. And this feeling is accentuated when we get to the fun driving roads.
Dimensions
Hyundai i20 N Line DCT N8
Volkswagen Polo GT TSI
Length
3995mm
3971mm
Width
1775mm
1682mm
Height
1505mm
1469mm
Wheelbase
2580mm
2470mm
Kerb Weight
1086kg
1093kg
Tyres
195/55 R16
195/55 R16
Paddleshifters add to the experience in i20.
Smiles per hour
The Polo GT TSI comes into its element on the winding roads that make up the main event today. The 1.0 TSI engine is an absolute bomb! It's got the punchy mid-range you'd associate with a turbocharged engine and it's only too happy to rev to 6,000rpm and beyond. The wide band of torque is an absolute joy to exploit, especially in the gearbox's S mode that keeps the engine on the boil. Gearshifts on the torque converter auto are quick enough but nowhere near as snappy as those of the original GT TSI. You can manually effect shifts via the gear lever too; and what's nice is that the system does (mostly) grant high RPM downshifts allowing you to set the car up for a corner.
In the bends, the Polo feels taut, grippy and eager to turn in. It's a rewarding car to drive hard, but – cue dramatic music – as I learn soon enough, the i20 N Line is better still.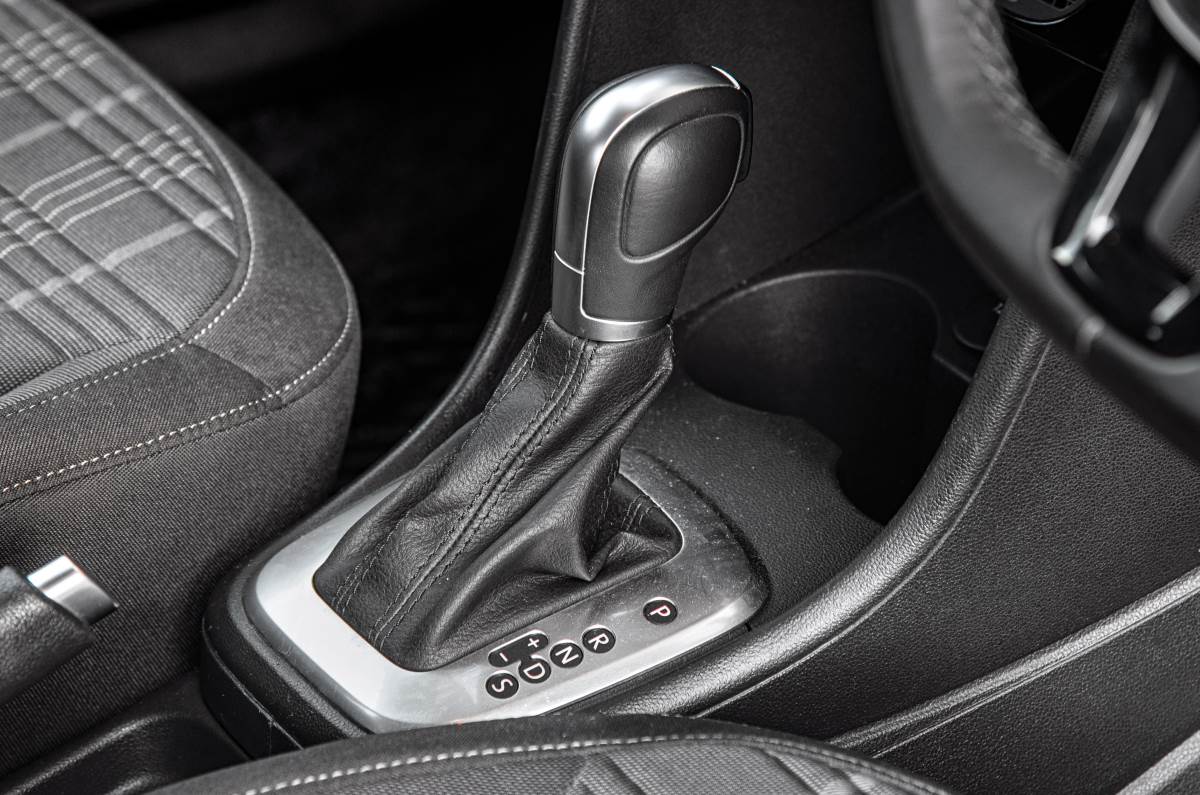 Polo is lenient with high RPM manual downshifts.
The i20 N Line is not a full-blown N car, so you have to hand it to Hyundai's dynamics engineers for achieving what they have with the fairly limited upgrades. For starters, body movements are so much better contained than the standard i20. The N Line feels planted and what's really telling is that on the same roads it feels more sure-footed than even the Polo. Through the corners, the i20 N Line rolls less too, and what makes the drive more involving still is the steering. Yes, in a first, a Hyundai steering has got our vote. It's well weighted and linear, and this gives a great sense of connect with the car. In comparison, the Polo's steering, that we'd grown to love, feels a bit distant and a touch sharp off-centre. What the i20 N Line could do with is grippier rubber. The tyres whine when you corner hard, which is a shame because you'll really enjoy pushing the i20 on your favourite driving roads.
Heart of the matter: Both models use 3 cyl, 1.0-litre, direct-injection, turbo-petrols.
Where the i20 N Line does trail the Polo is in terms of outright performance. The Hyundai has the advantage on paper with 120hp to the Polo's 110hp, but it doesn't translate onto the road. The Hyundai engine simply doesn't feel as forceful as the VW's.
The i20's engine revs quickly enough, and it will get to 6,000rpm too, but the power delivery isn't quite as urgent. Also, you don't hear much of the upgraded exhaust on the go, and it's that three-cylinder thrum that's actually most audible here.
i20 is more spacious than some mid-sized sedans. Rear seat is comfy too.
In terms of performance numbers, the i20 N Line trails the Polo in 0-100kph (11.31 sec vs 10.22 sec) as well as kickdown acceleration from 20-80kph and 40-100kph. That being said, the i20 N Line has a vital edge with its paddle shifters. It's great fun going up and down the gears at the pull of the paddles, even if the i20's dual-clutch transmission isn't quite as lenient with downshifts as the Polo's auto. Manual shifts are also possible via the gear lever.
Polo is no match for i20 on cabin space. Rear is tight on legroom.
The i20 N Line also goes one up on the Polo with its better brakes. The inclusion of rear disc brakes has enhanced stopping power, and there's also more feel at the brake pedal. Add it all up, and it's the incremental improvements in ride, handling and braking that have helped transform the i20 to a car you'll enjoy driving hard.
Engine and Performance
Hyundai i20 N Line DCT N8
Volkswagen Polo GT TSI
Engine
3-cylinder, 998cc, turbo-petrol
3-cylinder, 999cc, turbo-petrol
Power
120hp at 6000rpm
110hp at 5000-5500rpm
Torque
172Nm at 1500-4000rpm
175Nm at 1750-4000rpm
Gearbox
7-speed dual clutch
6-speed auto
Brakes (F/R)
Disc/Disc
Disc/Drum
ACCELERATION FROM REST
20kph
1.50s
1.23s
40kph
3.16s
2.57s
60kph
5.37s
4.46s
80kph
7.97s
6.98s
100kph
11.31s
10.22s
120kph
15.97s
14.32s
140kph
22.28s
20.49s
ACCELERATION IN GEAR
20-80kph
6.33s
5.94s
40-100kph
8.50s
7.68s
BRAKING
80-0kph
2.22s (25.15m)
2.45s (26.83m)
Details such as N insignia on seats add distinction.
Inside Line
We've brought the i20 and Polo together before, so there's nothing new to report on aspects like interiors. If anything, the N Line-specific enhancements have only further distanced the new-age i20 from the dated Polo. The i20's chunky new steering is great to hold, the N Line stitching and red ambient lighting add some flavour to the interior and the metal pedals look cool too. Other highlights inside the i20 include the slick 10.25-inch touchscreen, the digital instrument cluster (the anti-clockwise tacho does take getting used to) and, of course, the sheer sense of space. The i20 is roomy for what is a sub-4m hatchback, and your rear seat passengers will also appreciate items like a fold-down armrest. If only Hyundai had also upgraded the plastics inside that are hard and scratchy at a few too many places.
Tartan seat fabric a trademark GT family element.
Entering a Polo is like taking a step back in time. Yes, the thunk on the door shut is reassuring and there's a built-to-last feel to everything inside, but there's no escaping that you are in a car well past its prime. The dashboard and dials are very 2010, the large front seats are nice, and the tartan fabric on the GT TSI's seats is a nice link to more expensive GTI models. However, for family buyers, what really marks the Polo down is the limited space at the back. Legroom is tight and the cabin also isn't wide enough to seat three abreast. Like the i20, the Polo does have a reasonable-sized boot.
You can pack in plenty in i20's sizeable 311-litre boot.
In terms of features (see table), it's almost a one-sided show with the significantly pricier i20 N Line offering all that you get on the Polo, and then a whole lot more. Connected features, wireless phone charging and a sunroof are just some of the features exclusive to the i20 N Line. The Hyundai also gets more safety kit with side and curtain airbags. Notably, while both cars comply with latest safety norms, only the Polo has been crash tested by Global NCAP that awarded it a commendable 4 star rating.
Features
Hyundai i20 NLine DCT N8
Volkswagen Polo GT TSI
LED headlights
Available
NA
Keyless entry and go
Available
NA
Auto headlamps/wipers
Available/NA
Available/Available
One-touch power windows
Driver only
All
Cruise control
Available
Available
Digital instrument cluster
Available
NA
Auto-dimming mirror
Available
Available
Touchscreen
10.25-inch
6.5-inch
Android Auto/Apple CarPlay
Available/Available
Available/Available
Bose sound system
Available
NA
Rear view camera
Available
NA
Wireless phone charger
Available
NA
Sunroof
Available
NA
Automatic climate control
Available
Available
Rear AC vents
Available
NA
Rear arm rest
Available
NA
ESC
Available
Available
Airbags
6
2
Polo boot feels larger than its 291L capacity suggests.
Power up
We had set about to find the more entertaining hatchback and we have a winner in the Hyundai i20 N Line. The Polo GT TSI has the punchier engine and remains a fun drive, and also has the significant price advantage with its Rs 9.99 lakh (ex-showroom) price tag. You could save a good Rs 30,000 further by opting for the similarly specced Highline Plus AT, or better yet, a whole packet more with the manual version (Rs 8.74 lakh) that in our book is the most involving of the Polos to drive. Thing is, going for a Polo today entails some compromise. It's not a roomy hatchback and it doesn't offer much more than the modern day essential features. That the car has been on sale for a decade plus also won't sit well with buyers who are looking to keep their new car for a good few years. But if it's just driving pleasure you want, this is the best time to get a Polo.
The Hyundai i20 N Line DCT sits in a whole different price band. It costs Rs 11.9 lakh, which works out to Rs 50,000 more than the already pricey standard i20. However, the additional outlay is worth it because of how convincingly the mechanical upgrades have enhanced the car. While the standard car is pleasant, the i20 N Line is properly fun. And the newfound fun factor is over and above all that the i20 is good at. It's loaded with features, is spacious and user-friendly, and generally works for keen drivers, and as a family car alike.
It's this all in one appeal that elevates the i20 N Line and makes it worth a long hard look.
Verdict
Hyundai i20 NLine DCT N8
Volkswagen Polo GT TSI
Price (ex-showroom, Delhi)
Rs 11.9 lakh
Rs 9.99 lakh
Rating
8/10
7/10
Verdict
It's a Hyundai i20 with a fun side. Playful and practical, but also pricey.
Punchy Polo can still excite. You'll have to make peace with dated and tight cabin.