There's nothing like a bit of sibling rivalry, and this pair of impressive SUVs are almost identical under the skin. We have the unenviable task of picking a winner.
This is a comparison test a long time in the making. When the Kia Seltos was launched in August 2019, it effortlessly whooshed past every other SUV in its segment in our comparison test, and even went on to become the bestselling SUV in the country. The old Creta was one of those vanquished competitors, but it held up surprisingly well for a car at the end of its life cycle. We knew the new one wasn't far away, and that it would be based on the Seltos platform; so, if any car could give a solid fight to the upstart from Kia, the new Creta would be it.
It's true, the two SUVs share the same underpinnings and powertrains, but Hyundai appears to have learnt a few things from market feedback to the Kia and applied them to its car. The cars we're considering here are the top-spec models with 1.4-litre turbopetrol engines and dual-clutch automatic gearboxes, and though they share the same oily bits, each is tuned and set up a little differently. We'll get into all the nuances and minutiae over the course of this comparison test, so belt up and come along as we officiate this family feud.
If Looks Could Kill
To be kind to the Creta, let's just say its design is polarising and I'm on the side that doesn't like it. Sure, it's got the classic 'SUV proportions', with a suitably upright glasshouse, overhangs that aren't too long and pronounced wheel arches. But the details and the way they're implemented is rather haphazard. The LED headlamps and DRLs have an awkward three-piece signature, and the indicators are placed unusually low, in the base of the bumper with the fog lamps. The large, curvy cascading grille is bold but at odds with the car's square shape, the alloys look a bit ordinary, and the rear LED lamp cluster, which mirrors the headlamps in its three-piece style, just looks very unusual.
The Seltos is also well proportioned, and marginally longer, wider and taller than the Creta. Some of the details are a bit fussy here too – a black honeycomb 'Tiger Nose' grille, framed by a knurled brushed aluminium border, which has an LED strip running through it, slim LED headlamp elements with their own DRLs, a separate cluster for the LED indicators below them, plus a brushed aluminium skid plate with red accents on this GT Line trim, and vertically stacked fog lamps in a silver housing – phew! It's as if they threw every known styling element at it. The rear too has a lot of lines, cuts, chrome, LEDs, indents, brushed metal and more, but the overall result is something far more conventionally attractive, and something I much prefer.
Dimensions
Hyundai Creta T-GDI DCT SX(O)
Kia Seltos T-GDI DCT GTX+
Length
4300mm
4315mm
Width
1790mm
1800mm
Height
1635mm
1645mm
Wheelbase
2610mm
2610mm
Boot capacity
433 litres
433 litres
They Mean Business
The Kia's dashboard design also has a lot of myriad styling elements, colours and textures, and this time they don't come together quite as neatly as the exterior does. What you can't deny though is the sense of quality in here, which is something the Creta just can't match. Kia has used lots of brushed silver and piano black fitments to impart a rich feel, but, most of all, it's the use of soft-touch, double-stitched leatherette on the dashboard and door pads that really lifts the ambience. Interestingly, while the car you see here uses two-tone upholstery with lighter colours, Kia just recently introduced an update that, among other things, has given the top GTX and GTX+ trims an all-black interior.
Kia dash is a mix of many styling elements and shapes, but they impart a rich feel with their colours and textures.
The Creta does have some good quality plastics, but in crucial places like the dash top and doorcards, you're treated to low-rent, hard shiny plastics, which is only exacerbated by the all-black colour in this turbo-petrol variant. As for the design, the Creta has the cleaner layout, with slightly better ergonomics for its 10.25-inch touchscreen that sits flush with the centre console. The Kia's tall binnacle for the touchscreen and dials is set higher and could impact visibility for shorter drivers.
Creta has a neat, clean dash design but there are quite a few shiny plastics, highlighted by the all-black colour.
When it comes to the front seats, both SUVs get cooled ones with power adjust for the driver, but the Kia's feel snug and sporty and a touch firmer than those in the Creta, which are larger and better suited to a wider range of body frames; but both are trimmed in rich-feeling faux leather. It's in the back seat, however, that you'll really see a difference.
Equal amount of space in Seltos, but cushions a bit firm.
Though space on offer is equally generous in both (it's nice that both have rear window blinds too), the Hyundai has the softer, better seat cushioning, with more thigh support and a good backrest angle. What also helps are the soft cushions strapped to the rear headrests in the Creta and the panoramic sunroof that extends all the way to the rear of the cabin, unlike the Kia's smaller one at the front.
Creta seat comfier, more supportive; note headrest pillows.
Tricks Of The Trade
Where both these SUVs really blow the rest of the competition out of the water is when it comes to the equipment they offer in the top spec, and though each tries to offer something better than the other, it's really close. They both have stuff you'd previously have only seen in a full-on luxury car, like cooled front seats, powered driver's seat, 10.25-inch touchscreen, large colour MID screen, connected car tech, wireless phone charger, voice controls, ambient interior lighting, auto climate control, onboard air purifier, drive modes, tyre pressure monitor, automatic full-LED headlamps, six airbags, ESC, and a lot more.
The Kia Seltos' air purifier control screen is behind the centre armrest.
At first glance, you might think the Creta has an edge, thanks to its inclusion of paddleshifters, an electronic parking brake and a big panoramic sunroof, which are all big-ticket features that the Kia doesn't have. But then the Seltos offers a head-up display, 360-degree surround cameras (which doubles as blind-spot displays when changing lanes), as well as less obvious bits like front parking sensors, automatic wipers and telescopic steering adjustment, all of which the Creta misses. In fact, the Seltos did trail the Creta on a few features, like remote engine start and a smartwatch app to control connected features, but the same recent update that brought the black interiors, has added these in as well. It's really six of one and half a dozen of the other when it comes to features.
Creta's panoramic roof sure to be a big selling point
Equipment
Hyundai Creta T-GDI DCT SX(O)
Kia Seltos T-GDI DCT GTX+
Touchscreen
10.25-inch
10.25-inch
Apple Carplay/Android Auto
Available
Available
Connected features
Available
Available
Wireless phone charger
Available
Available
Cooled front seats
Available
Available
Powered driver's seat
Available
Available
Air purifier with AQI meter
Available
Available
Rear window blinds
Available
Available
Tyre pressure monitor
Available
Available
Drive/Terrain modes
Available
Available
Auto headlamps/wipers
Available/ NA
Available/Available
Gearshift paddles
Available
NA
Tilt/Tele steering adjust
Available/ NA
Available/Available
Sunroof
Panoramic
Standard
Heads-up display
NA
Available
Parking camera
Rear
360-degree
Lane-watch assist
NA
Available
Parking sensors (f/r)
NA/Available
Available/Available
Electronic parking brake
Available
NA
Airbags
6
6
ABS, EBD, ESC
Available
Available
Powering Through
With the same engines, gearboxes and running gear, you'd expect these two to be identical to drive, and while they are very similar, there are some subtle differences. Let's start with the performance, where both SUVs offer up strong acceleration from low down, thanks to their 140hp/242Nm direct injection turbo-engines that put their power down through the front wheels via 7-speed dual-clutch auto gearboxes. With our testing equipment plugged in, the two were really close; the Seltos with a 0-100kph time of 9.72sec just edging out the Creta, which did it in 9.81sec. Interestingly, in kickdown acceleration, which reflects overtaking situations, the Creta was marginally quicker. It did 20-80kph in 5.55sec, compared to the Seltos' 5.71, and 40-100kph in 6.66sec, to the Kia's 7.36.
Gearshift paddles a bonus in Creta.
This is likely down to the gearboxes' software calibration, as the Kia's can take a moment longer to respond to your kickdown input than the Hyundai's. The Creta's gearbox is also a bit smoother to shift, especially at low speeds, while the Seltos has a sharp clutch release which can make it a bit jerky in stop-and-go traffic and especially during hill starts. Still, it's not all bad, and when you up the pace and put pedal to metal, the sportier Seltos feels more at home with aggressive gearshifts, once it gets into its stride. Which is why it's surprising to see that the Creta has paddleshifters and the Seltos doesn't; they would've been the icing on the cake for the Kia.
Seltos has analogue dials and central MID.
The Seltos feels sportier in the dynamics department too, with a steering that's weightier and body control that's much tighter. String it through a series of corners and it shrinks down in size, making you want to push its limits. The Creta, as with most Hyundais, just doesn't give you the confidence to drive the same way, thanks to a largely lifeless steering and lots of body roll. The upshot of this is that the Creta does require a little less effort to manoeuvre at low speeds, thanks to its lighter steering, and that it has an added layer of absorption to its ride. It simply soaks up bumps far better than the Seltos, and rear seat passengers will enjoy this too.

Creta centre screen is a speedo plus MID.
Hyundai has even managed to pip Kia on fuel economy, with an ARAI rating of 16.8kpl compared to 16.5kpl. We didn't get a chance to do a proper fuel efficiency test, but presumably, the real-world results will be similarly close.
Specification and Performance
Hyundai Creta T-GDI DCT SX(O)
Kia Seltos T-GDI DCT GTX+
Engine
4 cyl, 1353cc, turbo-petrol
4 cyl, 1353cc, turbo-petrol
Power
140hp at 6000rpm
140hp at 6000rpm
Torque
242Nm at 1500-3200rpm
242Nm at 1500-3200rpm
Gearbox
7-speed dual-clutch auto
7-speed dual-clutch auto
Performance
Acceleration (from rest)
Acceleration (from rest)
20kph
1.54sec
1.52sec
40kph
2.71sec
2.86sec
60kph
4.87sec
4.67sec
80kph
7.16sec
6.96sec
100kph
9.81sec
9.72sec
120kph
13.61sec
13.65sec
140kph
18.69sec
18.96sec
160kph
26.91sec
26.90sec
Acceleration in gear
20-80kph (in kickdown)
5.55sec
5.71sec
40-100kph (in kickdown)
6.66sec
7.36sec
Clash Of Cousins
Picking a winner here wasn't ever going to be easy, and this is something we realised all the way back when the Seltos was launched last year. Here was a car that was well poised to beat Hyundai at its own game of making the best all-round midsize SUV, and that's because it practically is a Hyundai Creta underneath. Not only did the Seltos become the bestselling SUV in India, it even helped Kia become the third-ranked carmaker in India in March 2020, within a year of its introduction.
The Seltos has done just about everything right, tapping into exactly what the Indian consumer wants, and frankly, there was only so much more that the Creta could do to best it, which is why the result is so close. But it's evident Hyundai has studied the Seltos and applied some learnings to the Creta – namely the ride quality, smoother gearbox, improved back seat and that big sunroof, which will undoubtedly earn some customers all on its own.
You won't be wrong to pick the Seltos, and in fact, if you enjoy driving, you simply must. It's far more enjoyable from behind the wheel, and it does that with little compromise to other areas. But Hyundai's small tweaks and improvements to the package allow the Creta to just nose ahead, if you can live with those looks, that is. With its smoother drive, better rear-seat comfort, comfier ride, its appeal extends to a wider set of SUV buyers. So, the ruler of the midsize SUV segment has taken back its crown, but this time only by an inch, rather than by a mile.
Verdict
Hyundai Creta T-GDI DCT SX(O)
Kia Seltos T-GDI DCT GTX+
Price (ex-showroom, Delhi)
Rs 17.20 lakh
Rs 17.29 lakh
Rating
9/10
9/10
Verdict
A great all-rounder that delivers on just about every count.
A very close runner-up, and the sportier of the two.
Also see:
2020 Hyundai Creta vs Kia Seltos comparison video
Hyundai Creta 7-seater could get unique name
55 percent of Hyundai Creta bookings are for diesel versions
Autocar Drag Day: Hyundai Kona Electric vs Kia Seltos Drag race video
Maruti Suzuki Grand Vitara vs Hyundai Creta vs Kia Selto...
16505 Views|1 month ago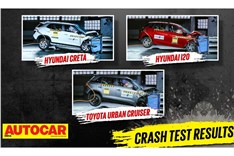 Hyundai Creta, i20 & Toyota Urban Cruiser Global NCAP cra...
8354 Views|7 months ago