Can the promising new Mahindra Marazzo make a case for the premium it demands over the popular, value-for-money Maruti Suzuki Ertiga? We find out.
This might seem like a lopsided comparison test, considering the Mahindra Marazzo is fresh out of the box and the Maruti Suzuki Ertiga is at the end of its life cycle. Shouldn't we have waited for the new Ertiga that is just around the corner? It seems, after looking at the continually robust sales figures of the current Ertiga (spurred undoubtedly by the huge discounts offered before it finally bows out next month) that many MPV owners typically base their decision on plain and simple economics. So, the plain and simple question is, can the all-new Marazzo justify its massive premium over the tried-and-tested Ertiga? We put these two MPVs through our not-so-plain and simple evaluation process, to give you a plain and simple answer.
Dimensions
Mahindra Marazzo
Maruti Suzuki Ertiga
Length
4585mm
4296mm
Width
1866mm
1695mm
Height
1774mm
1685mm
Wheelbase
2760mm
2740mm
Kerb weight
1650kg
1265kg
Turning radius
5.25m
5.20m
SIZE AND STYLE
Being family movers, these MPVs need to appeal to a wider demographic. Both, the Mahindra and the Maruti wear safe, conventional designs, keeping creases and styling quirks to a minimum. Both cars have a van- or people-carrier-like profile, although the Marazzo, with its much-hyped 'shark-inspired' design, large 17-inch wheels and taller stance manages to grab more attention in this company. The Marazzo overshadows the Ertiga when it comes to size and is 289mm longer, 171mm wider and 89mm taller – larger in every dimension. What's unique is its ladder-frame construction with a transversely-mounted engine, transmitting power to the front wheels.
Gets projector halogen lens for low beam.
The Ertiga, on the other hand, is based on the older Swift's platform and is a more front-wheel-drive, monocoque design. It still has a surprisingly long wheelbase (just 20mm shorter than the larger Marazzo), although the overall length is shorter than its sedan sibling, the Ciaz. Within this narrow footprint, Maruti has managed to accommodate seven seats; this has worked well with buyers, giving them the flexibility of carrying an entire family on weekends, yet being relatively compact enough for everyday commutes. Introduced in 2015, this facelifted version gets chrome garnishing on the outside and features like a touchscreen inside, adding some premium feel.
Ample chrome garnishing has spruced up the exteriors.
CROWD PULLER
The Marazzo's all-new 1.5-litre, four-cylinder engine impresses with its superb refinement. Mahindra's efforts to keep the noise and vibration levels low have really paid off – the engine is remarkably silent at idle and low revs. There aren't any vibrations trickling through the clutch or gear lever, either. What further impresses is the incredibly light clutch and the effortless manner in which the big Marazzo steps forward from a standstill, making it very easy in stop-go conditions. There's just a smidgen of turbo lag noticeable at really low revs but it's not a bother and this MPV will happily potter around at lower revs without a need to downshift much. Spin it faster and the torque flows in a linear manner. The 123hp engine feels most comfortable at low- and mid-revs, but begins to get breathless once it crosses 3,500rpm. This brings us to one of the weaknesses of the Marazzo – a lack of power, especially with a full load of passengers. Performance isn't quite effortless, and you have to work the engine and gearbox hard. Tightly timed overtaking manoeuvres can be a bit hairy.
The Ertiga comes with the long-standing, Fiat-sourced 1.3-litre diesel engine with VGT (variable geometry turbo), which makes a relatively low 90hp and is mated to Maruti's mild-hybrid system (SHVS) to aid fuel efficiency. Annoying turbo-lag, a trademark of this engine, still persists and below 2,000rpm, this motor is all but asleep. This small-capacity motor needs to be spun beyond 2,000rpm to get it moving briskly and into the thick of the power band. The engine's nice and punchy mid-range makes cruising easy and relaxed, and it revs beyond 5,000rpm, which is useful for overtaking. But unlike the Mahindra, you'll need to downshift more frequently in the Ertiga because at low revs, there just isn't enough grunt.
Mild-hybrid system makes the Ertiga more fuel-efficient.
Compared to the Marazzo, the Ertiga is 100Nm down on torque. It is, however, a whopping 400kg lighter and that makes a noticeable difference. The more aggressive power delivery and freer-revving engine propels it to 100kph from standstill in 13.3sec, which is over 1sec faster than the Marazzo. However, because the latter makes its power much earlier in the rev range and is smartly geared, it accelerates from 40-100kph (in fourth gear) 1.8 seconds quicker than the Ertiga, which is quite telling about its real-world performance. For city driving or relaxed highway cruising on part-throttle inputs, the Marazzo does the job well, as long as you're not in a hurry.
Powertrain & performance
Mahindra Marazzo
Maruti Suzuki Ertiga
Engine
4 cyls, 1497cc, turbo-diesel
4 cyls, 1248cc, turbo-diesel
Power
123hp at 3500rpm
90hp at 4000rpm
Torque
300Nm at 1750-2500rpm
200Nm at 1750rpm
Gearbox
6-speed manual, FWD
5-speed manual, FWD
Power-to-weight ratio
74.54hp/tonne
71.14hp/tonne
Torque-to-weight ratio
181.81Nm/tonne
158.10Nm/tonne
0-100kph
14.47sec
13.3sec*
40-100kph (in fourth gear)
11.18sec
12.9sec*
STABLE MANNERS
Over bad roads, the Marazzo literally flattens surfaces without any need to slow down. There is a hint of lumpiness at low speeds and it does tend to pitch on bumpy roads, but the faster you go, the better it gets. Stability is very good at triple-digit speeds and it doesn't float or wallow.
190L boot space in the Marazzo is good enough for two soft bags.
Despite its tall stance, roll is well-controlled, and doesn't feel nervous when tackling sharp bends. Due to being equipped with disc brakes at all four corners, stopping distance is short; but its heavy weight can be felt while shedding speed. The Marazzo's controls complement its easy-to-drive nature well, and while the 6-speed manual 'box has long throws, it is smooth to operate. Even its 5.25m turning radius is quite impressive for its size (the Ertiga's is 5.2m).
Although just 5L smaller, the Ertiga's boot feels very compact.
The Ertiga, with its long wheelbase and soft suspension, has an absorbent ride, too. Though it lacks the Marazzo's robustness over bad roads, it is only the sharp potholes that filter through the Ertiga's cabin. On the whole, it remains flat and composed at all times. The Ertiga's steering feels weightier and it handles in a more car-like manner – albeit more like a tall-boy hatchback rather than an MPV – and feels more confident around corners. On another note, although its travel is short, the Ertiga's clutch is comparatively heavier and the gear throws require a touch more effort, but are shorter and more precise.
FAMILY FIRST
Like the exteriors, the interior design of the Marazzo remains rather safe (in a good way). Some of the plastics are richly textured and the generous use of gloss black on the fascia adds some appeal to the dash. Fit-finish and build quality are very good, and it's nice to see several storage areas across the cabin. Although, not all of them are easy to access and cabin ergonomics should have been better thought out. Visibility all around is excellent and due to its tall stance, the driver gets a commanding view of the road ahead. The front seats are large, very supportive and get individual armrests, which prove to be very comfy on long drives. The seven-seater variant gets captain seats in the middle which recline and slide.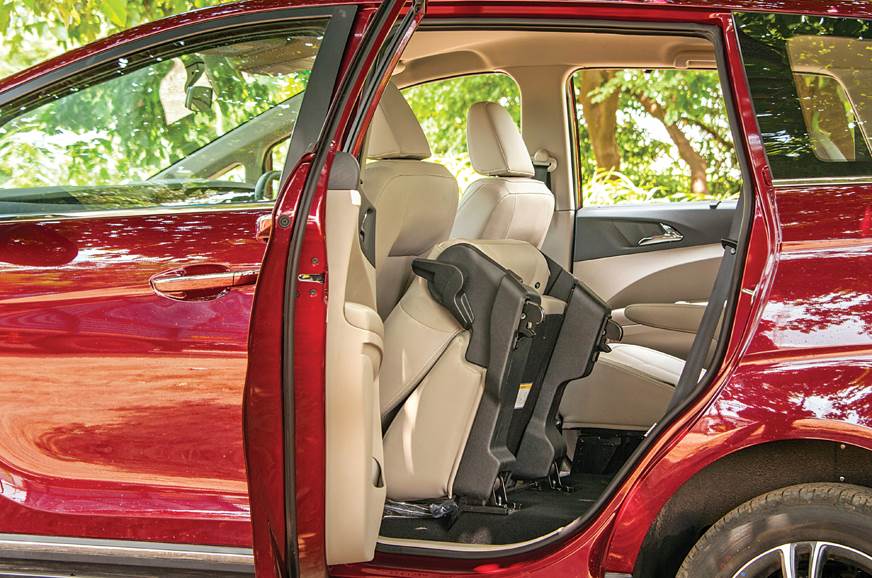 Entry to third row in the Mahindra is easy due to tumbling middle row.
The large glass area ensures an airy feel whilst the window sunblind (standard on the M8 version) lives up to its name. The roof-mounted aircon works quite well, providing fairly even cooling. Also well-designed is the one-touch flip-and-tumble operation (only on the left or kerb-side middle-row seat) for easy access to the last row. Sure, the last row passengers have to sit in a slightly knees-up position, but it is a much better place than the Ertiga's third row which, when compared to the Marazzo's, is almost unusable. Hence, in terms of sheer space, and as a genuine seven-seater, the Marazzo is far better.
Last row of the Marazzo can accommodate two adults in relative comfort.
Getting into the Ertiga is a bit easier because of its lower stance, but once you're inside, it's nowhere near as plush as the Marazzo. The quality of plastics is rudimentary and it feels neither as well-built nor as premium. The seats, though, are nicely cushioned and offer great support. Frontal visibility is excellent, although the view out of the rear windscreen isn't as good as the Marazzo's. There aren't as many cubbyholes or enough storage space to stow stuff away, and space utilisation inside the Ertiga's cabin could have been better.
Head and legroom in the third row is tight in the Ertiga.
The backseat is quite nice – it reclines and also slides in a 40:60 ratio but, unlike the Marazzo, access to the third row isn't very easy because the seat merely slides forward and doesn't tumble. It's quite a feat climbing into the last row and once you've plonked yourself there you won't know what to do with your feet. There's no legroom to speak of and it's only with the middle row pulled forward that adults will find some semblance of comfort. Also, headroom in the rearmost row is in short supply and it's a place best left for kids. Boot volume with all three rows up is just 185 litres, good enough for a couple of small bags. The Marazzo betters it marginally on paper with some more boot capacity (190 litres).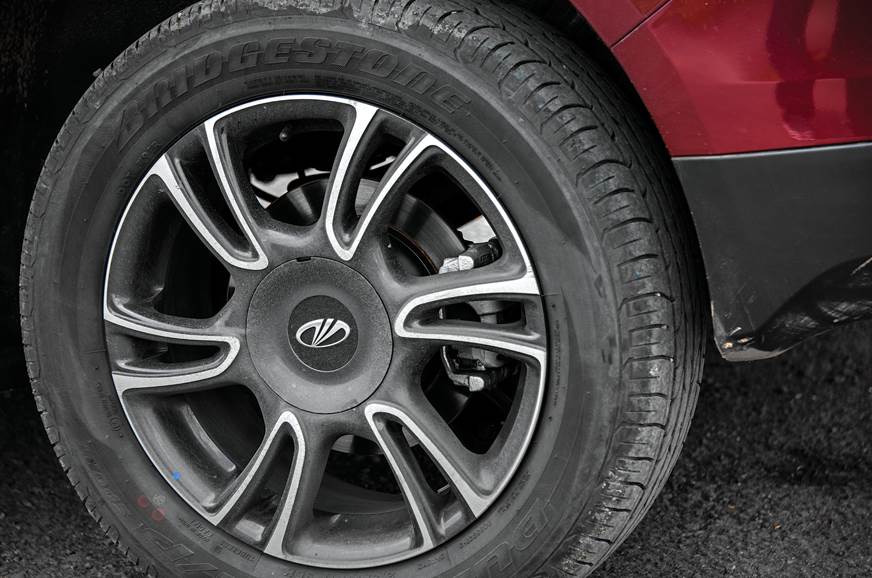 All-wheel disc brakes are standard on all variants of the Marazzo.
The Marazzo's equipment list is far superior to the Ertiga's, which makes it further upmarket than its utilitarian rival. Mahindra has lavished this MPV with goodies like automatic climate control, cruise control, part-leather upholstery, 17-inch alloys, projector headlamps, DRLs, rear-window sunshades and more. While both cars get touchscreen infotainment systems with navigation, a reversing camera and Android Auto, the Maruti also gets Apple CarPlay, which the Marazzo misses out on, for now.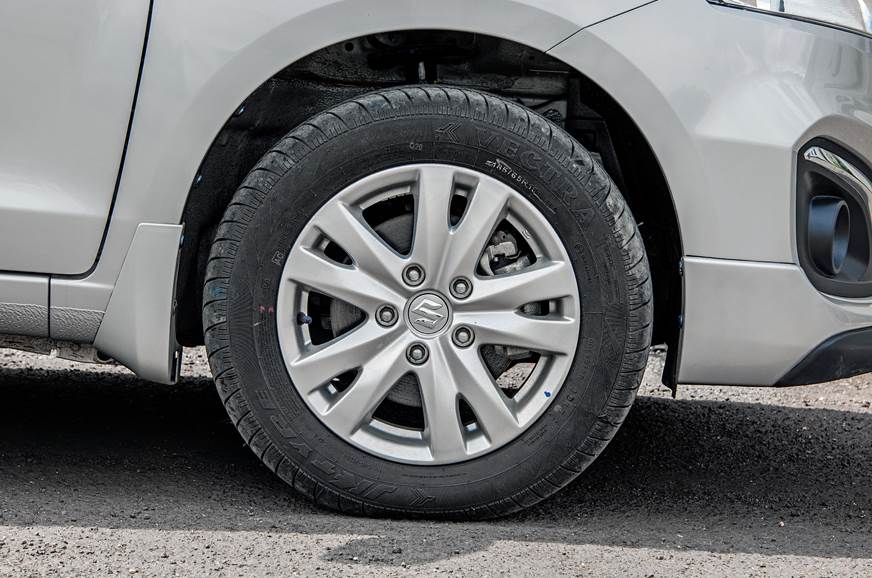 The Maruti's 15-inch alloys look a bit small and bland.
WORTH THE STRETCH?
In a few months, Maruti is going to launch the all-new Ertiga, which will, undoubtedly, be larger and better than the current model. Understandably, it will be more expensive as well. So why consider the current Ertiga? The one-word answer is 'price'. If you have a strict budget, the Ertiga remains a value proposition (even if a rather basic one) and quite frankly, it's something you can't go wrong with.
Cruise control on the Mahindra is useful on long drives.
The Marazzo is a good Rs 3.2 lakh more expensive but your money goes a lot further to justify the extra outlay. Not only does the Marazzo better the Ertiga in just about every aspect – size, space, premium feel and features – it does it very convincingly. It is solidly built, and the fit-finish and quality feel far better in comparison. As a seven-seater, the Marazzo, with its airier and larger cabin, offers far better comfort, too.
In fact, the Marazzo competes more with the Innova Crysta than the Ertiga. It's certainly easier to drive than the Innova, thanks to its light controls, responsive engine and good all round visibility. Yes, you do feel it could have done with more power (especially with a full load) and it has a fair bit of ergonomic flaws but none of these are serous deal-breakers.
Both Android and Apple connectivity on the Ertiga.
This is Mahindra's best shot at the MPV segment yet, and it has all it takes to grab a sizeable share of the segment, at least until the next-gen Ertiga arrives.
Equipment & price
Mahindra Marazzo M8
Maruti Suzuki Ertiga ZDi+
Projector headlamps
Yes
NA
LED DRLs
Yes
NA
Rear parking sensors
Yes
Yes
Alloy wheels
17-inch
15-inch
Touchscreen infotainment system
Yes
Yes
Navigation
Yes
Yes
Cruise control
Yes
NA
Reversing camera
Yes
Yes
Rear AC
Yes
Yes
Climate control
Yes
NA
Rear wiper and washer
Yes
Yes
Disc brakes
All wheels
Front only
Airbags
2
2
Price (ex-showroom, Delhi)
Rs 13.90 lakh
Rs 10.69 lakh
Suzuki Ertiga Sport image gallery
125016 Views|4 years ago
2018 Maruti Suzuki Ertiga image gallery
46059 Views|5 years ago
2018 Suzuki Ertiga image gallery
125307 Views|5 years ago