The refreshed Ford Aspire comes with a new petrol manual and a killer price tag. But in the company of the Maruti Dzire and the all-new Honda Amaze is it segment-best ? We find out.
Gone are the days when a sub-four-metre sedan meant a hatchback with a stubby boot slapped on. Today's compact sedans are emerging into independent sedans in their own right, with neatly integrated boot sections, and even differing bodywork from the hatchbacks on which they are based. Take, for example, the third-gen Dzire; it is well-proportioned and with body panels that are different from the Swift. Then there's the second-gen Honda Amaze that's been developed from scratch on an all-new platform.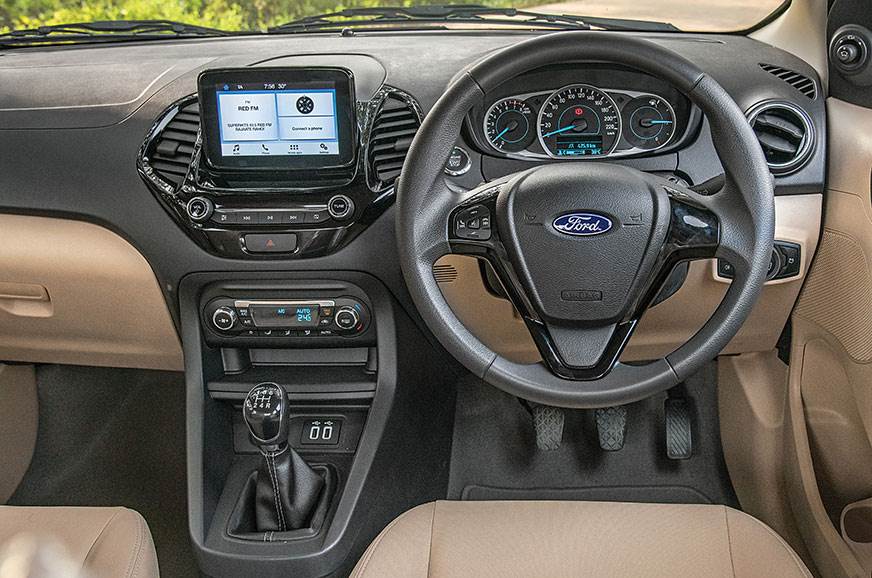 ASPIRE: Touchscreen is the biggest addition inside.
Ford, too, has done a decent job of integrating the boot section, but compared to the Dzire and the Amaze, the Aspire has a lot more in common with its hatchback sibling. Now, in a bid to take the fight to the segment champ, the Dzire, and the increasingly popular Amaze, Ford has updated its compact sedan. Its gets a facelift, an all-new petrol engine, new gearboxes, more equipment and is aggressively priced, too. So at least on paper, the Aspire has the ammunition to put up a good fight. But how good is it in the real world? Does it deliver what compact sedan buyers are looking for? We've gathered the petrol variants with manual transmissions of the three contenders and driven them back-to-back to pick a winner.
ASPIRE: Space at the rear is lesser than other two.
Dimensions
Ford Aspire 1.2P Titanium+
Honda Amaze VXi VTEC
Maruti Suzuki Dzire ZXi+
Length
3995mm
3995mm
3995mm
Width
1704mm
1695mm
1735mm
Height
1525mm
1501mm
1515mm
Wheelbase
2490mm
2470mm
2450mm
Kerb weight
1043kg
924kg
895kg
Zip drive
The Aspire's new 96hp, 1.2-litre, three-cylinder Dragon engine replaces the older 88hp, four-cylinder unit. Refinement is excellent and it doesn't portray any three-pot characteristics, like vibrations at idle or a thrummy engine note. The Dragon also has the most power and torque but how does that translate into performance? Initial responsiveness of this engine is much better than the car it replaces, but it still doesn't feel as eager as the Dzire. Rev it further and power delivery is flat, and although it will spin freely until 6,900rpm, it does so without too much gusto.
AMAZE: Interior design appears stylish.
The Amaze's i-VTEC system, on the other hand, impresses when spun hard. In fact, beyond 5,000rpm is where this motor comes into its own, and pulls the strongest. Sadly though, as enjoyable as it is at higher revs, it disappoints at lower and mid revs. It leaves you wanting more punch, especially while driving around in the city. Out on the highway too, once the momentum breaks, this motor begs for a downshift in order to build speed again. Interestingly, though, while it is slightly slower than the Aspire in the run from 20-80kph in third and 40-100kph in fourth, because of the Amaze's stronger performance at higher revs, it is 1.2sec quicker than the Ford to 100kph from a standstill.
AMAZE: Rear seat is very supportive, but headroom is tight.
Maruti's 1.2-litre K-series is the least powerful in the group with merely 83hp, however, in terms of sheer performance, the lightweight Maruti is far superior. Not only is it the fastest when it comes to outright acceleration, but even with respect to in-gear times, the Dzire leaves its competitors behind by around 2sec, which is significant. This motor doesn't feel weak at lower revs, and there's always performance on tap to fill in the gaps in traffic. The Dzire's clutch is the lightest of the lot and gearshifts are extremely smooth, making it the easiest car to drive, here. And while the Amaze also has a very smooth gearbox, its clutch has a longer travel and springy action. The Aspire's controls don't feel as light as the others, though.
DZIRE: Sense of space inside is huge.
Powertrain & performance
Ford Aspire 1.2P Titanium+
Honda Amaze VXi VTEC
Maruti Suzuki Dzire ZXi+
Engine
1194cc, 3 cyl, petrol
1199cc, 4 cyl, petrol
1197cc, 4 cyl, petrol
Power
96hp at 6500rpm
90hp at 6000rpm
83hp at 6000rpm
Torque
120Nm at 4250rpm
110Nm at 4800rpm
113Nm at 4200rpm
Transmission
5-speed manual
5-speed manual
5-speed manual
0-20kph
1.25s
1.14s
1.19s
0-40kph
3.07s
2.75s
2.52s
0-60kph
5.58s
5.01s
4.83s
0-80kph
8.60s
7.86s
7.41s
0-100kph
13.06s
11.87s
11.50s
0-120kph
18.72s
17.12s
16.48s
20-80kph (in third gear)
14.19s
14.31s
12.77s
40-100kph (in fourth gear)
21.00s
21.40s
18.50s
Soaking it up
The Ford Aspire's steering is light yet very precise; the turn-in is sharp and now with the wider 195mm tyres, it feels even more connected to the road. Grip levels are great and if you enjoy driving, it is the Aspire which will plaster the widest smile on your face. A special mention for the brakes; they feel sharp and the strong bite adds to driver confidence while driving briskly. Ride comfort is excellent with the suspension quietly soaking up most of the road imperfections.
DZIRE: Seat comfort and cushioning are spot on. Gets widest rear seat.
Honda has tuned the Amaze for comfort, so it does well at low speeds, but it crashes through some of the sharper bumps. Because of its soft nature, the suspension compresses a fair bit when the car is fully loaded with passengers, so even though it boasts a ground clearance of 170mm, it has a tendency to scrape its underbelly. This isn't a car that likes to be driven fast as its steering feels vague and it rolls a fair bit around corners at higher speeds and bobs over wavy surfaces or expansion joints.
ASPIRE: Widest 195mm tyres with 15-inch alloys.
The Maruti Dzire's ride is supple, and despite its light kerb weight, it remains nicely planted at highway speeds. While it isn't as nice to drive or as confidence-inspiring as the Aspire, on a winding ghat road, it feels nimble and eager to change direction, and the ride is comfortable. However, its steering is the weakest link in the package as it feels disconnected from the front wheels. Forget feel and feedback, even while taking U-turns in the city, it doesn't return to centre and requires driver input to do so, which is unnecessary work.
ASPIRE: Gets first-in-segment side and curtain airbags.
Living area
The Aspire's dashboard now includes the all-important touchscreen and the 6.5-inch unit is a joy to look at and operate thanks to its resolution and slick controls. That aside, there's little else that's changed on the inside; so it is still a bulky dash design but gets clever storage areas in the front. Finding the right driving position can take a while, due to the slightly off-set steering. The front seats are nice and accommodating, and the backseat is comfortable. Despite having the longest wheelbase in its segment, legroom at the rear doesn't feel as generous as the others. Also, rear passengers miss out on air-con vents and storage areas in the doors. What they get is one bottle holder between the front seats and seatback pockets.
AMAZE: Cruise control adds to the comfort while on the highway.
The Amaze's interiors impress at first glance; but on closer inspection you realise the build quality isn't as solid and certain bits like the buttons on the steering and those beside the touchscreen feel cheap. Honda has finally included adjustable front head restraints, but the seat isn't comfortable, with excessive lumbar support in the lower back region and limited under-thigh support. By contrast, the rear seat is nicely contoured, and although the cushioning feels a bit too soft, it is very comfy. Space is decent but headroom is tight for taller passengers, and the absence of adjustable rear head restraints (which counter whiplash in the event of a crash) compromises safety. What the Amaze does get is several practical storage areas and a 420-litre boot, which is the largest in its segment.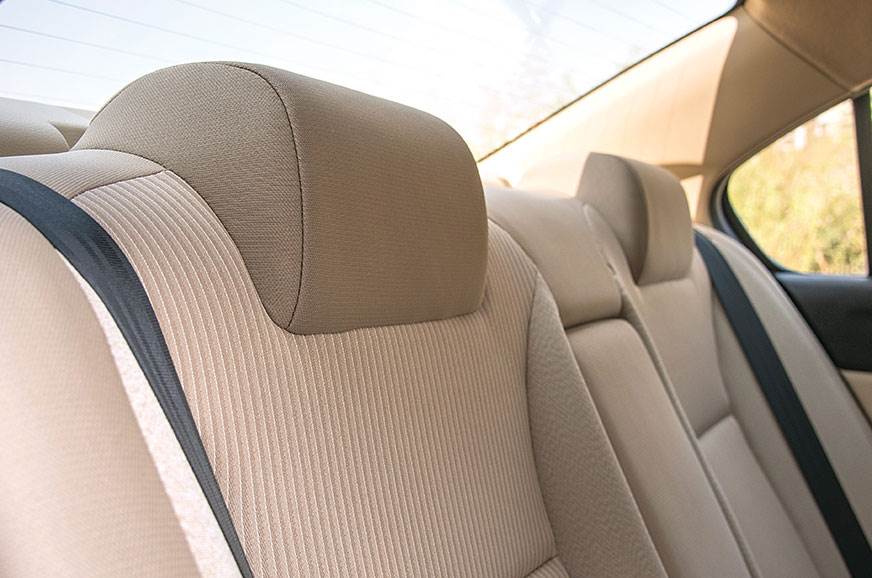 AMAZE: Doesn't offer adjustable neck restraints at rear.
It's the Maruti Dzire which feels posh on the inside with plenty of beige and a neat dash layout. The fake wood trim might not be to everyone's taste, though. What helps is that the large glass area and the scooped-in dashboard really add a sense of space on the inside, and it feels far larger than any other car in its class. Quality is great for the most part, but it isn't perfect, and there are certain bits that feel hard and cheap. The seat cushioning is just right, and both, the front and rear seats are nice and comfy. Its rear seat is the widest amongst the three, so accommodating a third passenger would be relatively more comfortable.
DZIRE: Auto LED projector headlamps are excellent.
Equipment
Ford Aspire 1.2P Titanium+
Honda Amaze VXi VTEC
Maruti Suzuki Dzire ZXi+
Automatic headlamps
Yes
NA
Yes
Projector headlamps
NA
NA
LED
Push-button start
Yes
Yes
Yes
Keyless entry
NA
Yes
Yes
Touchscreen infotainment system
6.5-inch
7-inch
7-inch
Android Auto/Apple CarPlay
Yes
Yes
Yes
Cruise control
NA
Yes
Yes
Reverse camera
Yes
Yes
Yes
Rear AC vents
NA
NA
Yes
Auto-dimming inside mirror
Yes
NA
NA
Automatic wipers
Yes
NA
NA
Adjustable rear neck restraints
Yes
NA
Yes
Airbags
6
2
2
Price (ex-showroom, Delhi)
Rs 7.24 lakh
Rs 7.69 lakh
Rs 8.00 lakh
Final word
The Honda Amaze's all-new packaging makes it a well-rounded car. It is refined, spacious and has the largest boot. Ride comfort is nice, but it loses out with an engine that has a weak low and mid-range, and, on the whole, it isn't that much fun to drive. The front seats too aren't comfy enough and the touchscreen user interface could have been better.
DZIRE: Gets rear air-con vents.
That brings us to the Ford. The Aspire's touchscreen is the best in the segment and the car is decently equipped. The Aspire is the only compact sedan that offers six airbags, and despite all this, still remains far cheaper than its competition; so it is the best in terms of value. Plus it's still the most fun to drive, with a sharp steering, reassuring brake pedal feel, and a well-judged ride and handling balance. Even though this car doesn't have any major deal-breaker, its petrol engine just cannot match the segment-best, and space at the rear is very tight, and that's why it loses out to our winner – the Dzire.
The Dzire's 1.2 K-series engine is a jewel. It feels extremely peppy and overall performance of this compact sedan is the best. Apart from its lifeless steering, the Dzire feels the nicest in city traffic thanks to its light controls, comfy seats, and absorbent ride. Yes, it is the most expensive one here and it isn't the best-equipped either, but it will hold its value over time, which will negate the price premium. The Dzire also looks the most sedan-like and, more importantly, it has ample room inside and the cabin feels airy and spacious delivering that 'big car' feel in spades. It wins quite convincingly; it's a shame about that steering, though.