The Hero XPulse is finally here and we get to see if the long wait has been worthwhile.
It's such a strange thing that off-road capable enduro bikes aren't a bigger thing in India, especially when... *insert your favourite joke about what an embarrassment our roads are. Hero gave it a shot way back in 2011 with the Impulse, and now they're trying again with the brand new XPulse. The difference is, while the Impulse was heavily based on the Brazil-spec Honda NXR 150, the XPulse is a completely homegrown effort, right from the frame to the powertrain. So while we'll have to wait for the sales numbers to confirm how much our market has evolved, the good news is there's no longer a wait to hear what the bike is like.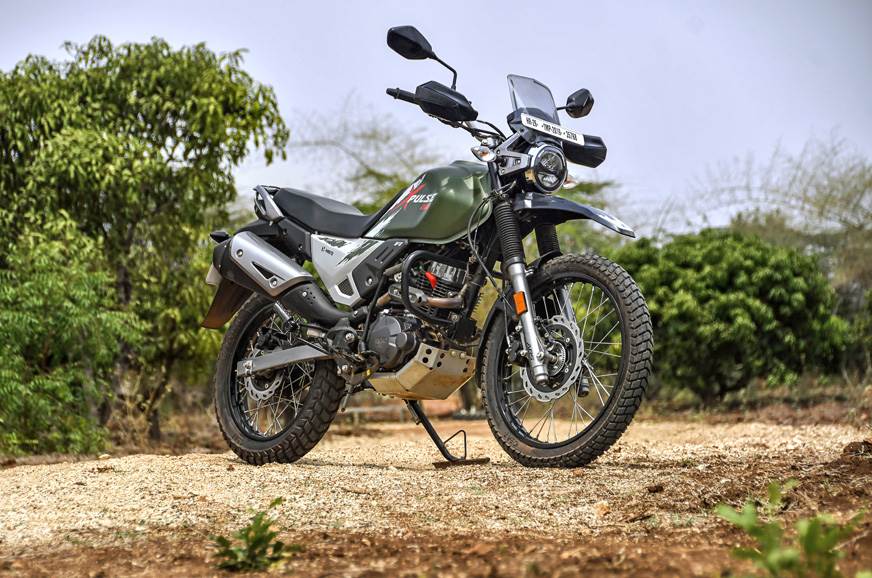 First impressions
There are no big surprises here, because we've already seen what the bike looks like in concept form and very little has changed on the production machine. The overall design is simple, straightforward and not very exciting, for that matter. Of course, a quick glance at the MX-style front fender, big spoked wheels and upswept exhaust leaves no doubt that this bike is designed for the life off the beaten path. However, I find myself missing some of the sharper lines from the Impulse; and this holds true, especially, at the rear three-quarters that looks almost commuter-like in its execution. I do like the LED head and brake lamps, and that small windscreen helps at highway speeds too, especially if you've got a motocross style helmet on. Hero tells us that the entire rear hugger, along with the indicators, is easily removable, by taking off just a few screws and a connector.
The Impulse' 835mm seat height was one of the prime reasons to blame for its failure in a country where the average height is about 5ft 5in. Getting that number lower played a big role in the design of this motorcycle. That's why you'll see a stepped seat, instead of a flat unit normally found on an enduro or dual-sport motorcycle, and that's resulted in a 825mm seat height. This is not bad at all for a bike with rally-spec wheel sizes and 220mm of ground clearance. A relatively slim seat also helps make the bike feel more manageable than the seat height figure would suggest.
Climb aboard and you're welcomed by a very comfortable and upright riding position, commanded by a wide handlebar, with a slim seat underneath. You'll also find yourself facing a brand new LCD instrument cluster that displays all the info you'd like to see and is also quite easy to read. The display also offers basic navigation assist in the form of arrows and a small remaining-distance readout underneath. You need to download a special app to get this to work and it's powered by Google Maps, which is always a good thing. There's also an underseat USB outlet where you can keep your phone on charge while the navigation system is running. I found the system to be helpful, but it doesn't handle re-routing very well and the estimated time of arrival isn't very accurate either. Still, it absolutely beats having to frequently to stop and pull your phone out of a pocket to check maps at every intersection.
When the going begins
A few minutes into riding the XPulse and it immediately feels ready to take on the world. We didn't find truly horrendous roads, but it's almost like there's no pothole too big and seemingly nothing that can really rattle this bike out of shape. Credit for this goes to the suspension setup, which doesn't feel overly soft, but has a well-damped sense of control and has plenty of wheel travel to take advantage of. From the rider's point of view, the wide handlebar gives you great leverage; and this is a good thing because the steering is slow due to the big 21-inch front wheel and the relaxed steering geometry. It takes some effort to get the bike to turn into a corner, but this is offset by the semi-knobbly Ceat Gripz tyre's tendency to drop into a lean quite quickly. These two tendencies counteract each other well enough to provide a predictable and safe handling characteristic on the narrow country roads we found ourselves on.
Braking at both ends is handled by disc brakes that are sized similarly to the Xtreme 200R, but come as petal discs on the XPulse. Bite and power at the front end is decent (and vastly better than the Himalayan) but you do need to get used to the generous amount of fork dive under braking. The ABS is a single-channel setup, but I found the rear brake pedal very easy to modulate and with enough travel before reaching the point at which the rear wheel locks. For the kind of bike the XPulse is, this level of braking performance feels appropriate.
When things get tough
The destination for the day was the Big Rock Dirtpark at Kolar, which is about an hour from Bengaluru. This is possibly the best place there is to experience the XPulse, because it's where Hero's Dakar star, CS Santosh, trains and runs an off-road riding school. Big Rock is massive and we got to ride on long trails through lightly forested areas, around an oval flat track, through a motocross track with jumps and berms and even over some enduro style obstacles.
The XPulse felt so much more at home in this setting than out on the highway. Hero has been getting the dynamic set-up of its recent motorcycles spot on and the XPulse fares well in this regard. Its diamond frame might look similar to that on the Xtreme 200R, but Hero says this one is brand-new and also a little larger. The XPulse also gets a longer, high-tensile steel swingarm and it has a further stretched-out wheelbase than the XPulse T or the Xtreme 200.
To give this bike serious off-road credentials, Hero went with a 21-inch front/18-inch rear wheel setup, which is identical to what you'll find on hardcore off-road machines, including the Dakar rally bikes. The front fork spans 37mm in diameter and has 190mm of travel, while the rear gets a brand-new 10-step preload-adjustable monoshock that has 170mm of stroke. Ground clearance is a substantial 220mm, but if you run out of it, there's a proper metal bash guard underneath to keep the engine protected. Hero has also moved the foot pegs higher up, which is something Impulse owners will appreciate, considering how easily that bike's foot pegs meet the dirt while riding with enthusiasm. I do wish they'd positioned the pegs a little more towards the rear though, because that would have made it much easier to get a solid grip on the motorcycle with your legs while standing and riding. This holds true especially for taller riders, but a comfortable riding position has taken priority here.
The wheel sizes in particular are a big step-up from the Impulse, which ran a 19/17 combination, but the downside is that this bike weighs quite a bit more. Factor in the bigger frame, engine and wheels, and the XPulse weighs 20kg more than the Impulse did, at 154kg (153kg for the carb version). To be honest, I thought the weight was managed quite well and I never found it tedious or difficult to handle. It helps that the XPulse is still nearly 40kg lighter than the Royal Enfield Himalayan, which is the only other decently capable off-roader available for reasonable money today.
Remember the part from earlier about how the XPulse's suspension isn't set too soft? Well, that plays a leading role in how well this bike carries itself in an environment like Big Rock. The combination of the stability generated by the wheels and the ability of the suspension to absorb big impacts makes this bike quite a treat off road. The bike handles big jumps well and I never really got the suspension to bottom out. Obviously, this is no dirt bike, and it's built more for casual trail riding rather than maximum attack on an MX course, but the XPulse took in its stride whatever we threw at it. We even got to watch CS Santosh (check his Instagram) do some astonishing things with the bike, proving that it has some good capability to offer.
Most of all, the XPulse always remained a friendly and encouraging machine, one that holds your hand off-road, rather than attempt to rip it off, as many a hardcore off-road bike so easily tend to do. This means that even an average rider, like myself, quickly starts upping the pace, and that's where you run into one of this bike's few, but significant drawbacks. The XPulse runs the very same 199.6cc, two-valve, air-cooled engine that debuted in the Xtreme 200R. In this application, the engine is fuel-injected, and that brings slightly higher levels of refinement and a tiny bit more willingness to be held at higher revs; and I'm sure there will be some fuel-efficiency benefits as well.
Sadly, the power and torque figures are exactly the same, at 18.4hp and 17.1Nm. This is a disappointment, because the Xtreme proved that this engine actually generates 160cc levels of performance, rather than what you'd expect when you see the 200 sticker on the fuel tank. In the dirt, there's a good amount of tractability and decent levels of low-end torque, but when you ask for some dramatic responses from the rear tyre, there isn't much on offer. You can spin up the rear in first gear, but steering the bike by using the throttle isn't very easy above that, and this is despite the fact that the XPulse uses a larger rear sprocket (by one tooth) over the Xtreme 200R.
On the highway, it's a similar story as well – 85-90kph is sustainable, but anything upward of 100kph is work. Over a long downhill stretch of tarmac, and with my helmet tucked as low as possible, I managed to see 124kph, at which point the engine was right at the 9,000rpm redline. Sitting upright, 119kph was the maximum possible, but it was clear that the engine wasn't entirely happy sitting there. If you're the type who's happy to spend long hours touring at sedate speeds, this won't bother you. But, if you're like me, I'd suggest you map your long rides to use as little of the national highway network as possible.
Should I buy one?
This is probably a big question on your mind, especially if you're already an Impulse owner. Well, the XPulse does offer a sizeable step up, especially in terms of capability and dynamics, but I find myself wishing the bike had more oomph. It's the one thing that has stopped me at the point of really liking this bike instead of absolutely loving it. But then again, there's just no arguing with what's on offer, when you consider the pricing – Rs 1.05 lakh for the FI version and Rs 97,000 for the carburetted model (both prices, ex-showroom, Delhi), which, like most Heros, is excellent value for money. If you're keen to go riding in the dirt, this is a fantastic place to start and I know I can't wait for our long-term test bike to arrive.
Hero Karizma XMR video review
8333 Views|1 month ago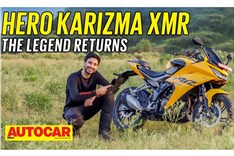 Hero Karizma XMR walkaround video
4226 Views|1 month ago
Quick News video: July 30, 2023
3102 Views|2 months ago