It's well known that KTM and Bajaj are co-developing an e-scooter platform, and a new test mule that's been spotted shows an upcoming model. Once finalised, it could come to the market as either a KTM or a Husqvarna (the Swedish brand is owned by KTM).
Floorboard-mounted battery pack

14-inch wheels, prominent spine section

Large TFT touchscreen visible
The rider of the test mule is seen wearing KTM apparel, and there are a number of elements on the scooter that identify it as a KTM. But the sleek indicators are straight from Husqvarna's catalogue, so it's quite likely that this could be a Husqvarna e-scooter. If the trend seen in petrol motorcycles continues, then the upcoming KTM and Husqvarna electric scooters will share their underpinnings.
Of course, Husqvarna has already shown an electric scooter concept in the form of the Vektorr that broke cover a couple of years ago. However, that was a relatively low-speed scooter, powered by a 4kW motor with a top speed of 45kph. Also under development is a larger, more powerful 8kW model, and that is most likely what we see here.
Interesting elements include a very intricate aluminium swingarm and a large touchscreen display. The scooter appears to get a mid-mounted motor, with the motor housing mounted on the swingarm and featuring cooling fins. The battery pack is housed in the floorboard, and there is a maxi-scooter format here, with a prominent central spine section and 14-inch wheels.
Many of the aluminium parts, including the swingarm, motor housing and pillion foot pegs, seem to be milled from solid aluminium, while the plastic body panels appear to be 3D printed. These prototyping methods suggest that this project is still very much in its early stages, so don't expect to see a production version of this scooter anytime soon.
Husqvarna Bikes
Husqvarna Svartpilen 250
₹ 2.17 lakh
Husqvarna Vitpilen 250
₹ 2.17 lakh
Husqvarna Svartpilen 200 image gallery
6143 Views|3 years ago
Husqvarna Svartpilen 250 image gallery
7832 Views|3 years ago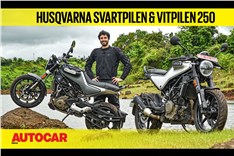 Husqvarna Svartpilen 250, Vitpilen 250 video review
19259 Views|3 years ago
Husqvarna Svartpilen 250, Vitpilen 250 first look video
24210 Views|3 years ago