Honda Neowing trike concept patented
Published On Apr 10, 2019 02:56:00 PM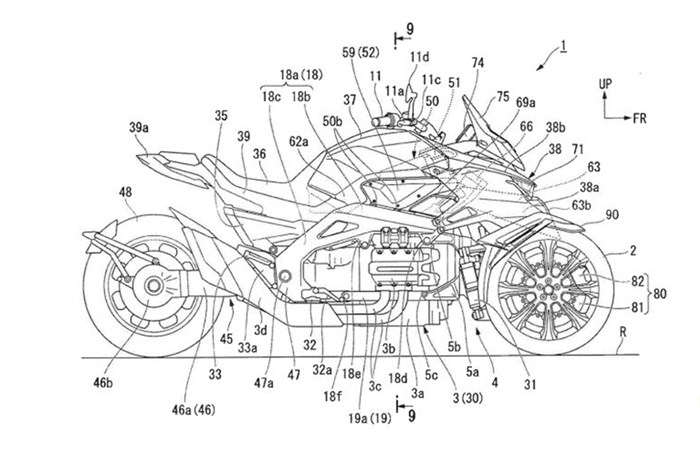 The three-wheeled motorcycle is based on the Honda Neowing concept.
It appears that Honda has a three-wheeled trike on the cards. This doesn't come as a surprise, considering that the manufacturer showcased the Honda Neowing concept back in 2016. Now, a patent filed with the European Patent Office reveals that Honda is closer to a production ready reverse-trike.
The document reveals that the patent was filed back in August 2016, a few months after the Neowing was revealed, and has just been granted and published on March 20, 2019. Interestingly, the document also reveals potential powertrain layouts. It mentions that the upcoming motorcycle may be powered by either a two- or a six-cylinder engine, and that the layout may be a V-twin or a transverse layout. It's evident that Honda is keeping its options open. Alternatively, it might also choose to launch the motorcycle with two engine variants. The six-cylinder engine configuration could see the 1,833cc motor from the Gold Wing make its way onto the trike. For reference, on the Gold Wing, the flat-six makes 126hp and 170Nm of torque. The document also states that the engine "may be configured such that the driving source includes an electric motor."
Currently, Yamaha is the only one of the four big Japanese motorcycle manufacturers to have a three-wheeled bike in production – the Niken. Launched back in 2017, the Niken is powered by an 847cc, three-cylinder engine – nearly 1,000cc smaller than the Gold Wing's. If launched with the massive flat-six, the bike based on the Neowing will take on other touring-biased trikes like the Can-Am Spyder that uses a 1,330cc triple.
What do you think about this News