As of late, there have been many reports of electric scooters from a wide variety of manufacturers catching fire due to various reasons. The latest name to join this list is arguably the most well-known one, Hero electric.
Hero Photon catches fire while charging in Odisha

Company says nothing wrong with scooter, socket was the culprit

Hero says will help the customer replace parts on cost basis
Fire caused due to faulty power socket
Hero Electric is in the news for one of its products, the Photon EV, which caught fire in Odisha on May 25. According to a statement released by the company, the incident was caused due to a faulty power socket to which the scooter was plugged into for charging overnight, and not due to an internal issue with the Photon. "Our technical team later visited the spot and analysed that the rear part of the scooter was burnt and the most probable cause of fire was the AC phase and earth wires of home coming in contact with each other (causing a) short circuit and the malfunctioning of the fuses that should have cut off in the event of such a short circuit," read the statement.
The customer said that he heard abnormal crackling sounds and saw fumes coming from the electric switchboard of the house that was closest to the e-scooter. He also saw sparks falling on the floor and on a can of paint nearby. Hero Electric states that by the time the customer turned off the main switch and came back to try and put out the fire, part of the electric scooter along with some household belongings were burnt.
Hero Electric added that they would help the customer in replacing the burnt parts on the scooter on cost basis, as well as extensively test the repaired scooter to determine its road worthiness.
Other EV two-wheeler fires
At least 20 incidents of electric scooters catching fire have been reported over the past month or so in our heat wave-affected country. The affected scooters are from companies such as Ola Electric, Pure EV, Jitendra EV Tech and Okinawa.
Do you think we have heard the last of electric scooters catching fire? Let us know in the comments section below.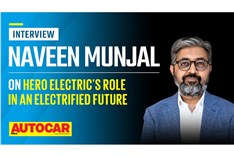 Naveen Munjal on Hero Electric and its future
3356 Views|1 year ago
Hero Electric AE-47 first look video
10734 Views|3 years ago