According to paperwork filed with the US National Highway Traffic Safety Administration (NHTSA) on June 5, Ducati is recalling 1,462 units of the Supersport and Supersport S motorcycles in the USA. Now, we have word from Ducati India that a certain number of motorcycles sold here are affected as well.
According to Ducati India, "The recall campaign has just been announced and we have recorded a few VINs that have been affected in India. We are in the process of letting MoRTH and SIAM know of the recall. There will soon there be an official announcement from Ducati India."
The exact number of bikes which have been affected in India will be revealed in the official announcement.
The recall comes after Ducati received reports of at least three such models catching fire spontaneously in the USA. The cause has been attributed to certain hoses that are routed too close to the exhaust manifold, causing them to possibly melt. The hoses in question are the fuel-tank overfill hose and the airbox blow-by hose. The melting of either of these hoses would cause flammable fuel, in vapour and/or liquid form, to come into contact with the hot exhaust manifold.
The NHTSA warns SuperSport riders to watch out for tell-tale signs of failure that include smoke at idle, or the smell of burning rubber from the lower left fairing.
The recommended fix is a relatively simple one and only involves re-routing the hoses in question. Their position will be modified to put them in front of the existing electrical wiring, ensuring that they avoid any contact with the exhaust manifold.
The motorcycles that have been affected were built at the Italian manufacturer's Bologna plant, while the Indian bikes come from the firm's second plant in Thailand. The recently launched Panigale V4 has also been recalled in the USA for fuel-related reasons, but this did not affect India as deliveries of the new V4 haven't begun yet.
Ducati Streetfighter V2 video review
4772 Views|4 months ago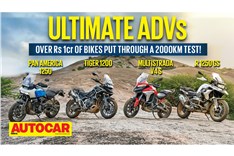 BMW vs Ducati vs Harley vs Triumph - 2000km ADV road trip...
6157 Views|7 months ago
2022 Ducati DesertX video review
8406 Views|9 months ago