Ducati has announced the first edition of the Ducati Riding Experience (DRE) Track Days in India. The riding experience will be held at the Buddh International Circuit, Greater Noida on October 13-14, 2018. All the participants will be trained by Alessandro Valia, the official test rider for Ducati, who has been associated with DRE for a decade.
The DRE programme has been designed to help riders improve their riding skills under the guidance of certified instructors. The DRE Track Days is open to both Ducati (except Scrambler owners) and non-Ducati owners who ride a sports bike that's 600cc and above. The event has no registration charges for Ducati Panigale V4 owners.
Other Ducati owners can participate in the DRE Track Days for Rs 10,000. They also have the option of test-riding the Panigale V4 for Rs 5,000, the 959 Panigale for Rs 3,000 and the SuperSport for Rs 2,000. The DRE Track Days for Ducati owners will consist of three track session of 20min each, three laps on their choice of a Ducati test ride motorcycle, a Ducati Fan Kit, technical assistance, discounts on spares, along with a DRE certificate to acknowledge their participation.
Non-Ducati owners will be offered two track sessions of 20min each at the same Rs 10,000 registration fee. They also have an option of test-riding Ducati bikes for three laps. The list of Ducati bikes available remains the same – the Panigale V4, 959 Panigale and the SuperSport –along with a Ducati Fan Kit, albeit for a higher cost of Rs 16,000, Rs 12,000 and Rs 10,000, respectively.
For more information about the DRE Track Days, riders can contact the Redline Racing Store at +91 98100 83296 and +91 98995 62622.
Also see:
Ducati Streetfighter V2 video review
5836 Views|8 months ago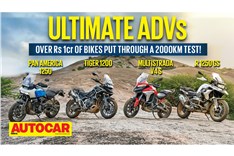 BMW vs Ducati vs Harley vs Triumph - 2000km ADV road trip...
7183 Views|11 months ago