BMW Motorrad reveals 3D-printed frame, swingarm
Published On May 05, 2018 08:00:00 AM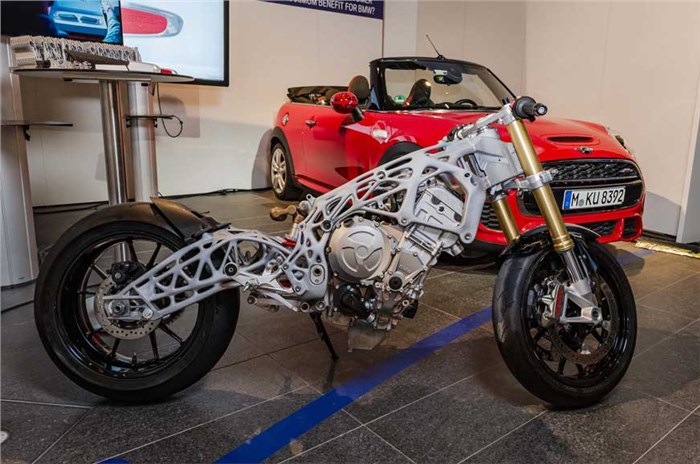 Experimental 3D-printed frame and swingarm showcases future possibilities.
Having recently showcased a production-ready carbon-fibre swingarm, the German manufacturer has now revealed a metal 3D-printed prototype frame and swingarm at its BMW Group Digital Day 2018 event. The frame houses the in-line-four engine from the S1000RR and has been created using a 3D-printing technology called Selective Laser Melting.
From the images released, the surface finish seems to be rough and no structural properties have yet been released by BMW. However, recent steps taken by the manufacturer seem to indicate a search for alternative manufacturing methods. To facilitate this, BMW has created an Additive Manufacturing Centre in Munich, which is capable of creating up to 1,40,000 3D-printed parts each year. While 3D printing is a relatively new concept to motorcycles, it is already being used to create certain components for BMW's road cars, including the roof mountings for the soft-top i8 Roadster.
While the next iteration of the S1000RR is expected later this year, it is unlikely that it will have a 3D-printed frame, since this technology is yet in its infancy. However, with the advent of this technology, the possibilities for the future seem limitless.
What do you think about this News