From brands making a comeback, to new safety norms being introduced, 2022 had it all. We've compiled a list of our highlights from the year gone by. Starting in no particular order:
LML brand resurrected
In 2022, LML announced that it would be making a comeback to the Indian market, which induced nostalgia among many. The company stated that it would re-enter our market in the electric space and as such went on to reveal three EV concepts earlier this year. LML plans to launch these products in the second half of 2023.
Yezdi reborn
Another beloved nameplate resurrected this year was Yezdi. Much like it did with Jawa, Mahindra-owned Classic Legends revived the iconic Yezdi brand in 2022 with the launch of three new models – the Roadster, Scrambler and Adventure. All three models are powered by a modern 334cc, single-cylinder, liquid-cooled engine based on the Jawa Perak motor, but get some retro design elements in keeping with the brand's identity.
Hero MotoCorp goes electric, partners up with Zero

India's largest two-wheeler maker entered the EV fray with two electric scooters in 2022. Launched under the new Vida sub-brand, the V1 Plus and V1 Pro, both use a 6kW motor and get a claimed range of 143km and 165km, respectively. However, deliveries have only just begun, in mid-December.
Aside from these launches, Hero also partnered up with American company Zero Motorcycles to co-develop electric bikes. Hero is said to have made an investment of USD 60 million (approx. Rs 490 crore) in Zero Motorcycles, which is likely to give it a sizable stake. Exactly what products spawn from this collaboration remains to be seen. This collaboration comes alongside Hero's partnership with Taiwanese Gogoro and also its stake in Ather Energy.
Battery swapping policy introduced
In an effort to promote EVs, the government released a draft policy for implementing battery swapping stations this year. Battery swapping allows an owner to remove and replace their depleted battery with a fully charged one in a matter of seconds. As per the draft policy, EVs with swappable batteries will be sold without a battery, thus reducing purchasing costs for potential customers, and individuals can set up swapping stations at any location while maintaining technical, safety and performance standards.
Manufacturers like Hero Electric, Vida, Revolt, Bounce and Simple Energy are the only ones currently offering the removable battery technology with their electric two-wheelers.
In related news, Taiwan-based Gogoro has kickstarted a battery swapping pilot project in India, although this project is independent of Hero MotoCorp. Honda, in collaboration with HPCL, has also begun its battery swap service in the country, with serious plans for expansion in the future.
EV fires, new battery safety norms
2022 also saw new battery safety norms being introduced, following EV fire incidents across the country. These regulations relate to battery cells, battery management systems, onboard chargers, designs of the battery pack and thermal propagation. The norms were set to be enforced from October 1, 2022, but their implementation has been postponed since.
In April this year, multiple electric two-wheelers from manufacturers such as Ola Electric, Okinawa Autotech, Jitendra EV and PureEV were reported catching fire. There was also an incident with an Ather electric scooter that caught fire at a Ather service centre, although the company says that this scooter was damaged in an accident. Taking these EV fire accidents into consideration, Minister for Road Transport and Highways, Nitin Gadkari, had warned companies of penalties if they were found to be negligent, and had said they will be ordered to recall the defective vehicles.
Pillion safety
A step in the right direction, 2022 saw helmets made compulsory for pillion riders in Mumbai. While the rule has been on paper for quite a while, it is only now that it is being enforced strictly. Motorists found not conforming to the rules will be fined Rs 500. Although it has only been enforced in Mumbai, the hope is that it gets implemented across the country soon.
Crackdown on illegal low-speed EVs
The government also began cracking down on dealers who were selling high-speed electric scooters as the low-speed variety. The Ministry of Road Transport and Highways (MoRTH) has issued a notification and suggested that states take strict action against dealers flouting the norms.
As per the rules, all EVs under 25kph don't require type approvals and can be directly sold without certification. However, it was discovered that an influx of vehicles with speeds as high as 40-50kph were being sold as low-speed two-wheelers across the country from multi-brand dealer outlets, which has resulted in the ministry red-flagging this development.
De-FAME-ation
EV makers such as Hero Electric and Okinawa Autotech came under the scrutiny of the government this past year. The Ministry of Heavy Industries suspended incentive payments to these manufacturers for not complying with the requirement for the localisation of components. The incentives were being offered under the government's Rs 10,000 crore FAME-II scheme. The central government also reportedly instructed that an audit be conducted by ARAI on other companies like Ampere EV, Jitendra EV and RattanIndia Revolt. As of writing this article, the status of Hero Electric's and Okinawa's FAME-II incentives were listed as expired on the Ministry of Heavy Industries' website.
Electric growth continues, Ola on top
India's electric two-wheeler story has grown significantly this year. Monthly EV sales crossed the 75,000-unit mark for the first time in Indian automotive history, and that too for two months in a row (October and November). A total of 4,36,069 units were sold in the first eight months of the ongoing fiscal year. This translates into 1,787 e-two-wheelers being sold each day over the 244 days in the April-November 2022 period.
Ola Electric is the current market leader in the April-November 2022 period with a total of 77,753 units, which translates into a 20 percent market share. Having opened FY2023 with sales of 12,707 units in April 2022, the company has now topped the monthly sales figures for three consecutive months – September (9,890 units), October (16,330 units) and November (16,325 units).
Rest in peace, Rahul Bajaj
On a more sombre note, India lost a stalwart of the two-wheeler industry this year – Rahul Bajaj. Often credited as the man who put India on two wheels, the chairman emeritus of Bajaj Auto passed away at the age of 83. He led Bajaj Auto for close to 50 years, starting in 1972, and under his leadership, the company became a household name in our country.
MotoGP to race in India
One of the biggest motorsport stories of 2022 was the confirmation of a Grand Prix of Bharat in the 2023 MotoGP calendar. To be held at the Buddh International Circuit, a deal has been signed to bring the premier class of two-wheeler racing in the world to India for seven years. However, MotoGP's arrival in India is dependent on the circuit being homologated by the FIM (Federation Internationale de Motocyclisme) to ensure it's suitable for MotoGP racing.
TVS races overseas, reaches export milestone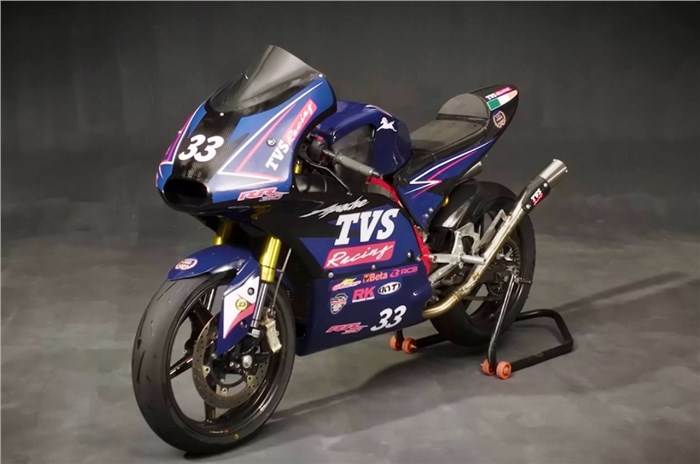 In 2022, TVS Racing went international by announcing the TVS Asia One-Make Championship which would run alongside FIM Asia Road Racing Championship. In doing so, TVS became the first Indian manufacturer to start an Asian One Make Racing Championship. The championship would involve 16 riders from all over Asia, taking part in races in Malaysia, Indonesia, Japan and Thailand, onboard highly specialised race-spec TVS Apache RR 310s.
This year, TVS also clocked 1 million-unit exports in a financial year – achieving this feat for the first time in its history.
Also see: