We've known for a while now that Kawasaki is developing a retro-themed motorcycle on the new Z900 platform. To be christened the Z900RS, this motorcycle is a throwback to the legendary Kawasaki Z1 from the early 1970s. Confirming the rumours, Kawasaki has released a short teaser video of the upcoming motorcycle.
Spanning less than 30 seconds, there's not much in the video to see of the new bike, but we can tell that it features what looks like a round LED headlamp, slim LED indicators, twin pod dials, a chrome handlebar and circular mirrors. The Z900RS' orange-black paint scheme harks back to the original Z1 briefly shown at the start of the video. At the 7.0sec mark, it's clear that the bike sports a plastic remote brake fluid reservoir against the standard cast unit on the Z900. This could hint at higher-spec brakes, and if that's the case, we may also see higher-quality suspension as well to go with the RS nametag. However, from what we can tell, the forks look quite similar to the USD units on the Z900.
As for the engine and chassis, it's likely this bike will continue with the Z900's 125hp 948cc inline-four engine and trellis frame, perhaps with some small modifications for the intended role. Kawasaki will officially unveil the Z900RS at the Tokyo Motor Show on October 25, 2017. The bike will likely be priced a bit higher than the Z900 and we believe it could be launched in India sometime next year.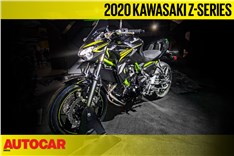 2020 Kawasaki ZH2, Z900, Z650, Z400 walkaround video
8065 Views|3 years ago
2017 Kawasaki Z900 video review
11724 Views|5 years ago