JK Tyre has announced a new Time-Speed-Distance (TSD) rally championship, called the Indian National Regularity Run Championship (INRRC). Backed by the FMSCI (Federation of Motorsport Clubs of India), this will run as a national championship across 17 cities in India.
Round 1 kicks off on October 1
TSD rallies will be held in cities
Final round will be the JK Tyre Tri-Nation Himalayan Drive
Indian National Regularity Run Championship registration
The INRRC is a stepping stone for those who want to make the move to professional rallying and hence, will be open to all those with a valid drivers' licence. Those interested can head here to register for Rounds 1 and 2. Registration for the remaining rounds will be available on FMSCI's website soon.
The qualifiers will be divided into zones – North, South, East, West and Central and will get underway on October 1 with the Rally of Bangalore, which will be flagged from Kanteerava Stadium at 8 am. This will be followed by the Rally of Hampi the next day.
The final round will be the JK Tyre Tri-Nation Himalayan Drive in Siliguri with contestants traversing through Darjeeling and Sikkim, before crossing over to Nepal and culminating in Bhutan.
Speaking about the new championship, Sanjay Sharma, Head of Motorsport at JK Tyre said, "Promoting motorsports at the grass-root level in India has always been a key priority for JK Tyre. Our idea endeavours to create an ecosystem and provide opportunities to motorsport buffs, as always. By launching the JK Tyre FMSCI India National Regulatory Run National Championship, we hope to nurture a new generation of rally enthusiasts to get into professional rallying."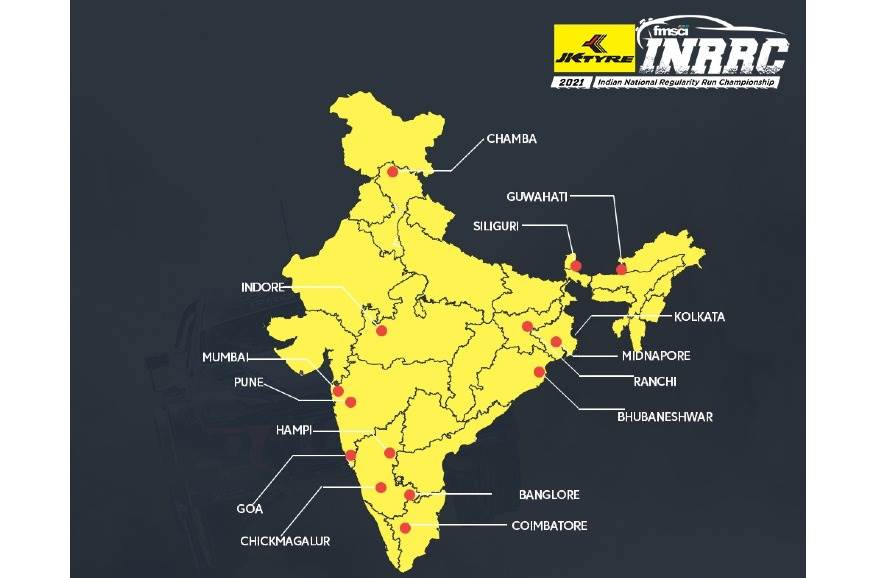 What is a TSD rally?
A TSD or Time-Speed-Distance Rally is often also referred to as a Regularity rally. These events are usually conducted on public roads – both clean tarmac and flat dirt tracks – requiring precise time and average speed on various segments along predefined routes.
Each team will include a driver and a navigator. They will start the run at a fixed interval, creating a field that is spread along the route with undisclosed time controls. The team with minimum time penalties will be crowned the winner.
The INRRC will crown three national champions – one driver, one navigator and one team.
Also see: