The fight for Formula 1's leading seats may have been over months ago, but the battle for cockpits further down the field remains intense as judgements loom on the final two vacancies.
Force India and Caterham are the only remaining outfits that have yet to finalise their line-ups, but with just one month to go before the start of 2013 testing, decisions are now expected within days.
The increasingly tough economic climate worldwide means that teams at both ends of the grid have had to be more mindful of commercial considerations when it comes to drivers, which is why neither outfit is having an easy time making its choice.
Force India: Bianchi vs Sutil
The Force India vacancy is a plum seat, with Nico Hulkenberg having shown at theBrazilian Grand Prix that the team has the capability to fight right at the front.
Although Paul di Resta has not yet been confirmed, his performances last year left the team in no doubt that he justified another opportunity for 2013, so his place is secure.
Towards the end of last season, the list of candidates for the seat alongside di Resta stretched to double figures though, as youngsters like Luiz Razia, out of work men like Jaime Alguersuari and Sebastien Buemi, and current racers like Bruno Senna and Kamui Kobayashi vied to fill Hulkenberg's place.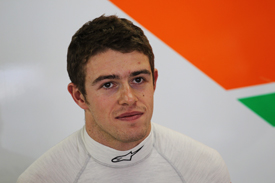 Although each driver had varying amounts of sponsorship behind him, Force India CEO Otmar Szafnauer told AUTOSPORT at the end of last season that the decision would ultimately rest on ability rather than backing.
He made it clear his preference was for speed to ultimately win out, because that would be the only way of ensuring both its men performed.
"I am a believer that you need someone like that," he said. "Not everyone does, and it is a subconscious thing.
"You think you are driving the best you can, but there is nothing like competition for us humans to really sharpen our focus, attention and skills in all sort of stuff. If you have competition you end up driving yourself more."
That process has culminated in the selection whittling down now to what appears to be a straightforward decision between veteran Adrian Sutil and rising star Jules Bianchi.
Sutil has the experience and speed to keep things moving forward after Hulkenberg, and would bring some funding from his long-term backers.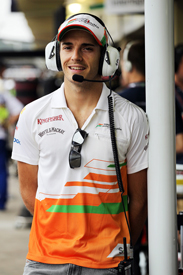 Bianchi would be more of a gamble on the driving front - because he has yet to race in F1 – but he has the added attraction of closes ties to Ferrari.
The Frenchman has been retained as part of the Ferrari Driver Academy for 2013, and a long-term deal could tie in to a potential engine partnership for 2014 and beyond.
Ferrari is currently working on sorting out its future customer engine plans, and may need to secure another partner with Scuderia Toro Rosso likely to make the move to Renault after this season.
The final call on Force India's drivers rests with team principal Vijay Mallya, who will need to weigh up both the short-term and long-term benefits of either candidate.
Caterham: Petrov, Senna or van der Garde?
At Caterham, there is an equally tough decision to be made as to who will partner youngster Charles Pic.
The Leafield-based outfit may have secured its 10th place in the constructors' championship at the 11th hour with Vitaly Petrov's result in Brazil, but it remains eager to bolster its commercial situation even more.
Heikki Kovalainen is unlikely to be kept on for another year, with the leading candidates for the role now being Petrov, Bruno Senna and Giedo van der Garde.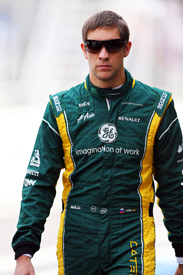 Petrov added nearly $10 million to Caterham's coffers with his 11th-place finish at Interlagos that got the team back in the top 10 of the constructors' championship, so there is an obvious reason to retain him.
Furthermore, Petrov has the potential to unlock more sponsorship from Russia with the Sochi Grand Prix looming on the horizon for 2014.
However, Senna has valuable backing behind him right now, and has the kind of profile and attitude that the team would benefit from.
Like the decision facing Mallya, Caterham has candidates who each easily justify their place, but in the end there is only space for one man.
2013 Formula 1 line-up so far:

Red Bull     Sebastian Vettel  Mark Webber
Ferrari      Fernando Alonso   Felipe Massa
McLaren      Jenson Button     Sergio Perez
Lotus        Kimi Raikkonen    Romain Grosjean
Mercedes     Lewis Hamilton    Nico Rosberg
Sauber       Nico Hulkenberg   Esteban Gutierrez
Force India  Paul di Resta     seat still available
Williams     Pastor Maldonado  Valtteri Bottas
Toro Rosso   Daniel Ricciardo  Jean-Eric Vergne
Caterham     Charles Pic       seat still available
Marussia     Timo Glock        Max Chilton