Sebastian Vettel breezed to his second victory of the 2013 Formula 1 season in the Bahrain Grand Prix.
The world champion thrust his Red Bull to the front amid spectacular early dicing, then left the action behind.
In a repeat of the 2012 Sakhir podium, Lotus duo Kimi Raikkonen and Romain Grosjean made it through the field to second and third, the latter denying Paul di Resta a maiden F1 podium with just six laps to go.
Vettel was in a hurry to hit the front from the outset.
He forced polesitter Nico Rosberg to defend heavily off the line, and although Fernando Alonso managed to get his Ferrari between them around the outside, Vettel surged back into second with a bold move at Turn 5.
Vettel then pounced on Rosberg's Mercedes into Turn 4 on lap two, only to run wide. Next time around he made the move stick, and thereafter inched away towards an ever-more certain victory.
Alonso was soon up to second but his DRS flap jammed open. He made an emergency pitstop to fix it, but the problem reoccurred. By lap nine, he was 19th, had made two pitstops and knew he would be without DRS all afternoon.
With Alonso out of contention, the best of the rest battle became a contest between di Resta and Raikkonen, both two-stopping compared to most frontrunners' three.
Di Resta looked to be best-placed until approaching their final stops, when Raikkonen slipped past him just before pitting, and then built an advantage on his fresh tyres.
Force India remained on course for third for a while, but Grosjean was looming. The three-stopping Frenchman saved his medium tyres for the final stint and was able to hunt down and pass di Resta, who had to settle for a career-best fourth.
The rest of the top 10 featured wild racing all afternoon, with an abundance of side by side and wheel to wheel action as different strategies unfolded and different cars found pace at different junctures.
Lewis Hamilton crept forward after a low-key start and finally grabbed fifth.
Sergio Perez produced by far his most combative performance for McLaren yet. He was embroiled in a long dice with team-mate Jenson Button and the fading Rosberg, which featured contact between the McLarens and anxious radio messages on more than one occasion.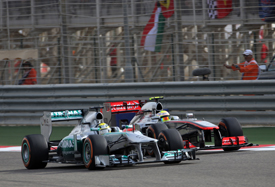 Despite losing a front wing endplate against his team-mate's car, Perez finished sixth, joining Hamilton in passing Mark Webber on the final lap.
Webber had been a podium threat for a spell, before falling back on his final set of tyres.
Alonso fought through to eighth despite his lack of DRS, with Rosberg and Button forced to four-stop and ending up ninth and 10th.
Felipe Massa suffered two right rear punctures and was only 15th. He had also made contact with Adrian Sutil on lap one, causing a puncture for the Force India driver, who made it back up to 13th.
PROVISIONAL RACE RESULTS

The Bahrain Grand Prix
Bahrain, Bahrain;
57 laps; 308.405km;
Weather: Dry.

Classified:

Pos  Driver        Team                       Time/Gap
 1.  Vettel         Red Bull-Renault           57 laps
 2.  Raikkonen      Lotus-Renault              +  9.1s
 3.  Grosjean       Lotus-Renault             +  19.5s
 4.  Di Resta       Force India-Mercedes      +  21.7s
 5.  Hamilton       Mercedes                  +  35.2s
 6.  Perez          McLaren-Mercedes          +  35.9s
 7.  Webber         Red Bull-Renault          +  37.2s
 8.  Alonso         Ferrari                   +  37.5s
 9.  Rosberg        Mercedes                  +  41.1s
10.  Button         McLaren-Mercedes          +  46.6s
11.  Maldonado      Williams-Renault        +  1m06.4s
12.  Hulkenberg     Sauber-Ferrari          +  1m12.9s
13.  Sutil          Force India-Mercedes    +  1m16.7s
14.  Bottas         Williams-Renault        +  1m21.5s
15.  Massa          Ferrari                 +  1m26.3s
16.  Ricciardo      Toro Rosso-Ferrari        +  1 lap
17.  Pic            Caterham-Renault          +  1 lap
18.  Gutierrez      Sauber-Ferrari            +  1 lap
19.  Bianchi        Marussia-Cosworth         +  1 lap
20.  Chilton        Marussia-Cosworth         +  1 lap
21.  van der Garde  Caterham-Renault         +  2 laps                 

Not classified/retirements:

Driver        Team                         On lap

Vergne        Toro Rosso-Ferrari           16

Fastest lap: Vettel, 1m36.961s

World Championship standings, round 4:                

Drivers:                    Constructors:             
 1.  Vettel         77        1.  Red Bull-Renault          109
 2.  Raikkonen      67        2.  Lotus-Renault              93
 3.  Hamilton       50        3.  Ferrari                    77
 4.  Alonso         47        4.  Mercedes                   64
 5.  Webber         32        5.  Force India-Mercedes       26
 6.  Massa          30        6.  McLaren-Mercedes           23
 7.  Grosjean       26        7.  Toro Rosso-Ferrari          7
 8.  Di Resta       20        8.  Sauber-Ferrari              5
 9.  Rosberg        14       
10.  Button         13       
11.  Perez          10       
12.  Ricciardo       6       
13.  Sutil           6       
14.  Hulkenberg      5       
15.  Vergne          1       
       
All timing unofficial