It's race week! The Bahrain GP this weekend will kick off the 2023 F1 season after a long winter break.
This year, teams had just three days of pre-season testing at the Bahrain International Circuit (the same venue where the first race will be held). Now, testing rarely gives us the full picture, with fuel loads, set-ups and team programmes varying across the grid. But it does give us an early idea of how all the teams stack up – which ones look strong and which ones could be trouble.
1. Red Bull Racing
Drivers: Max Verstappen, Sergio Perez
Laps completed in testing: 413
Fastest lap: 1m 30.305s (Perez)
2022 was a record-breaking season for Red Bull and the reigning champions already look like they're on solid footing for 2023. The RB19 was quick out of the box. Max Verstappen was fastest on Day 1 and Sergio Perez went on to set the fastest lap in testing with a time of 1m 30.305s – that's faster than last year's Bahrain GP pole time.
They were the fastest in race trim as well. More crucially, Red Bull enjoyed three trouble-free days of running with no evident reliability concerns. So they definitely enter the 2023 season primed well to defend their double titles.
2. Ferrari
Drivers: Charles Leclerc, Carlos Sainz
Lap completed in testing: 416
Fastest lap: 1m 31.024s (Leclerc)
Frederic Vasseur replaced Mattia Binotto as Ferrari team principal earlier this year and he's already made some crucial changes within the team. The most notable of these is Ravin Jain now taking charge of trackside strategy, with Inaki Rueda (who held the role previously) moved to a factory-based role.
There's plenty of positive buzz surrounding the team, with reports suggesting they can now finally run their engine at full power. "We have scanned a number of items on the car and ticked many of the boxes of our programme, without worrying about lap times or what the others have been doing, simply focusing on ourselves," Vasseur said at the end of testing. As it currently stands, Ferrari look like they'll be Red Bull's biggest challenger this season.
3. Mercedes
Drivers: Lewis Hamilton, George Russell
Laps completed in testing: 398
Fastest lap: 1m 30.664s (Hamilton)
Mercedes did have a few reliability issues during testing, and even Lewis Hamilton admitted the W14 has some underlying issues that need to be worked on. Based on testing pace alone, Mercedes sit behind Red Bull and Ferrari in the pecking order, and could even face a challenge from Aston Martin.
But there are some positives; Team principal Toto Wolff says the porpoising issues that plagued the team last year are "essentially gone". And since it's testing, we don't know the full story. Wolff hinted that there could be more to come, admitting that Mercedes were still hiding some pace in testing.
4. Aston Martin
Drivers: Fernando Alonso, Lance Stroll
Laps completed in testing: 387
Fastest lap: 1m 31.440s (Alonso)
Aston Martin appear to have made the biggest gains over last year. Their testing pace didn't just place them at the head of the midfield, but was strong enough for them to be a potential top-three contender. Tyre management in particular looked like a strong point. The AMR23 is the first Aston Martin racer to be developed under the leadership of former Red Bull aero chief Dan Fallows and sports some innovative bits. New recruit Fernando Alonso also appears to be pretty happy with the way the car is responding.
There is still a big question mark over whether Lance Stroll will race in Bahrain, though. The Canadian had to skip testing after sustaining a wrist injury in a bike crash. Aston Martin has confirmed that reserve driver Felipe Drugovich will race in case Stroll is unable to compete.
5. Alpine
Drivers: Pierre Gasly, Esteban Ocon
Laps completed in testing: 353
Fastest lap: 1m 32.762s (Gasly)
Alpine didn't really set the timing sheets alight; in fact, their qualifying run was the second slowest, just ahead of Williams. However, it should be noted that they didn't attempt any low-fuel attack laps.
But the team remains quietly confident about its chances. Esteban Ocon said the A523 is definitely an improvement on its predecessor and even Pierre Gasly hinted that is more pace to be extracted.
6. Alfa Romeo
Drivers: Valtteri Bottas, Zhou Guanyu
Laps completed in testing: 402
Fastest lap: 1m 30.827s (Bottas)
It was an up and down pre-season test for Alfa Romeo. On one hand, Zhou Guanyu topped the time sheets on Day 2. But the team did have two major reliability scares.
Nevertheless, both Zhou and Bottas have praised the C43's balance and it looks like the team was able to figure out a good set-up. Should they sort out the reliability concerns, they could be a regular in the points.
7. McLaren
Drivers: Lando Norris, Oscar Piastri
Laps completed in testing: 312
Fastest lap: 1m 32.160s (Norris)
McLaren enter the season on the back foot after another difficult pre-season test, this time due to issues with aerodynamic efficiency and the winglets over the front wheels. They finished testing at the very bottom of the mileage chart with just 312 laps. With just three days of testing in the whole year, every single lap counts and this means the team probably lost out on collecting some crucial data. McLaren CEO Zak Brown even admitted that they did not meet all development goals.
However, with a major update planned for early in the season, Brown added that the team is encouraged by "what we see around the corner."
8. Haas
Drivers: Kevin Magnussen, Nico Hulkenberg
Laps completed in testing: 414
Fastest lap: 1m 31.381s (Magnussen)
Haas have described this pre-season test as their best ever. The only real issue they ran into was a minor throttle problem on Day 1. But other than that, they did collect plenty of data from running.
Nico Hulkenberg, who is returning to racing full-time in F1 after three years, seemed to get a hang of things quite quickly. Together with Kevin Magnussen, Haas have a pretty strong driver line-up. And from the looks of it, we're in for a tight battle in the midfield.
9. AlphaTauri
Drivers: Yuki Tsunoda, Nyck de Vries
Laps completed in testing: 456
Fastest lap: 1m 31.261s (Tsunoda)
AlphaTauri topped the mileage chart with 456 laps – that's almost seven times the distance of the Bahrain GP. Tsunoda set a rather fast lap in the closing stages, however it looks like that was a low-fuel run. So don't expect the team to make any giant leaps when it comes to pace.
Nevertheless, it was an overall positive test for AlphaTauri, with both Yuki Tsunoda and rookie Nyck de Vries having trouble-free runs.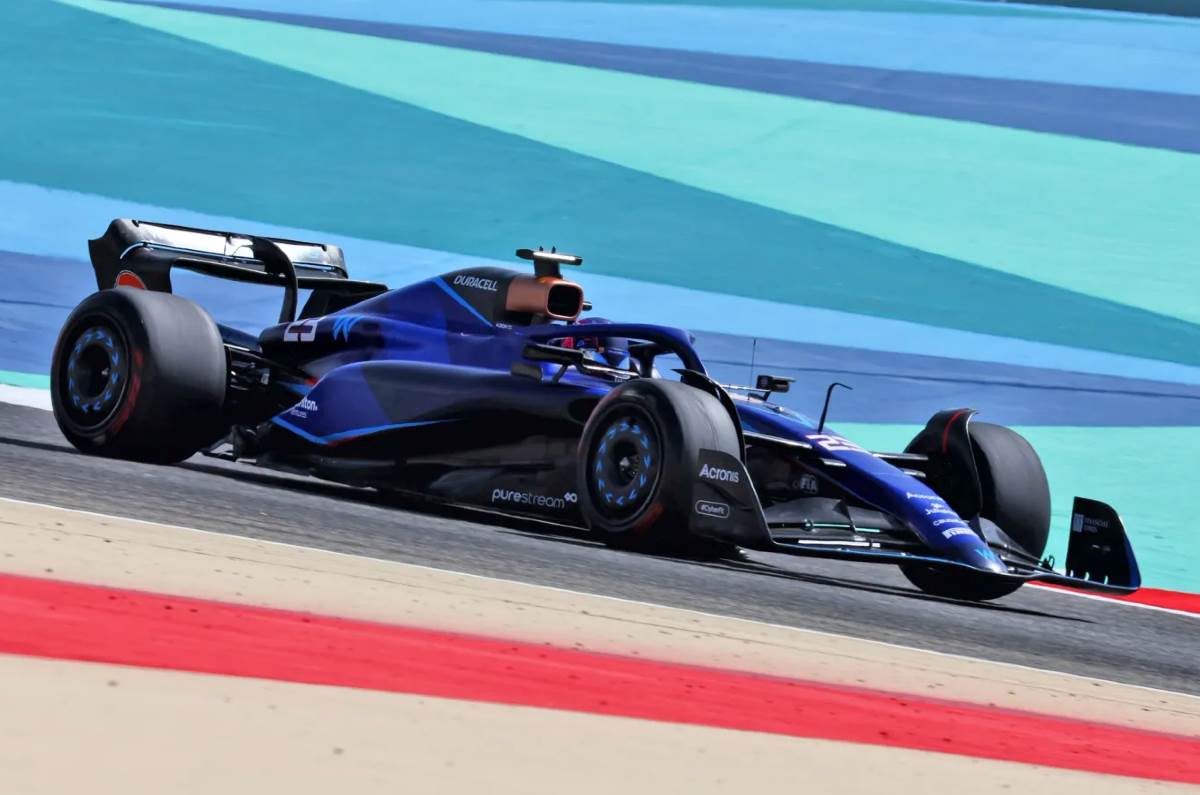 10. Williams
Drivers: Alex Albon, Logan Sargeant
Laps completed in testing: 439
Fastest lap: 1m 32.549s (Sargeant)
Williams didn't exactly show any blistering pace in testing, but data shows that they have made some big gains over last year's car. Alex Albon further backed this up, saying the FW45 is "definitely quicker". They also racked up an impressive 439 laps to sit second in the mileage chart.
They're another team undergoing management changes in 2023, with former Mercedes strategy chief James Vowles taking over as team principal. From the looks of it, Williams have a stronger package this year that should help them take the fight to the likes of Haas and AlphaTauri.
Also see:
Why you can't watch F1 Bahrain GP on TV/Hotstar this weekend
2023 F1 car launches: Complete guide