Can you have massive power, raw performance, sumptuous comfort, relaxing refinement and first-rate luxury, all in one SUV?
What is it?
Ladies and gentlemen, say a respectful "Haaloo" to the beast of Affalterbach, the GLE 63 S. Nothing less than AMG's Swiss Army knife, it is an SUV that – on paper at least – can do anything and everything. This, of course, can't be done without successfully managing compromise. And let's be clear, there's a lot to manage here. The weight compromises performance, the sporty suspension means the ride is likely to be impacted and then an aggressive engine and gearbox tune affects smooth running at low speed. Just how well has AMG managed these conflicting goals? How well can AMG's GLE Coupe manage in our difficult conditions? And can it actually deliver Rs 2.07 crore worth of luxury SUV muscle?
First up, let's take a look at what we have here. Mercedes practically kick-started the performance SUV trend back in 1999, when it shoehorned it's 5.4-litre naturally aspirated V8 under the hood of the then ML or M-Class. Two decades later, the formula has evolved considerably, but the fundamentals are still the same. So just what do we have here?
With its severely raked windscreen, the GLE Coupe stands out anywhere.
The transformation starts with AMG lowering its fabled 4.0-litre twin-turbo V8 into the spacious bonnet. The hand-assembled engine makes a seriously potent 612hp. That's not it, this AMG motor now also gets a 22hp electric boost. While combined system power never exceeds 612hp, the EQ Boost starter-alternator (placed in between the engine and gearbox) also puts out an additional 250Nm of torque, which goes a long way in countering the 2,445kg kerb weight of the GLE Coupe. What's particularly effective is that the bulk of the assist comes in at low and medium engine speeds, just when you need it the most. AMG says that this makes for a spontaneous step-off, and what's nice is that this is soon followed by the 850Nm of torque from the combustion engine.
Imposing Panamericana grille sets the tone for the rest of the SUV.
Aft of the engine, the GLE 63 S gets a modified version of AMG's regular 9-speed gearbox. While basic functionality is almost identical to the E 63 S, the GLE's unit gets a more robust torque converter instead of a multi-plate wet clutch. This helps it deal with the additional weight and load of an SUV better. What also helps is that there is almost no physical wear and tear on the fluid-powered torque converter. Power and performance aren't the only objectives; should you want greater efficiency, you can also select 'Glide mode' which decouples the driveline when you are coasting.
As with the regular GLE, the 63 S rides on air springs and gets adaptive dampers. The dampers here, however, have a particularly wide range, and the difference between Comfort and Race, in theory, should help deliver a more pliant ride and sportier handling. To help the GLE ride and drive better, AMG has also introduced dynamic engine mounts, a first for one of its SUVs. They turn soft and supple when you want the SUV to ride well, and stiffen up to prevent the engine from flopping around when you are cornering hard.
Twin-LED bars look quite cool.
Active anti-roll bars that work on a 48V system are also part of the spec, the rear axle gets a limited slip differential for better torque distribution in scenarios where traction is limited, and the four-wheel-drive system or 4Matic+ can send upto a 100 percent of the power to the rear axle. Also, do note the size of the rear tyres: at 325mm wide for better traction, they are just huge.
The GLE 63 S is also appropriately AMG on the outside. The upright Panamericana waterfall grille gives it a more aggressive look, the front apron has been designed to allow more air into the engine bay, and around the rear there's a new diffuser, square exhaust pipes and a lip spoiler. While it clearly is an AMG, it is also similar-looking to the smaller engined and cheaper GLE 53 Coupe, so some new, more aggressive looking bits would have gone down well.
What's it like to drive?
There's no messing around. Get behind the wheel of the GLE 63 S and you know instantly that this is an AMG. Tap the throttle and it moves forward instantly. Part of this is down to the torque fill or 250Nm of instant electric boost. This small swell of torque is soon swamped by a massive 850Nm wave, unleashed by the V8. It shoves you hard in the small of your back post 2,500rpm, and then stay on the throttle, and you are pinned to the backrest, as the GLE shoots forwards with unstoppable momentum.
Twin-turbo V8 puts out 612hp, you also get a 22hp boost from electric motor.
What makes the experience even better is that this pupil-dilating performance is accompanied by AMG's signature soundtrack, an extremely purposeful growl accompanied by a deep bass. New noise regulations mean it isn't quite as loud as earlier, but what AMG seem to have done successfully is cap the volume progressively as revs rise. Pretty smart. And mash your right foot to the floor and this block of metal will accelerate from 0-100kph in a claimed 3.8sec, no letup in power felt until you are well past 200kph. This, incidentally, is faster than a Porsche Cayenne Turbo, so yeah, this is a heavy-hitter and can really move.
Press down on the throttle and the GLE 63 will shoot forward at any engine speed.
The GLE 63 S' best party trick, however, is the ease with which it can change pace. Place your foot down on the throttle firmly, anywhere in the powerband, and at any engine speed, and you are instantly teleported into another performance dimension, all accompanied by the signature soundtrack. And you don't even need to go flat on the throttle to achieve this. Inter-city pace, as a result of this elasticity, is just epic.
Toggles for gearbox, ESP, ride height, dampers and exhaust.
For all its bulk and considerable weight, the GLE 63 S also manages to deliver a thrilling driving experience. Yes, you can feel it battle against all the weight in tight corners, and the GLE isn't as light on its feet or as naturally agile as a Porsche Cayenne Coupe, but what it does do brilliantly is put power down cleanly; this allows you to thunder out of corners with a huge smile on your face. And then the harder you drive it, the more it tightens up its act, the various systems all contributing. The steering is well-weighted and direct, it corners flat and what makes it loads of fun is that it even responds well when you turn aggressively into corners. The gearbox could have been a bit quicker, especially in Sport+, wish the brakes had better pedal feel, and on smaller roads you are very aware of the width. But spend some time behind the wheel and the amount of sport and driving pleasure you can derive from the GLE 63 S is just massive. Want to see engineers bend the laws of physics? Drive this car hard.
Large 22-inch wheels by AMG; rides reasonably well.
The GLE 63 S, despite having an AMG badge at the rear, is also a Mercedes. So, when you are not 'on it', the motor is refined and relatively silent. This allows you to cruise over long distances in comfort and without needing ear plugs, only some road noise being kicked up by the massive tyres filtering in on coarse surfaces. What also makes the GLE quite usable is that on its air springs, pliant dampers and supple engine mounts, ride quality is also quite decent. And that's despite it having 22-inch wheels. Sure, there is some amount of firmness still present, it does thud through deep holes and isn't anywhere as supple as a regular GLE, but it will still absorb a large percentage of what the road throws at it, and that makes it quite usable. While the torque convertor-based gearbox does manage smooth transitions during normal driving, at low speeds, you do occasionally get a pause or lurch when getting on and off the throttle.
What's it like on the inside?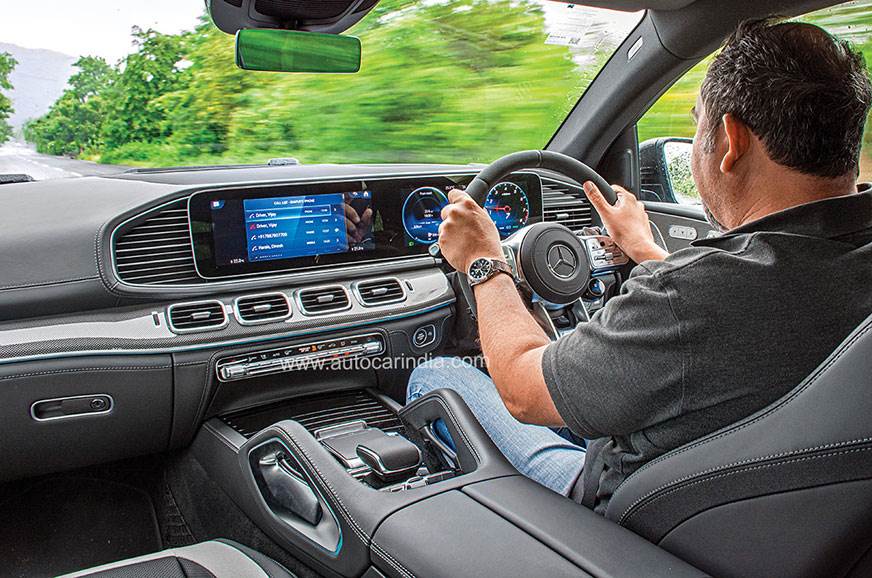 The high grade cabin is well built, even by Mercedes standards.
AMG's version of the GLE feels both more luxurious and more sporty at the same time. The carbon-fibre like metallic trim that runs across the dash blends nicely with the big chrome vents and chrome highlights. The generous use of Alcantara on the steering wheel gives the cabin a sporty feel, and with acres and acres of double-stitched leather present on the dash and door pads, you feel really pampered inside the cabin. This is especially true of the large and very sporty seats. Trimmed with Nappa leather and Alcantara and generously bolstered, these seats are both large and very comfortable, and also provide the right amount of lateral support needed for a car that has this much grip.
You are seated slightly low, but comfort levels in general are very good and the rear's spacious.
You are sat marginally lower in the rear than in a regular GLE, due to a coupe-like roof, but headroom is very good and the wide seat is perfect for large frames, and then, just as on the regular GLE, there's plenty of legroom and shoulder room. When you are being chauffeur-driven, you can even ask your driver to take the front passenger seat forward, and the presence of the simply massive sunroof means you can bathe the rear of the cabin in bright sunlight. Rear seat passengers also have their own climate control console, with Type-C USB ports and even a regular 240V plug point present in the rear.
Large sunroof is both wide and long, lets plenty of sunlight into the cabin.
When it comes to kit, the 63 S gets Power Door Close or soft close doors, keyless go, cooled, heated and massaging seats up front, a 12-speaker 590W Burmester sound system, AMG-specific dials on the digital instrument panel, AMG Dynamic modes, AMG performance and track apps and even a system that allows you to time yourself in a straight line, as it simulates a drag race. As with other AMGs, you get configurable shortcut dials on the steering wheel, blind spot assist, active brake assist, Mercedes Me connected tech, Hey Mercedes voice prompt and Mercedes' air balance and perfume package. Then there's a large heads-up display and to assist AMG Dynamics, three-stage ESP. While the boot isn't quite as large as the regular GLE, you do get a huge 655 litres, and there's help from the airmatic system. When you want to load luggage you can lower the air suspension in the rear via a button in the boot.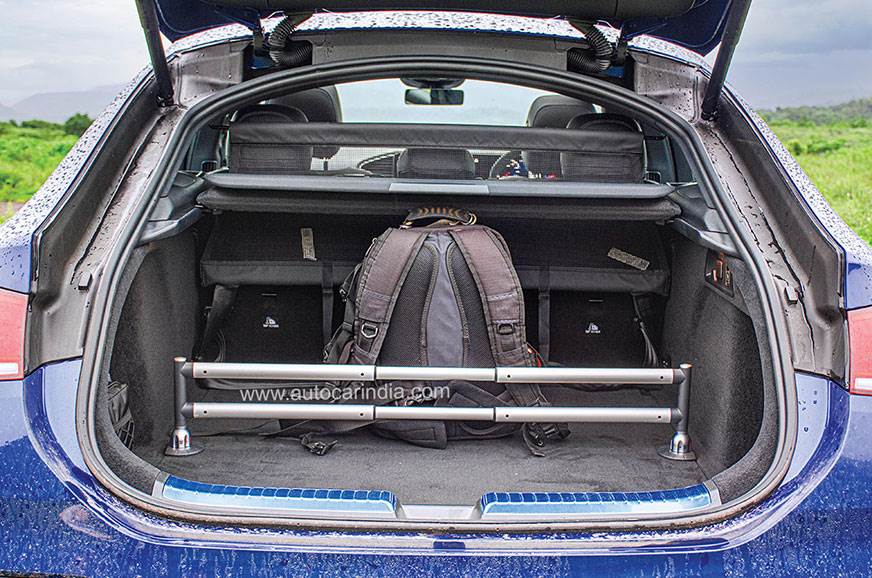 There's loads of space for your luggage; we've used a nifty boot separator.
Should you buy one ?
AMG's GLE 63 S is an extremely accomplished all-rounder. Straight-line performance, to begin with, is outstanding. It has a large and comfortable cabin, it is lavishly equipped on the inside, and on its air springs and adjustable dampers, the ride, in general, is comfortable too. While it isn't the sharpest driving SUV in its class and it is a bit expensive at Rs 2.07 crore, the AMG GLE 63 S scores quite well because it ticks all the right boxes. Looking for a performance SUV that can do almost everything; this could be it.