Mumbai-based supercar group Throttle 97 recently held its first-ever track day at the Madras Motor Racing Track (MMRT) at Irungattukottai, near Sriperumbudur, widely considered to be the most exciting and technical drivers' circuit in the country. The track day saw participation from drivers and cars from across the country, which included a highly tuned twin-turbo Lamborghini Huracan, a Mansory Ferrari 488 and a stripped-down track-prepared BMW M2.
The action-packed event on January 14 and 15 included drifting sessions and time attacks; in fact, Jugraj Bhurjee and Damandeip Chadha collectively used over 20 sets of rear tyres going sideways drifting in their V8 M3 and C 63 (6.3) AMG, respectively. The fastest lap time of the event set by Kaviraj Bhandari in a Porsche 911 GT3 RS was a staggering 1:49.662, with Sharan Parekh's M2 finishing close, only a second behind Bhandari's time.
Varun Dattani, a long-standing member and patron of Throttle 97, said, "I absolutely look forward to track days like these with like-minded enthusiasts. I particularly enjoyed going drifting, especially here at the MMRT which is quite a technical circuit, and can't think of a better car (out of the box) for this than my C63 which I also use as a daily driver when I am not at the track. Overall, it's a great initiative by Throttle 97."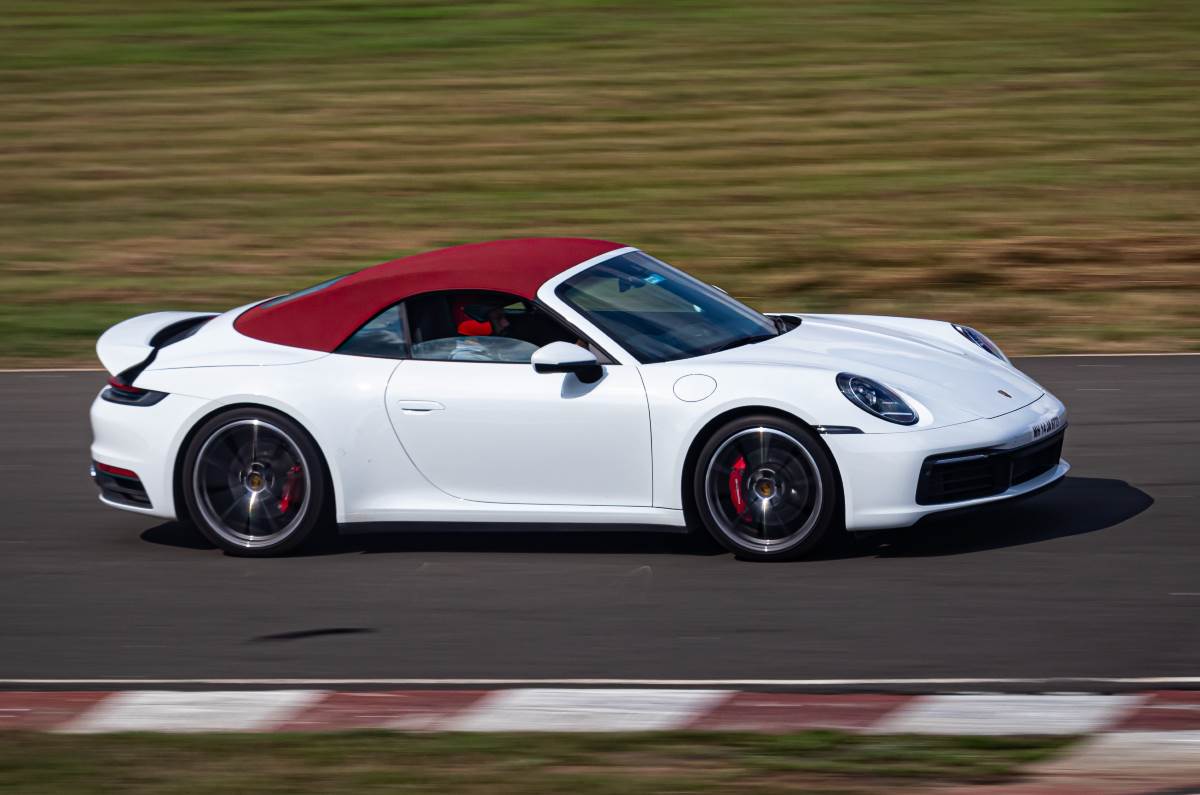 The Throttle 97 Track Day package included transportation from Mumbai to Chennai and a three-night stay at the ITC Grand Chola, with breakfast and lunch, along with the all-important track support by Game Over Tuning, Mumbai with whom Throttle 97 had partnered for the event. KIK Shift of Mumbai was also present at the track and supported Bhandari's GT3 RS. Throttle 97 also arranged for refuelling at the race track.
An elated Damandeip Chadha, founder of Throttle 97, said, "It's always an overwhelming time when you are at the track with your car, surrounded by people who share the same passion and enthusiasm as you. It is truly a blissful feeling hearing the cars go as fast, hard and loud! We feel truly alive at the track, especially when we throw the back out and start drifting. The track is the only place we can do this safely and fearlessly!"
Throttle 97 was founded in 2014 and has since become the premier supercar club in the country with over 200 members and 250 cars.
T97 will be hosting many such track days in the future along with some exclusive drives and bespoke driving adventures, including some advanced track driving programs.
If you live in Mumbai or nearby and would like to get in touch with the Throttle 97 team, reach out on Whatsapp on 9619010313 or email at throttle97mumbai@gmail.com
Here's a list of the cars and participants from the track day.
1. Porsche 911 GT3 RS (Mumbai) - Kaviraj Bhandari
2. Porsche 911 GT3 (Delhi) - Varun Jain
3. A highly tuned Lamborghini Huracan Twin-Turbo (Chennai) - Aayush Rattha 
4. A Mansory Ferrari 488 (Delhi) - Siddarth Chaturvedi
5. A track-prepped BMW M2 with stripped out interior (Mumbai) - Sharan Parekh
6. Mercedes-Benz C 63 AMG - Damandeip Chadha
7. Mercedes-Benz C 63 AMG - Khushroo Olia
8. Mercedes-Benz C 63 AMG - Varun Dattani
9. Mercedes-Benz C 63 AMG - Raqibali Ismail
10. Lamborghini Huracan (Pune) - Mazen Mody
11. BMW M3 E93 (Mumbai) - Jugraj Bhurjee
12. Porsche 911 Carrera S (Mumbai) - Shiven Arora
13. Audi R8 (Mumbai) - Mikhail Fernandes
14. Porsche 718 (Mumbai) - Aditya Jadhav
15. Porsche Boxster GTS (Mumbai) - Jayveer Parekh
16. BMW M4 (Mumbai) - Diven Batra 
17. Mercedes CLA 45 AMG (Mumbai) - Anthony John