Nissan has been lying low for quite some time; but now, the Japanese carmaker is finally readying new models for India. The next big launch from Nissan will be the Kicks SUV – although it won't be in showrooms in 2018. Nissan officials have stated to Autocar India that the SUV will only go on sale in "the first quarter of 2019". We have learnt that the carmaker is working towards a January deadline to bring it to our market.
The Kicks will sit above the Terrano in Nissan's India line-up. Interestingly, while the Kicks is a global model, the version for India will not come built on Nissan's V platform. Instead, the car will be built on an updated version of the M0 platform designed by its partner, Renault. The M0 also underpins SUVs like Nissan's Terrano, and Renault's Duster and India-spec Captur. Note, the Kicks is slightly larger in size to the aforementioned models, and will be a more premium model.
In terms of styling, the Indian Kicks will carry the funky look of the global model with it. Styling is expressive, bold and in line with Nissan's latest models. The ridged bonnet, exaggerated wheel arches and raked rear windscreen give the Kicks a distinct look. Blackened A-, B- and C-pillars give the roof a 'floating' effect and a contrast paint scheme for the roof also adds to its wow factor.
The Kicks' five-seater cabin will also be far removed from all that we've seen from Nissan, so far. There's a youthful vibe to the cabin – and for maximum effect, Nissan could also be adventurous with the interior colour scheme. A touchscreen infotainment system will be part of the package, as will other creature comforts such as auto climate control, which is missing in the Terrano.
Under the hood, it is likely the India-spec Nissan Kicks will share the same engine and gearbox options as the Terrano, Duster and Captur. These would include the tried-and-tested 110hp, 1.5-litre diesel motor and a 106hp, 1.6-litre petrol engine. Gearbox options could include a six-speed manual for the diesel and a five-speed manual for the petrol. The petrol-powered Kicks could also come with a CVT gearbox.
The Kicks looks like it will have the right ingredients, and the buzz says that Nissan is working towards an aggressively competitive price tag, too. If all the pieces fall in place, the Kicks could be just the product Nissan needs to kick-start its long overdue rise up the sales charts.
Is the Nissan Kicks an SUV you'd wait for? Let us know in the comments section below.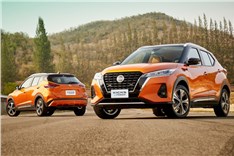 2020 Nissan Kicks e-Power image gallery
8033 Views|3 years ago
2019 Nissan Kicks India image gallery
30750 Views|4 years ago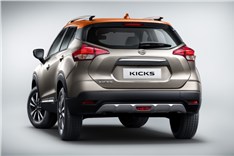 2019 Nissan Kicks image gallery
38160 Views|4 years ago