The Toyota Land Cruiser and its fancier cousin, the Lexus LX, are full-sized seven-seat SUVs that have been extremely popular in the luxury SUV segment – both globally and in India. Having been around for the better part of a decade, the two SUVs received a mid-life facelift a few years ago; but a brand-new model has been in the works for a while now. Now, according to news reports, a new-generation Toyota Land Cruiser and the equivalent new-generation Lexus LX are said to be due for a public debut sometime in 2020, sporting a new look and a more modern powertrain.
The new-generation Land Cruiser and LX will continue to be based on the same ladder-frame chassis seen on both models today; but there are expected to be a fair few changes under the skin. The new generation of these two SUVs will drop the trademark V8 petrol engine in favour for a more modern, more fuel-efficient and cleaner petrol V6 hybrid powertrain. According to reports, the SUV twins will get the same powerplant currently available in the Lexus LS500 sedan, mated to a 10-speed automatic gearbox.
The hybrid powertrain is a perfect fit for the Lexus LX; which, incidentally, is currently one of the only global Lexus models (and the only one in India) which is not offered with a hybrid powertrain. Meanwhile, the loss of the V8 engine in the Lexus Land Cruiser is sure to make the purists cry foul. That being said, with the additional benefits of instant torque being offered by the hybrid powertrain, the Toyota Land Cruiser should continue to do well, both on and off the road.
Expect an India launch of both models sometime in 2021 as a CBU and with prices well above the Rs 2 crore-mark (ex-showroom).
CYRUS DHABHAR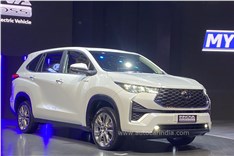 Toyota Innova Hycross image gallery
64331 Views|9 days ago
New Toyota Prius image gallery
8008 Views|18 days ago