The new-generation, W223 Mercedes S class recently broke cover and is slated to go on sale in international markets by early next year. India will get the long-wheelbase version in the second half of 2021.
The next generation of the quintessential luxury sedan promises to be the last word in comfort, luxury and safety. But how does the German marque's most technically advanced model aim to better the expectations of a diverse customer portfolio? To be everything for all types of customers is what the S-class sets out to achieve.
Focus on rear-seat comfort for Asian markets.
Driver-focused western markets get SWB version.
S-class coupé/cabriolet dropped with this generation.
Who is the typical S-class customer?
While description of a typical S-class customer as 'affluent' might be accurate, it certainly isn't holistic. During a recent interaction, Britta Seeger, member of the board of management, Mercedes-Benz AG Marketing & Sales told Autocar India, "The strongest market where we are selling the current S-class is first China, second USA, third South Korea and fourth Germany." Having such a widespread appeal has seen Mercedes' flagship model attract a diverse set of customers to the brand worldwide.
Providing further insight, Seeger mentioned that, on average, Chinese customers tend to be the youngest S-class buyers, owning the luxury sedan while still in their 40s. "Many of them are first-car buyers, but also the youngest car buyers. So obviously, they are very much into digitisation and new technology."
South Korea, meanwhile, has shown an increasing female influence. "In South Korea, we have the strongest female base driving an S-class or being driven in an S-class, where every fourth customer of an S-class is a female customer," said Seeger. She added that a greater proportion of owners in these Asian markets, including India, tend to be chauffeur-driven.
Britta Seeger, member of the board of management, Mercedes-Benz AG Marketing & Sales: The strongest market where we are selling the current S-class is first China, second USA, third South Korea and fourth Germany.
S-class buyers in Western Europe and the US, on the other hand, generally prefer taking the wheel themselves and, as such, put a greater emphasis on the vehicle's driving manners. Moreover, they typically aren't first-time car owners. Seeger explained, "The majority of our customers – up to 70 percent in the US, 80 percent in Western Europe – they are totally loyal. So they had a Mercedes before, either an S-class or any other car of our product portfolio, and then they buy a Mercedes. So what you see is that we have a very diverse portfolio."
How Mercedes plans to address varied customer expectations
Mercedes has a long legacy of offering its flagship sedan in two versions – standard wheelbase (SWB) and long wheelbase (LWB) – and the German automaker has introduced significant enhancements to both models this time around, in an effort to better satisfy demands of discerning customers.
The company's greater focus on rear seat comfort, for instance, is primarily intended for chauffeur-driven markets, like India, which get only the LWB version. Multiple rear tablet screens, bundled with the second-gen MBUX system, have been provided to give back seat passengers greater access to infotainment functions.
The S-class is the first model in the world to be equipped with rear airbags (mounted in the front seatbacks) to improve protection for rear occupants during a collision. Moreover, 24mm of additional legroom has also been liberated at the back owing to increased overall dimensions. And all of this, in addition to the usual trappings that can be expected from a car of this class, including reclining and climate controlled rear seats, ambient lighting, a panoramic sunroof and more.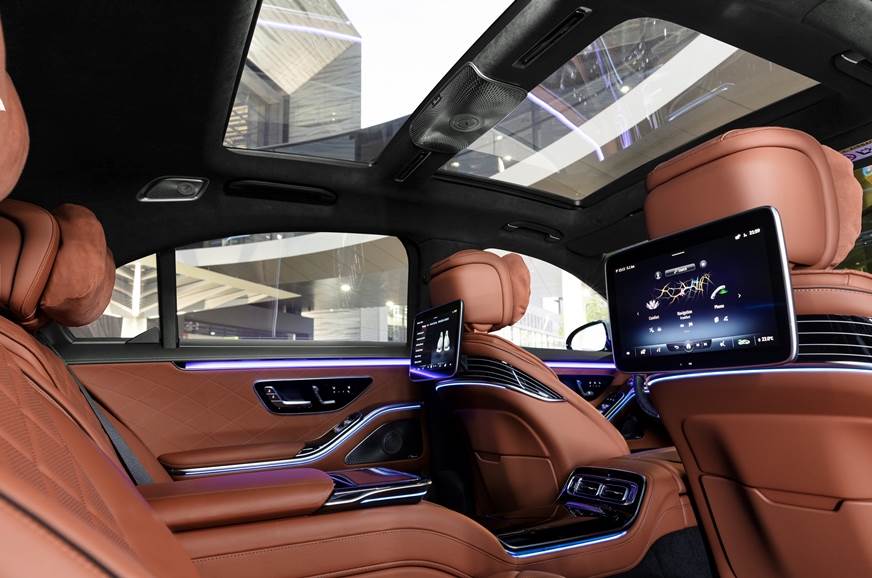 During the media interaction, Seeger mentioned that the company has worked on the new SWB S-class's ride and handling to better appeal to self-driven customers. It gets a new, lighter and more rigid body structure. There's an optional rear-wheel steering system that can dramatically reduce the turning circle and make the large sedan handle like a smaller vehicle at lower speeds.
The German automaker is also putting a greater emphasis on voice commands for controlling more in-vehicle functions. The company has replaced 27 buttons and switches from the outgoing S-class with a massive, 12.8-inch touchscreen up front, and while drivers might not readily take to the new touch and gesture controls, Mercedes believes voice commands to be the more intuitive alternative. "I think the key for the future is language interaction with our MBUX. It becomes so much more seamless, so much easier that if not even touching a screen or not touching a hard button, it becomes so natural to talk to your car and the car does what you want. So this is what we perceive for the future – the easy and seamless interaction with the car, and the strongest and best interaction what we offer, and where we truly do believe, is language," Seeger told Autocar India.
Moreover, the Mercedes flagship boasts of Level 3 autonomous driving capabilities, though the feature is set to initially debut only in Germany, and be rolled out across other European, American and Asian markets later, due to regulatory hurdles.
2021 S-class Maybach, AMG upcoming; coupe/cabriolet axed
While Mercedes may have taken the covers of the SWB (W223) and LWB (V223) S-class sedans for now, more derivatives of the new model are set to follow soon. For those who seek greater opulence still, the company is working on the high-end Maybach iteration, with an even longer wheelbase (X223) that is slated to be revealed later this year. Seeger also confirmed that hotted-up AMG versions are in the pipeline as well.
However, the 2021 S-class range will ditch the coupé and cabriolet body styles entirely, and be exclusively available as a sedan. The sales and marketing head revealed that demand for the two-door versions has been diminishing as customer trends shift from sedans to SUVs and SUV coupes.
With multiple versions on offer, the current Mercedes S class is already renowned for catering to a varied set of discerning customers. However, owing to the numerous enhancements and cutting-edge technologies on offer, the new model is poised to take it a step further.
Also see:
2021 Mercedes-Benz S-class revealed