The second-gen Audi Q3, which was unveiled in July 2018 and is expected to arrive in India before the end of 2019, has secured a five-star rating in the latest round of Euro NCAP's crash tests.
Thanks to a host of safety features offered as standard like ABS, EBD, lane assist system, speed assist and many more, the Q3 performed strongly in all the categories. The SUV achieved 95 percent in adult occupant protection, 86 percent in child occupant protection, 76 percent for vulnerable road users and 85 percent for its safety assistance systems.
The report also showed that protection of the chest was adequate for both the driver and rear passenger and protection of other critical body areas were good.
Given that the car would be driven mostly in the city in stop-start traffic, NCAP also mentions, "the standard-fit autonomous emergency braking system performed well in tests of its functionality at low speeds, typical of city driving, at which many whiplash injuries are caused."
In a country like India, where pedestrian safety is compromised, NCAP added, "the AEB system is able to detect vulnerable road users such as cyclists and pedestrians. The bumper provided good protection to pedestrians' legs at all test locations."
When the new Q3 arrives in India, it will face-off against rivals like the BMW X1, the Mercedes GLA and the Volvo XC40.
Also see:
Audi Urbansphere image gallery
2679 Views|29 days ago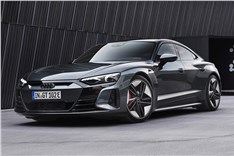 2021 Audi E-tron GT image gallery
6960 Views|1 year ago