Mercedes-Benz calls the A-class sedan the 'A-class Limousine' in India, but that doesn't mean it gets a stretched wheelbase like its big siblings, the E-class and S-class. It gets the same 2,729mm wheelbase as in Europe, and not the stretched one available in China. The name extension was done simply to distance it from the A-class in hatchback form, which is how it was sold here in its first generation. But don't let that put you off because there's a lot to like about the new A-class sedan.
It effectively replaces the CLA as the company's smallest four-door offering in this market, and with the A-class and B-class hatchbacks unlikely to return for a second generation in India anytime soon, this could become the new entry point to the Three-Pointed Star over here. And so pricing is critical in order to make for an attractive entry point, while also staying clear of the C-class sedan. We expect it to be priced around the Rs 32-40 lakh (ex-showroom) range for the standard models.
These 'standard models' will likely include the A 200, which is powered by a 163hp 1.3-litre
turbo-petrol engine, and the A 180d, which is powered by a 116hp, 1.5-litre turbo-diesel. Both of these will likely be mated to dual-clutch automatic gearboxes.
The model you see in these photos, however, is far from 'standard'. It's the AMG A35 and it's powered by a 306hp, 2.0-litre, four-cylinder, turbocharged petrol engine and gets all-wheel drive. It's a great show of intent that this is the model Mercedes chose to display at Auto Expo 2020, and if it does go on sale, expect it to be priced a fair deal higher than the standard A-class models.
Though it too has a pretty sleek roof line, you'll notice that it isn't completely curved like the CLA's, and so the A-class sedan does actually offer significantly more headroom at the rear than its
four-door coupé sibling. And because of its new-generation underpinnings, it also offers more width and legroom than the car it replaces. The back-seat experience is far less compromised this time around, which was required in a market like ours. Up front, it too gets Mercedes' latest MBUX infotainment system, integrated into a very well-built, stylish and high-tech cabin.
With the entry-level luxury segments being a critical entry point to a brand, it was crucial for Mercedes-Benz to get the A-class sedan just right. It's got an aggressive look, a more spacious cabin, loads of tech and should be pretty good to drive too. All we need now is a killer price to match.
Also see:
Mercedes-Benz A-class sedan first look video
Mercedes-Benz E-class LWB facelift: first images surface
2020 Mercedes-Benz GLC Coupe review, test drive
2020 Mercedes-Benz AMG A35 sedan India image gallery
6329 Views|3 years ago
2019 Mercedes-Benz A-Class sedan image gallery
19650 Views|4 years ago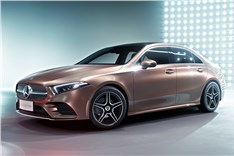 2018 Mercedes-Benz A-class sedan image gallery
12554 Views|5 years ago