There's little that can match the sound of a high-revving internal combustion engine. It sends the rev counter needle up into the red and a shiver down your spine. Here's our list of the best, revviest road car engines in ascending order of spin speed:
Lamborghini Huracan STO - 8,500rpm
With the words 'Super Trofeo Omolagata' in its name, you know the Lamborghini Huracan STO is very special. At the heart of this track-focused model is the same 5.2-litre V10 as other Huracan models with a rev ceiling of 8,500rpm. It produces 640hp, enough to see the lightweight STO from 0-100kph in 3.0 seconds flat.
What marks out the Lamborghini's V10 engine is not the dizzying rev limit so much as the way it races towards the red line. Unlike some of its turbocharged rivals, the Huracan is naturally aspirated. As a result, it seems to build in an increasingly rabid fashion as revs rise, helped by having to propel less weight as there's no four-wheel drive system in this model, only rear-wheel drive.
McLaren 570S - 8,500rpm
A 3,799cc twin-turbo V8 from McLaren was always going to be special and so it has proved. In the 570S, it happily revs all the way to 8,500rpm, though peak power arrives a whole 1,000rpm before that, so the driver has a bit of leeway before changing up a gear.
The 570S's peak torque comes even further down the rev band, with a 600Nm maximum spread between 5,000- and 6,500rpm. Combined with 570hp, it ensures the 570S does 100kph from a standing start in 3.1 seconds, on to a top speed of 328kph.
Audi R8 V10 - 8,700rpm
The Audi R8 may share its 5.2-litre V10 with its Lamborghini cousin, but parent company Audi clearly wanted something extra for its side of the family. This explains why the R8's engine spins to a maximum of 8,700rpm compared to the Huracan's 8,500rpm.
Maximum power of 570hp arrives at 8,000rpm, giving a useful margin before an upshift is required in the seven-speed S tronic gearbox. Flat out, Audi says each piston is travelling at 26.9-metres per second, which is over 100kph on every stroke.
Ferrari F12tdf - 8,900rpm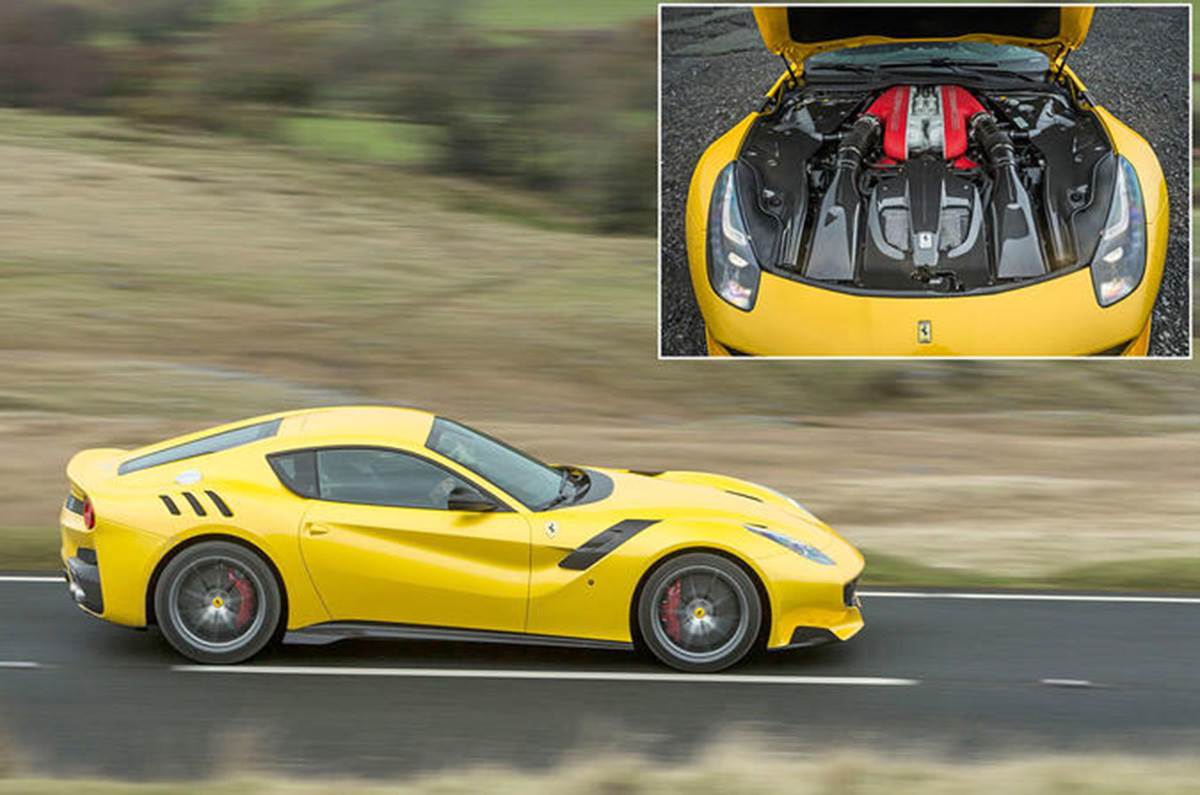 If you're going to name a car after one of the most evocative road races ever, it had better be something special, and the Ferrari F12tdf was just that. On looks alone, it was a winner and paid homage to the 1960s 250 GT models, while under the bonnet of the tdf was a 6,262cc V12 with 780hp, up 40hp on the standard F12.
This engine was carefully balanced at the factory to reduce mechanical friction and used lighter materials for some of the motor's internal components. The result is an engine that can rev to a peak of 8,900rpm, yet remain supremely smooth.
Honda S2000 - 8,900rpm
If you need proof that you don't require a millionaire's budget to enjoy giddy rev limits, the Honda S2000 is Exhibit A. At its launch in 1999 as a 50th birthday present to itself, the Honda came with the most power per litre in a naturally aspirated engine in the world, producing 243hp. To access this power, you had to work the engine hard and this is when you discovered the joys of an 8,900rpm red line.
So much power and high-revving fun was achieved using Honda's V-TEC variable valve timing. However, in the interests of durability, Honda lowered the peak rev ceiling to 8,200rpm in 2004, which felt a bit flat compared to the earlier version.
Ferrari 458 - 9,000rpm
The Ferrari 458 made a huge impact when it arrived in 2009 to replace the F430. Just on style, the 458 had the job wrapped up, but Ferrari wanted to make sure there was clear air between the newcomer and its predecessor, so the 458's 4.5-litre V8 came with 570hp and a heady 9,000rpm redline.
If the 458 was allowed to reach peak revs in top gear, it would touch 325kph. To help the motor spin so quickly, it had graphite-coated pistons to let them slide up and down the cylinders with less friction.
Lexus LFA - 9,000rpm
The LFA was a no-expense-spared exercise in creating a halo model for Lexus, and at its heart was a 4.8-litre V10 engine that whizzed up to 9,000rpm. This motor could rev so quickly and freely that Lexus had to use a digital rev counter, as an analogue one could not keep up with the way the motor changed revs with each gear shift through its six-speed transmission.
The 560hp engine was only ever used in the LFA and, while it certainly gave Lexus the halo it wanted, the engine was developed in collaboration with Yamaha. With Yamaha's expertise in this sort of high-revving motor from its motorcycles, it used titanium for the connecting rods and valves to reduce weight and reciprocate mass. This is also why a V10 configuration was chosen to give smaller, lighter pistons than a V8 of the same capacity would use.
Porsche 911 (991) GT3 - 9,000rpm
Undoubtedly, one of the sweetest spots of the Porsche 911 range, the GT3 is a car to stimulate your senses on every drive. Much of this is down to the 4.0-litre engine of the current model that will spin right up to 9,000rpm. With peak power arriving at 8,400rpm, there's no objective need to go beyond this point, but the noise will have you touching the red line every time.
The GT3's race-bred pedigree is obvious in the engine's specification, which is a close match for the Cup competition car. It's also built on the same production line as the racing cars by Porsche's Motorsport department.
Porsche 918 Spyder - 9,150rpm
A V8 engine layout is not often the first choice of designers seeking to build a high-revving engine. Then again, Porsche has always relished a challenge, so the 918 Spyder has a 4.6-litre, V8. That's smaller than many V8s, which helps each piston rise and fall more quickly inside the cylinders. Maximum power of 608hp arrives at 8,600rpm, but keep your foot on the throttle and it runs into the limiter at 9,150rpm.
The Porsche's engine might not rev quite as much as the Ferrari LaFerrari's or have as much power, but the 918 Spyder is quicker from 0-100kph, taking 2.8 seconds compared to the Italian's 3.0 seconds.
Ferrari LaFerrari - 9,250rpm
The LaFerrari's engine is based on the same basic unit as the F12tdf's, but Ferrari was never going to let its limited number hybrid hypercar flagship out of the gates with the same numbers. Instead, the 6.3-litre V12 was put together with even lighter internal components and the rev limit raised to 9,250rpm, with maximum power of 800hp arriving at 9,000rpm.
This much power was achieved without the aid of turbochargers and, with help from the LaFarrari's electric assistance, it could cover 0-100kph in 3.0 seconds flat and head on to a top speed of 350kph.
Suzuki Cappuccino - 9,300rpm
Few things in life sound better than a Suzuki Cappuccino's tiny three-cylinder engine being wrung out to its 9,300rpm red line. It might not be the quickest car, even when driven in this manner, but you simply won't care as you'll be too busy delighting in the noise and grabbing the next gear to do it all over again.
Even better, the Suzuki's 657cc turbocharged engine is unlikely to threaten your driving licence while making the most of its 64hp and peaky maximum revs. Top speed is 150kph, so you can revel in its quick spinning nature with a clear conscience.
Honda S800 - 9,500rpm
Honda's experience with motorcycles, and particularly racing, was a great influence on the S800 sports car. This compact two-seater might have been intended as a rival to the MG Midget, but the Brits' plodding motors couldn't hold a candle to the S800's ravenously revving 791cc four-cylinder motor.
It may have had a small capacity, but those high revs endowed the S800's engine with 71hp at 8,000rpm and gave it a 161kph top speed. It was also capable of an impressive 14.88kpl when you weren't enjoying the noise from the engine being driven flat out.
Mazda RX-8 - 9,500rpm
Rotary engines lend themselves to high revs as there are no pistons going up and down in a cylinder. Instead, there's a triangular rotor that spins around a central shaft. It's a design Mazda has made its own over the years, with the RX-8 being the most recent recipient. This type of engine has also powered Mazda to Le Mans victory in the past.
The RX-8's 231hp version of the 1.3-litre rotary engine is a twin rotor design, so has two chambers that share the same central shaft. This design also gives the RX-8 its distinctive engine sound when it's pressed towards that 9,500rpm rev limit. And you'll need to if pressing on – just 216Nm of torque is available.
Ariel Atom V8 - 10,600rpm
The Ariel Atom V8 is a number generator. It has 507hp, weighs just 550kg and takes a mere 2.3 seconds to accelerate from rest to 100kph. It's also quicker from a standstill to 160kph than a Bugatti Veyron. However, one of the most dizzying digits of the Ariel is its 10,600rpm engine.
The motor is a 3.0-litre unit developed from a pair of Suzuki Hayabusa motorcycles engines spliced on a common crankshaft. This explains why peak torque arrives at 7,750rpm. If you opted for the marginally more road-biased road-track model, the rev limit was set at 10,500, 100rpm less than the road-race version.
Aston Martin Valkyrie - 11,100rpm
The Aston Martin Valkyrie is the marque's ultra-exclusive, flagship mid-engine hypercar. Only 150 units of the road-going Valkyrie will be made, all of which have already been sold. What makes the Valkyrie so special is not only its F1-derived tech and aerodynamics, but also its ludacris 6.5-litre V12 petrol engine puts out 1,014hp, that comes paired to an electric motor that adds another 162hp. To build the engines, Aston sought help from Cosworth, and this has resulted in a naturally aspirated V12 engine with an insane 11,100rpm redline. Rimac was consulted for the electric motor, and this, combined with the petrol engine produces 1,176hp, giving the Valkyrie over 1hp/kg thanks to the car's 1,030kg weight.
Murray T50 - 12,100rpm
Gordon Murray doesn't do things by halves, so when he decided to create his T50 supercar, it had to have a naturally aspirated V12 engine. Cosworth Engineering designed the 3.9-litre motor, which sounds and revs like a 1990s Formula 1 engine as it reaches a peak of 12,100rpm.
The engine makes 659hp, which seems modest compared to many hypercars, but lightweight comes to the T50's aid. It also revives Murray's 'fan car' idea from Formula 1, though this is aerodynamic grip rather than claiming to be for engine cooling.