Groupe PSA unveils new CMP for future models
Published On Oct 08, 2018 10:12:00 AM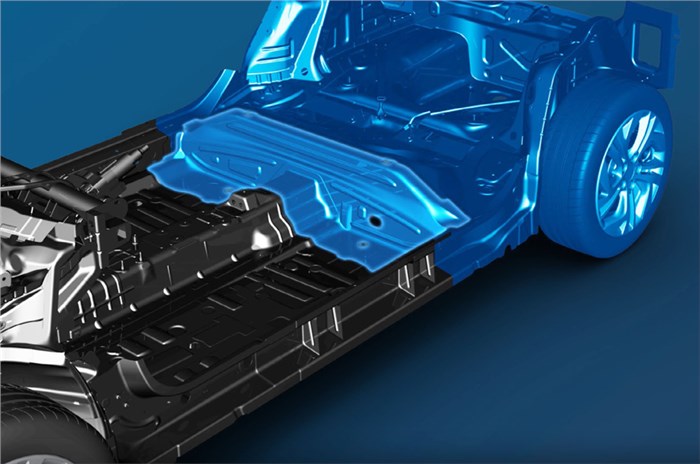 The French automaker takes the wraps off its new Common Modular Platform at the 2018 Paris motor show; to roll out to global plants in December 2018.
The PSA Group is looking to maximise gains with its new Common Modular Platform (or CMP), revealed at the Paris Motor Show on its new DS3 Crossback. As part of its 'Push To Pass' strategic plan, Groupe PSA has been scaling back the number of its global platforms. This is being done in a bid to sustainably optimise the effectiveness of its R&D costs, and its industrial and production processes.
The automaker says that this initiative will lead to the manufacture of all PSA Group passenger cars on two multi-energy platforms – the Efficient Modular Platform 2 (EMP2) launched in 2013 and the new Common Modular Platform (CMP) in Paris.
It is learnt that CMP was developed in France by Groupe PSA along with its partner Dongfeng Motors for an international rollout. R&D costs were split 50:50. The partnership has enabled Groupe PSA to save on R&D while gaining to access a wide range of competitive local suppliers as well, improving its knowledge of the Chinese market; so as to meet the market's customer expectations and boost production volumes.
The new models made on these two platforms will be available in internal combustion (petrol and diesel), electric and hybrid variants in tune with the transition of energy deployment.
The core models – essentially city cars from all Groupe PSA brands – will be produced utilising CMP. Starting in 2019, the platform will also be available with a full-electric powertrain (eCMP). PSA plans to launch seven new eCMP-based electric vehicles by 2021. The mid and high-end bodystyles of the five Groupe PSA brands will be produced on the EMP2 platform. In addition to petrol and diesel engines, EMP2 will also facilitate the Plug-in Hybrid petrol-Electric Vehicle powertrain (PHEV). By 2021, Peugeot, Citroën, DS, Opel and Vauxhall are to launch eight new PHEVs.
PSA says that CMP is dedicated to the manufacture of all compact city cars (B segment), entry-level and mid-range sedans (C segment) and compact SUVs from the above brands. It complements EMP2, which covers the development and manufacture of vehicles in the C, D and SUV segments.
CMP targets a high level of modularity, particularly in terms of dimensions (two track widths, three wheelbases, three rear modules and the capability to offer several wheel diameters), allowing Groupe PSA to provide to introduce broad range of bodystyles ranging between city/urban cars and sedans to SUVs. CMP can be optimised to make internal combustion and electric versions on the same production line.
Starting in 2019, Group PSA says that it will be able to manufacture the latest generation of electric vehicles on CMP, equipped with a 100kW (136hp) electric motor, a 50kWh lithium-ion battery pack and a high-performance heat pump.
The platform already accommodates the latest-gen internal combustion engines equipped with the most efficient pollution control systems on the market – including the PureTech three-cylinder petrol engine (engine of the year for the fourth consecutive year in 2018) and the latest 1.5-litre Blue HDi diesel engine fitted with SCR technology, meeting the most stringent environmental standards, particularly in Europe and China.
The new platform will begin roll-out in December 2018 and will reach its plants around the world in two years. The close-to-the-customer international roll-out will allow models to be specifically tailored for the market, making it possible to produce differentiated models in Groupe PSA's key strategic regions – Europe (France, Spain, Slovakia), Asia (China), Latin America (Argentina, Brazil) and Africa (Morocco, Algeria).
The advent of the new modular, multi-energy and global CMP platform is facilitating the production of efficient vehicles at optimised costs, as purchases and production are pooled to achieve efficient economies of scale. All production sites have become more flexible due to their versatile, matching facilities, where operators can expertly assemble both the internal combustion version and the electric version. CMP guarantees greater efficiency of vehicle manufacturing at all production facilities. It is designed to allow for fully automated body assembly.
What do you think about this News