Thanks to the consumer offers that Honda Cars India had officially rolled out during the festive season, the Japanese carmaker did see an uptick in sales. In order to keep the sales momentum during November, Honda dealerships across India have been authorised to offer significant benefits and discounts on every Honda car and SUV on sale here, except for the Brio hatchback and the Accord sedan.
Honda CR-V
Save up to Rs 5 lakh
Launched late last year, the fifth-gen CR-V seems to be doing better on the sales charts than its predecessor. This could be in part due to the fact that Honda now offers two engine choices – a 154hp, 2.0-litre petrol engine paired to a CVT automatic and a 120hp, 1.6-litre diesel-automatic – and the option of seven seats. The Skoda Kodiaq rival is quite well equipped and has an upmarket cabin area, though the rearmost passengers might feel a bit cramped. Potential buyers of the SUV can now avail up to Rs 5 lakh worth of cash discount on the diesel AWD model and up to Rs 4 lakh on the diesel model with 2WD.
Honda Civic
Save up to Rs 2.5 lakh
Honda's answer to the Hyundai Elantra, Skoda Octavia and Toyota Corolla Altis can be had with a 141hp, 1.8-litre petrol-CVT and a 120hp, 1.6-litre diesel-manual powertrain option. Besides the fact that it looks great – the low-slung sporty styling marks it out in the segment – the Honda Civic boasts keen handling and a comfortable ride. Honda dealers are offering a Rs 2.5 lakh cash discount on the diesel model, the lower-spec petrol gets up to Rs 2 lakh worth of benefits, and the top-spec petrol variant is available with total benefits worth Rs 1 lakh.
Honda BR-V
Save up to Rs 1.1 lakh
Another Honda that offers three rows of seats, the BR-V's MPV-like design may not wow buyers but its ability to seat seven and its ease of driving make it a desirable option over people-movers like the Maruti Suzuki Ertiga and Mahindra Marazzo. The car comes with a 119hp, 1.5-litre petrol engine – with manual and CVT gearbox options – and a 100hp, 1.5-litre diesel engine. Including cash discounts, an exchange bonus and additional accessories, buyers can now avail total benefits worth Rs 1.1 lakh on most variants.
Honda City
Save up to Rs 70,000
Those looking to buy a midsize sedan will like the Honda City for its sporty petrol engine (it's the same 1.5-litre unit with manual and CVT options available with the BR-V) and its spacious and comfortable cabin. While it is priced a bit above rivals like the Maruti Suzuki Ciaz, Hyundai Verna and Skoda Rapid, the benefits worth Rs 70,000 (including a cash discount and an exchange bonus) make it more attractive during this month. The City also gets the same 100hp, 1.5-litre diesel engine as the BR-V and Amaze.
Honda Jazz
Save up to Rs 55,000
A spacious and practical hatchback, the Jazz is available with benefits of up to Rs 55,000 – including a cash discount and an exchange bonus – during the month of November. The rival to the Maruti Suzuki Baleno, Toyota Glanza and Hyundai i20 is on offer with three engine-gearbox combinations – a 90hp, 1.2-litre petrol engine with manual and CVT gearbox options, and a 100hp, 1.5-litre diesel engine with a 6-speed manual. The diesel is noisy but efficient, while the petrol, especially along with the CVT (and paddleshifters) makes it nice.
Honda WR-V
Save up to Rs 50,000
The Jazz's cross-hatch counterpart is available with the same petrol and diesel engine options, but no petrol-automatic powertrain. As such, it has similar strengths, in the form of a spacious and well-equipped cabin, though the petrol engine feels meek due to the added weight. The diesel engine is definitely more in tune with the WR-V's cross-hatch image. Potential customers could avail up to Rs 50,000 worth of cash discounts and exchange benefits on Honda's Hyundai i20 Active rival this month.
Honda Amaze
Save up to Rs 47,000
Unlike its stablemates, Honda's compact sedan does not get a cash discount but it is available with free 5-year extended warranty (worth about Rs 12,000) and an additional exchange bonus. The Honda Amaze's 90hp, 1.2-litre petrol engine comes with either a 5-speed manual or CVT, while its 1.5-litre diesel gets 6-speed manual and CVT gearbox options, making 100hp and 80hp, respectively. The smooth CVT automatic and the comfortable cabin are good reasons to consider the Amaze over the Maruti Suzuki Dzire, Hyundai Xcent and Ford Aspire, though better cabin insulation and the addition of a few features are required.
Disclaimer: Discounts vary from city to city. Please check with your local dealer for exact discounts, which may not match figures quoted here.
2023 Honda Civic Type R image gallery
11075 Views|2 months ago
2023 Honda CR-V image gallery
13895 Views|2 months ago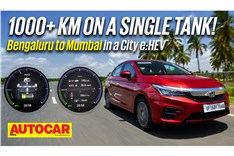 Honda City e:HEV from Bengaluru to Mumbai: 1000+ km on on...
4657 Views|1 month ago
Kunal Behl on Honda City e:HEV pricing, waiting periods, ...
2224 Views|4 months ago
Honda City hybrid India video review
11648 Views|5 months ago