Ever since Nissan India confirmed its BS6-compliant Kicks will come with a 156hp, 1.3-litre turbo-petrol engine, anticipation has been high. More information regarding the updated Kicks has surfaced online via leaked brochures; but now we've exclusively got our hands on the official ARAI fuel-efficiency figures for the BS6 Kicks' 1.5-litre naturally-aspirated (NA) petrol and 1.3-litre turbo-petrol engines. The 106hp, 1.5-litre naturally aspirated petrol engine is only available with a 5-speed manual gearbox and is rated at 13.9kpl – a decrease of 0.33kpl compared to its BS4 version.
Meanwhile, the Kicks with the new 1.3-litre turbo-petrol engine is available with 6-speed manual and 7-step CVT automatic gearbox options. The manual version has an ARAI-certified 15.8kpl figure while the BS6 Kicks automatic is expected to have a similar rating.
In isolation, these figures seem adequate. However, we've lined-up the BS6 Kicks with its rivals on paper to find out where Nissan's updated SUV stands in terms of fuel economy.
How does the BS6 Kicks fare against the Creta, Seltos and Hector on mileage?
BS6 Kicks vs rivals: Mileage
Kicks
Creta
Seltos
Hector
Engine
1.5-litre NA/1.3-litre turbo-petrol
1.5-litre NA/1.4-litre turbo-petrol
1.5-litre NA/1.4-litre turbo-petrol
1.5-litre turbo-petrol/1.5-litre turbo-petrol mild-hybrid
Power
106hp/156hp
115hp/140hp
115hp/140hp
143hp/143hp
Torque
142Nm/254Nm
144Nm/242Nm
144Nm/242Nm
250Nm/250Nm
Manual gearbox
5-speed/6-speed
6-speed/-
6-speed/6-speed
6-speed/6-speed
Automatic gearbox
-/CVT
CVT/7-speed dual-clutch
CVT/7-speed dual-clutch
6-speed dual-clutch/-
Mileage (MT)
13.9kpl/15.8kpl
16.8kpl/-
16.5kpl/16.1kpl
14.26kpl/15.81kpl
Mileage (AT)
-/15.8kpl (approx)
17.1kpl/16.8kpl
16.8kpl/16.5kpl
13.96kpl/-
If we consider the SUVs with naturally aspirated petrol engines, the BS6 Kicks sits at the bottom of the table on every aspect. Compared to the Hyundai Creta and Kia Seltos – they share the same 115hp, 1.5-litre four-cylinder unit – the naturally aspirated Nissan Kicks is 9hp down on power, 2Nm down on torque and over 2.6kpl down in terms of mileage. The Creta is marginally more efficient than the Seltos in its naturally aspirated petrol form. Both the Korean brands offer a CVT-automatic option with the naturally aspirated petrol-powered SUVs too, which are more efficient than their manual counterparts.
Coming to the turbo-petrol engine options, the BS6 Kicks 1.3 is the most powerful of the lot, despite having a smaller-capacity unit. It even outpowers the MG Hector's 1.5-litre turbo-petrol engine by 13hp and 4Nm of torque. However, the Kicks with the turbo-petrol engine and manual gearbox is down on the Korean SUVs in terms of fuel efficiency – the Creta turbo's rating is 1kpl higher while the Seltos is 0.7kpl higher. Without mild-hybrid assist, the petrol-powered Hector with either the manual or automatic is the least fuel-efficient SUV here. With the mild-hybrid system, the Hector's ARAI fuel-efficiency figure equals the BS6 Kicks turbo.
It will be very interesting to see how the updated Kicks is priced, as the buzz is that Nissan is looking to price the SUV competitively. As we previously reported, there will be a total of seven versions of the BS6 Kicks on sale.
To give you an idea of how the Kicks could be positioned against its rivals, take a look at the table below:
BS6 Kicks vs rivals: Price
Kicks*
Creta
Seltos
Hector
NA petrol-MT
Rs 10-12 lakh
Rs 9.99-13.46 lakh
Rs 9.89-13.09 lakh
-
NA petrol-AT
-
Rs 14.94-16.15 lakh
Rs 14.09 lakh
-
Turbo-petrol-MT
Rs 12-16 lakh
-
Rs 13.79-16.29 lakh
Rs 12.74-13.54 lakh
Turbo-petrol-MT mild-hybrid
-
-
-
Rs 14.14-16.54 lakh
Turbo-petrol-AT
Rs 14-17 lakh
Rs 16.16-17.20 lakh
Rs 16.29-17.29 lakh
Rs 15.94-17.44 lakh
All prices are ex-showroom, pan-India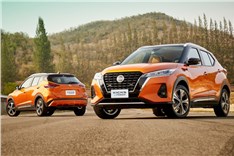 2020 Nissan Kicks e-Power image gallery
7611 Views|2 years ago
2019 Nissan Kicks India image gallery
30074 Views|4 years ago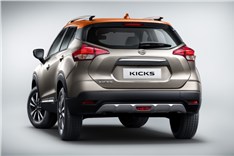 2019 Nissan Kicks image gallery
37949 Views|4 years ago