The McLaren Artura PHEV has been unveiled, making it the British firm's first 'clean sheet' supercar since the game-changing 12C a decade ago. We tell you more about it.
McLaren Artura has an electric-only range of up to 31km
Can do a 0-100kph sprint in 3.0 seconds
Has a top speed of 330kph
McLaren Artura PHEV: What's new?
The Artura is powered by a 585hp 3.0-litre V6 engine and a 93hp electric motor. It ushers in a new era of electrification for McLaren. The car has an electric-only range of up to 31km at speeds of up to 130kph. It replaces almost every facet of its V8-engined Sports and Super Series models with an all-new design that provides early clues about how it will deal with the age of electrification.
In addition to the explosive performance, it can cruise for up to 31km on battery power alone and its combined fuel economy exceeds 17.7kpl, as claimed by McLaren.
At the kerb, the Artura weighs just 27kg more than the 720S even though its 680hp powertrain consists of a newly designed twin-turbo V6 engine, a 93hp electric motor and a 7.4kWh battery, all mated to a new eight-speed gearbox. The hybrid components weigh 130kg in their own right, showing the extent of McLaren's weight-saving measures across the rest of the new car.
With the arrival of the Artura, McLaren is ditching its confusing policy of using numbers to distinguish its cars, in favour of names.
McLaren Artura: under the skin
The Artura has an all-new central carbonfibre tub that's lighter than the one used by previous McLarens, with aluminium crash beams front and rear, and an aluminium rear subframe to support the engine and rear suspension. The 'shrink-wrapped' body panels are a combination of carbonfibre and superformed aluminium.
Although everything about the Artura's structure is new, it seems there is an optimal size for a McLaren. Like the 570S and 720S, the Artura is a little over 4,500mm in length and just under 2,000mm wide but its 2,640mm wheelbase shaves 30mm from that of the previous cars, aiding agility.
The Artura's impressively low kerb weight of 1,495kg results from a concerted weight-saving campaign that began four years ago. "Every drop of McLaren's experience and expertise has been poured into Artura," said McLaren CEO, Mike Flewitt. "Its introduction is a landmark moment."
McLaren Artura: engine and powertrain
The Artura's all-new 2,993cc petrol V6 was created entirely for this application, said powertrain boss, Richard Jackson, and will be made by Ricardo on a newly installed production line at its works in Shoreham, West Sussex. Also nestling within the Artura's transmission housing is McLaren's first electronic differential, essentially an electronically controlled clutch pack that variably splits torque between the rear wheels and allows quicker and more subtle torque shifts than a conventional limited-slip differential would do. It also controls the amount of slip angle in a drift, which the driver can adjust via the Variable Drift Control settings on the cockpit's central screen.
McLaren Artura: interior
Big efforts have been made to improve the Artura's feeling of cabin space over its peers, and the dihedral doors have been redesigned to open closer to the car, reducing a previous difficulty of McLaren ownership.
The other headline interior feature is a new, one-piece clubsport seat that combines the lightness of a race-style design with a high degree of adjustability by moving backwards and forwards on rails as usual, but also provides subtle adjustment levels through an elliptical arc that changes under-thigh support, cushion height and backrest angle in one movement. A heavier comfort seat is optional.
McLaren: India entry
Although McLaren has been evaluating an entry into the Indian market, it is yet to be seen if the Artura will make its way here.
Also see:
McLaren unveils next-gen Monocell carbon-fibre architecture
McLaren's Woking headquarters up for sale
McLaren Elva production run reduced to 249 units
McLaren Cars
McLaren Artura
₹ 5.89 crore
McLaren GT
₹ 5.30 crore
EXCLUSIVE! McLaren 750S video review
3387 Views|16 days ago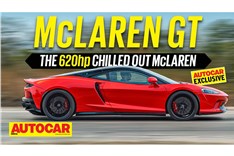 McLaren GT India video review
45389 Views|7 months ago