Suzuki will sell the All New Access 125 alongside the older model, but at a slight premium. We see if its worth the additional cost.
The Access 125 scooter was Suzuki two-wheeler's first firm foothold in the Indian market. The robust, peppy and tireless nature of the Access 125 won it a strong following. Now Suzuki has unveiled an 'All New Access 125' which will sell along side the older model (and is still called Access 125!) and will in all cost around Rs 4,000 more. So should you shell out the extra cash?
In terms of its persona, the old Access was quite a homebody and wall-flowerish, while the ANA (it will be tiring to keep saying All New Access 125) has clearly taken the effort to dress up. Touches like the chrome bezel for the headlamp, a higher hemline for the engine covers, the alloy wheels and the swoopy lines help it look richer and more modern. While it is more appealing, the ANA isn't going to elicit envy from the Vespas and Yamaha Fascinos of the scooter world. Suzuki has clearly chosen to stay with the 'safe and solid' school of thought. So, to please the Indian palette the ANA also offers a metal front fender and apron. The instrument cluster though is quite bland with a large easy-to-read speedo and an LCD display that shows the odometer, two trip meters and a fuel gauge.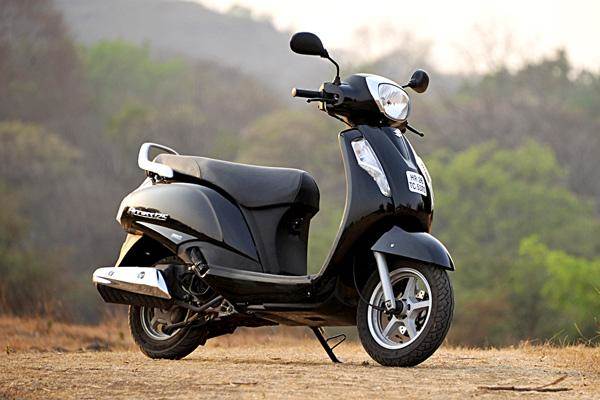 Peek into the mechanical details and it's clear that the ANA really is all new, a few numbers support that claim strongly. For instance, the ANA is 10kg lighter than the Access and that's despite boasting of a 15mm longer wheelbase and a 90mm stretch between the tip of its nose and tail. The 124cc displacement for the engine is identical to the older scooter, but, the engine itself isn't. The engine is all new and accounts for around 6kg of the weight savings! It uses a smaller bore and a longer stroke, a bumped-up compression ratio and reduced internal friction for more efficient combustion. The end result is better overall performance. The numbers indicate a slight bump up in power and torque, but along with that Suzuki also claims a fuel efficiency of 64kpl!
Our first taste of the new Suzuki was in the city. The first pleasant realisation was that the two chunky testers on board had clear air between them. Clearly, the new longer seat is long enough. Secondly, despite the considerable payload that we presented, the Access was handling the rigours of the city without letting out so much so as a whimper. Even as the engine was put under high loads, it remained smooth and quiet. At lower speeds, throttle response is prompt, and it pulled in a linear manner even as speeds climbed.