What a year this has been, no? 2020 has brought about so many unexpected events that you'd rather predict something at your own peril. Take the case of the new Honda H'ness CB350, for instance. Who would've thought that the Japanese giant would try and take on the might of Royal Enfield, in a segment that it established and has dominated for eons? Does the H'ness CB350 have what it takes to appeal to the passionate and emotionally fueled buyer in this segment?
(But, before we go any further, we'd like to point out that the reason we're late with this review is because Honda India appears to have stopped issuing test bikes to the media. This review has become possible thanks to one of our readers who was kind enough to lend us his Honda H'ness CB350)
Honda H'ness CB350: Styling and features
The most common factor that influences almost every buying decision in this segment is the way a motorcycle looks and Honda has been mindful of that while penning the lines of the H'ness CB350.
The first thing that grabs your attention is the long and wide fuel tank, with the 80's style Honda badge that proudly declares its Japanese origins. Then there's the matte-chrome fenders, round LED headlamp, flanked by all-time illuminated turn indicators (a la vehicles in the USA), stepped single-piece seat and the tail lamp which is neatly integrated, and completes the period-correct look. Also, those alloys complement the elegant, modern-classic design of the motorcycle.
The round LED headlamp is flanked by all-time illuminated turn indicators.
In terms of quality, there are no complaints about the materials used or the paint finish. Our test motorcycle is the base DLX variant that gets a single-tone colour and I was pleased to see the metallic black paint glisten in the afternoon sun. For an extra Rs 5,000, the DLX Pro variant gets you dual-tone paint, dual horns (with chrome covers) and the Bluetooth enabled Honda Smart Voice Control (HSVC) system. It allows the rider to pair a smartphone to the compact analogue-digital instrument cluster which alerts on incoming calls, reads out messages and plays music via a dedicated Honda app.
The base DLX variant gets a single-tone colour.
However, one needs to install aftermarket Bluetooth helmet speakers to use the feature as intended. Honda has also incorporated a phone charging point under the instrument cluster but it is a modern Type-C port and will require an adapter, in case you've got a conventional USB port at one end of a charging cable.
Instrument cluster is a compact analogue-digital unit.
The fit and finish are of a high level and H'ness CB350 exudes that solid, built-to-last feel you'd expect of a motorcycle that wears the 'Honda' badge. That said, there are too many different finishes visible with over four shades of chrome, silver and matt black scattered across the bike and this doesn't look very cohesive.
Honda H'ness CB350: Ergonomics
Upright and relaxed seems to be the mandate given to the team behind setting the H'ness CB350's riding posture and they've stuck to the memo. Once seated on the flat and wide perch, you'll notice that the pared back handlebar doesn't require you to stretch for it, while the foot pegs are placed in a neutral position for a comfortable, all-day riding posture. The controls fall at hand quite naturally, however, the angle of the heel and toe portion of the gear shifter is raised a little too high on both ends which makes it cumbersome to use. We simply used the toe side to shift up and down the 5-speed gearbox.
The seat is wide and comfortable enough for short to medium distance rides, but isn't very supportive for long durations.
In case you are looking to ferry a pillion, the seat is wide and comfortable enough for short to medium distance rides. However, the seat isn't very supportive for long durations and a full day in the saddle, on the other hand, will have to be punctuated with a few breaks.
Honda H'ness CB350: Engine and performance
Now, onto the most important part about the review and that's the engine performance in the real world. But, before we get to it, I have to admit that it's impressive how loud and raspy the CB350's exhaust note is, it packs a clear thump, but also sounds quite sporty when revved out and it's louder than the RE Meteor 350 and Classic 350.
The exhaust note is loud, raspy, and sounds sporty when revved out.
While Honda may have benchmarked the exhaust note on its arch rivals, it has given its own flavour to the engine's character and the overall gearing. A quick glance at the spec sheet shows that the 349cc, air-cooled single produces as much power as the competition but makes the most torque, at 30Nm and at a low 3,000rpm. This certainly looks encouraging on paper and the performance numbers prove that this is a quick motorcycle. 0-60kph comes up in 4.32s while the 100kph mark is crossed in 12.69s. The H'ness CB350 is also capable of hitting 120kph with relative ease, and has an indicated top speed of a little over 130kph. Those in a hurry will surely like the top-end performance of the motorcycle.
However, Honda has taken the strange decision to gear the bike quite tall and H'ness CB350 loses out on low-speed tractability. The tall overall gearing results in a relatively weak bottom end and staying in 5th below 60-70kph is a task. The bike also dislikes accelerating from 10-15 kph in second gear, say while riding over a tall speed breaker. It is apparent that one needs to be in the appropriate gear and feed enough revs for swift progress on this machine. So, if you were looking for a relaxed and lazy riding experience the H'ness CB350 doesn't deliver as well as it could have.
On the contrary, there will be a set of people who won't mind this counter-balanced engine's need to be revved, especially after noticing its refinement, even at high speeds. In fact, working the gearbox is going to be the order of the day while riding the motorcycle in daily traffic but the reasonably smooth 5-speed gearbox, with an ultra-light slip and assist clutch makes easy work of tackling the grind. The only gripe I've got is with the mushy, commuter bike-like feel of the clutch lever, and it's not intuitive to find the bite point, especially on congested roads.
For those wondering about fuel economy, we didn't have the bike long enough to put it through our rigorous efficiency test cycle, and that will have to wait for if/when Honda gives us a test bike.
Honda H'ness CB350: Ride and handling
Honda's new cradle frame, telescopic fork and twin-hydraulic shock absorber setup, is similar to what we've seen on most modern-classic motorcycles in this segment and there's nothing extraordinary to report.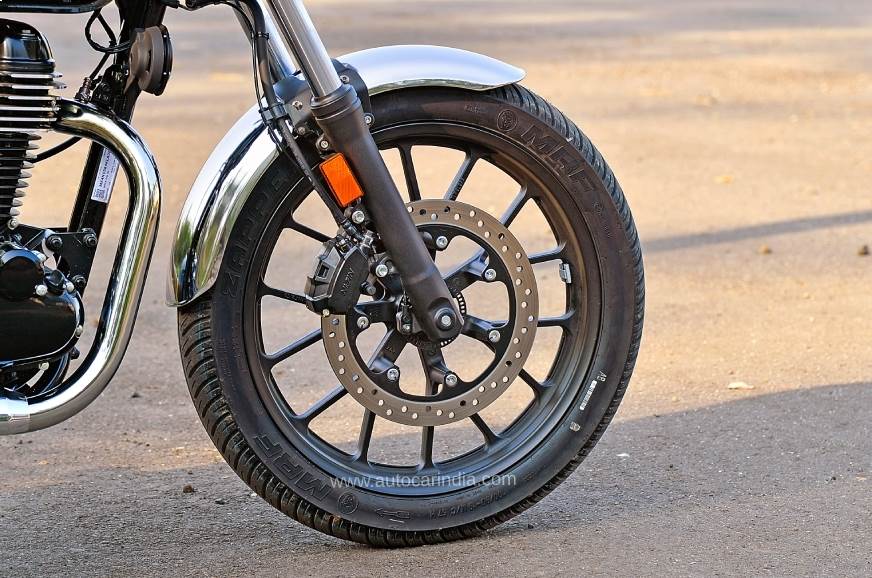 The H'ness CB 350 feels quite planted and neutral in the way it rides and handles. The ride quality at low speeds is a little stiffer than the competition but it remains composed as the speed rises. It is pretty good at isolating the odd pothole as well and overall, the ride setup is well judged, but not plush.
Around corners, the H'ness CB350 sticks to an intended line, with plenty of grip from the MRF Zappers. However, a little more communication from the front end would've resulted in more confidence to push hard, not that it's an important thing for a bike of this type.
As for the switchable Honda Selectable Torque Control (HSTC) or traction control in layman's language, it's a nice feature to have, but not something needed with this little power. Even on loose gravel roads, we only managed to trigger the system when aggressively whacking the throttle open.
The H'Ness features Honda Selectable Torque Control (HSTC) - a nice feature, but not essential with this little power.
On to braking, and the Nissin calipers biting on a 310mm front disc and 240mm rear disc bring the motorcycle down to a halt without any drama. Feedback through the lever is decent and the ABS is well calibrated so as to not intrude unless necessary.
Honda H'ness CB350: Conclusion
The Honda H'ness CB350 is a result of carefully studying the competition while trying to trump them by offering more features. Add the refined engine, planted dynamics and the prestige of the Honda badge and this motorcycle appears as a well-rounded product.
At a starting price of Rs 1.85 lakh, the H'ness is priced decently, but it's still Rs 10,000 more than the base Royal Enfield Meteor 350. That said, there will be many out there who'll like the motorcycle for what it is, Honda fans or not. Although, with Honda's plans to sell it solely out of the Big Wing Dealership, it won't be accessible to everyone around the country. There are just a handful of Big Wing dealers operational as of writing this and Honda plans to have 50 showrooms open by March 2021.
The bigger question is how this motorcycle stacks up against the Royal Enfield Meteor 350, and that's an answer we hope to reveal soon.
Also see:
Honda H'ness CB350 first look video