The Special versions of the Street and Road Glide get even bigger engines and now come with electronic rider assists. How do these giants fit within the Indian riding environment?
Supersized cruisers are perhaps the most intimidating motorcycles most folks will ever experience. The new Street Glide Special (in red) and Road Glide Special you see here don't just look ridiculously large, the weight figures on the spec sheet will shock you just as much – 375kg for the Street and 387kg for the Road.
REMEMBER TO RELAX
Sure enough, it's a nerve wracking experience the first time you ride bikes like these, one that demands a fair amount of skill and confidence. But once you start to get a hang of the cautious, yet decisive and well-planned manner with which they want to be ridden, all those painfully clenched muscles will start to relax. And that's when you'll start to recognise, and enjoy, the absolutely unique riding experience these behemoths have to offer.
TIDAL TORQUE
The Special in the name means that both bikes get the bigger 114 version of Harley's Milwaukee-Eight V-twin. This motor is saved for the cream of the Touring Motorcycle line-up, while most other models in Harley's big cruiser range use the 107 engine. Those numbers denote the cubic capacity in inches, with 114 translating to 1,868cc. Effectively, each cylinder has about the same capacity as both cylinders in the Ducati Multistrada 950.
As you'd expect, torque is the name of the game – huge, seemingly endless waves of the stuff as soon as you ease out the heavy clutch lever. With a peak of 163Nm at just 3,000rpm, this engine has a completely different sort of joy to offer. You'll rarely ever rev it above 4,000rpm (the limiter arrives at 5,500rpm), but the absolutely effortless, juggernaut levels of surge that such engines can provide at the slightest request of the throttle is quite unique in the motorcycling world.
A GENTLE CRUISE
That being said, this is not a riding experience that's about high speeds. Despite the enormity of the motor, the cruising sweet spot is at 80-110kph. That's not much higher than the new Royal Enfield Classic 350, but the key difference is that if you were to demand it, the Harley's would surge up to 180kph with ease.
This new Euro 5/BS6 compliant 114 motor is perhaps the sweetest Harley engine I've experienced to date. It's surprisingly refined and the vibrations you feel are carefully engineered to be exactly that – feel and not harshness. That typical low RPM judder from the old-school Harley twin is also remarkably well controlled and the motor doesn't mind running as low as 1,500rpm in traffic.
Speaking of which, yes, there's a lot of heat if and when you find yourself stuck in heavy traffic. You definitely need to be careful of the panniers as well, but if the handlebar can get through a gap, then the panniers usually can too, as long as you don't change the steering line. What I found most tiresome in Mumbai's jammed traffic, though, wasn't the heat or the heft, but the weight of the clutch – your left forearm will get a serious workout.
On the highway, both feel very similar because, aside from the different fairings, they roughly are the same motorcycle. The Road Glide with its wider and taller fairing did have slightly better wind protection, especially for 6ft-plus me. Over the years, I've consistently found that the Street Glide's windscreen causes a little too much buffeting at speed, but this is quite a personal thing that depends on how tall the rider is and what helmet they're wearing.
SWAY WITH ME
Good highway performance is hardly a surprise, it's why these bikes exist. What you won't expect is how easily they handle. We spent the day on some smooth, but narrow and winding interior Maharashtra roads, the type where turning around is a proper three-point affair on bikes this big. You'd expect them to be massively out of place here, but they aren't. Once they're carrying some speed, they demand little steering effort and are rather easy to turn into a bend.
Quite quickly, you'll get carried away by the fact that they can turn and brake reliably well and that's where you run into the limiting factor – the cornering clearance. Those big footboards hit the deck quite easily, and once they're scraping, you can't really tighten your line. That's something to be wary of on narrow roads full of blind corners and average Indian road users who are seemingly blind to the white line dividing the road into two halves.
As fun as the Harleys were on the interior roads, once we hit some fast but bumpy sweepers on a four-lane highway, the rear felt quite wallowy on both bikes. There is preload adjustability at the rear, which would have helped, but it perhaps explains why a popular mod in the international community is to switch to aftermarket rear suspension.
The suspension certainly wasn't set up with Maharashtra's appalling roads in mind, but to their credit, the bikes are reasonably absorptive. However, hit a bad pothole or nasty expansion gap and the rear shock will bottom out. Since your legs are extended forward, this quite easily leaves your spine to absorb the impact if you aren't careful. I know this because I have done this. It wasn't nice.
Ground clearance is not a strong point, but you can get by with a very cautious approach. The good news is that if you cannot avoid scraping a stupidly designed speed breaker, it's the two metal tubes of the chassis cradle that should make contact and not the engine itself.
RED OR BLACK?
So, Street Glide Special or Road Glide Special? The former's 'batwing' fairing is mounted onto the suspension fork, while the Road's fairing is mounted to the chassis, which lets the handlebar feel a little lighter. The Road has more swept back handlebars as well, but ultimately I couldn't decide which one I preferred in terms of the ergonomics. What is without doubt is that the Road Glide Special looks cooler, with a meaner, more modern face and a set of headlamps that are up there with the best I've used on a motorcycle.
Features wise, both get Harley's new RDRS electronic rider aids that include cornering ABS, cornering traction control and hill hold. Both also have a large TFT display that sits among classic looking gauges and both have music systems that playback FM radio or music off Bluetooth, USB drive or flash card.
Those funky Prodigy wheels look like spoked rims from a distance and both bikes look and feel expensive, with lustrous paint jobs and beautiful chrome all over. It's a good thing too, because they're seriously expensive, with prices starting at Rs 31.99 lakh (ex-showroom) for the Street (add Rs 23,000 for the Red paint) and Rs 34.99 lakh for the Road. Throw in a few of Harley's unending accessories and watch those prices balloon further.
Truth be told, neither is a logical buy for our environment, but then again, what logic is there when talking about Rs 35-lakh motorcycles. Perhaps more relevant is that both are not only usable here in India, but they can also be quite enjoyable. So, if you've got a massive, Harley-shaped hole in your garage and money is no concern, either of these two outrageous motorcycles will fill that space nicely.
Harley-Davidson X440 vs Triumph Speed 400 vs RE Classic 3...
19030 Views|4 months ago
Quick News video: July 30, 2023
3387 Views|4 months ago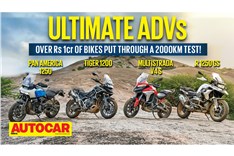 BMW vs Ducati vs Harley vs Triumph - 2000km ADV road trip...
7488 Views|1 year ago