We take Ducati's new Monster 1200S for a ride in the Canary island of Tenerife. Here's a quick introduction to the most powerful Monster yet.
At first glance, there is no doubt that this is a Monster. For over two decades, the Monster has been the face of naked bikes, with its bulbous tank and trellis frame. The new Ducati stays true to its design heritage, though now it's longer than before. This Monster has gained 63mm and is now 1511mm long. Not for more stability as you might think, but to give the rider and pillion more room. Yes, Ducati wants you to be comfortable on this bike. After all, a 45-year-old male, who is their target, values his comfort. The other interesting dimension of this motorcycle is the seat height, or rather seat heights. The seat height is adjustable down from 785mm up to 810mm. There is also an aftermarket seat available that lowers the seat height by another 40mm! So, whether you're a five or six-footer, you will always be comfortable with this bike. The large, comfortable seats and big 17.5-litre tank means you can clock a decent number of kilometres before requiring to stop. The only ergonomic complaint came from big-footed riders, who complained about the rear foot peg fouling with the back of their boots.
The most powerful Monster yet.
Powering the 1200S is a 1198cc DOHC eight-valve Desmo motor based on the Multistrada engine. With this engine, Ducati has reverted to liquid-cooling. This latest version of the Testrastretta 11-degree V-twin grunts out 143bhp, just five short of the big Multistrada, but it produces more torque across the range and revs higher too. Throttle response is linear and predictable, making this a comfortable bike to ride and the V-twin roar emanating from the two-into-one-into-two exhaust is glorious. Roll off the throttle and the deep rumble is a symphony for the addict. The bike is happy to potter around at low speeds, and then when the road opens up, all it takes is a nudge of the fly-by-wire throttle to start having more serious fun. Acceleration is instantaneous on the 1200S, as it storms through the speedo riding a creamy wave of torque. The one thing I wished for was a gear indicator, as I often lost count of which gear I was riding in. That didn't matter really though, because whichever gear you are in, this Monster has enough grunt to thunder you through.
Ducati Streetfighter V2 video review
4785 Views|4 months ago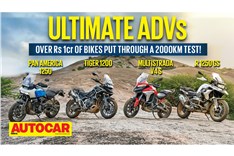 BMW vs Ducati vs Harley vs Triumph - 2000km ADV road trip...
6172 Views|7 months ago
2022 Ducati DesertX video review
8421 Views|9 months ago