The newest addition to the Modern Classics range, the Speed Twin, leaves us struggling to keep up.
These days, I daydream differently. It's no longer panoramic visuals of riding a mildly chipped and sagging classic BMW through an arid African expanse, or perhaps a tedious chase involving a flat track in Tavullia. Instead, I now find myself wishing I worked at Triumph – in its product development division to be specific, because it's been building bikes like it's going out of fashion. It's not surprising, then, that you can now have a Modern Classic (which is just one of its categories) to suit every imaginable two-wheeled purpose. You can have one to get through the working week, one that'll take you through the Sahara desert, another one to make you look cool on Sunday mornings (talk about being specific) and even one that will go really well with your pastel trousers and waxed beard. Thinking up bikes like these must obviously be a fun job, then; and just when I thought it was all over, Triumph decided to take the wraps off its new Speed Twin. Well clearly, I thought wrong.
Now the Speed Twin isn't an all-new motorcycle but rather a cross between the Street Twin and the Thruxton R. But, of course, it's more than just that. It slots into the void that so far lay unnoticed between the Street Twin/T120 and the basic Thruxton – offering the accessibility of a Street Twin but with stronger performance. At face value, the gap is a slim one but holds merit when you have to put your money where your mouth is and fall short of Thruxton kind of money. Viewed against that backdrop, the Speed Twin starts to make sense – but then it had to because that nameplate is an important one for Triumph.
Not only is it quick, but also wheelie-happy.
You see, it was the original Speed Twin 5T that took it upon itself to help Triumph make a strong revival in the aftermath of World War II. Edward Turner's lightweight and well-engineered 500cc Speed Twin is the motorcycle that really fired up the British parallel-twin movement – previous attempts by others hadn't met with even a sliver of success – and it soon gripped motorcycle manufacturers around the world. It wouldn't, thus, be unfair to say that the Speed Twin is the father of the modern parallel-twin engine as we know it. However, the Speed Twin of that era was also a very uncomplicated motorcycle – the pre-war version featured a single carburettor, a Girder fork and a rigid frame, leaving a sprung seat to take care of comfort. The post-war model did better on most of those counts, but by then it had spawned more advanced models such as the Tiger, Thunderbird and the Bonneville and was, therefore, relegated to serving as an entry-level offering. However, the Speed Twin of today cannot afford to take the back seat.
That should explain why Triumph has crammed its new 'custom roadster' with the best of its wondrous inventory and, of course, abilities. So, while it has the exact same engine output credentials as the Thruxton R – 97hp at 6,750 rpm and 112Nm torque at 4,950 rpm – and also uses the same 6-speed gearbox, it's all meticulously tailored thereafter. The Speed Twin is now the lightest of Triumph's Modern Classics range. Its 196kg (dry) weight has been achieved by replacing a substantial chunk of steel in the basic chassis with aluminium, apart from using the lighter metal to build the swingarm and the wheels as well. The engine, thanks to a clever mix of materials, is also lighter and Triumph has wisely focused on weight distribution and inertia to make this lighter weight work in favour of sportiness. And there's more. The Speed twin features a longer wheelbase (1,430mm, up by 15mm) than the Street Twin and the Thruxton R but with the same 22.8-degree rake angle as seem on its flagship café racer.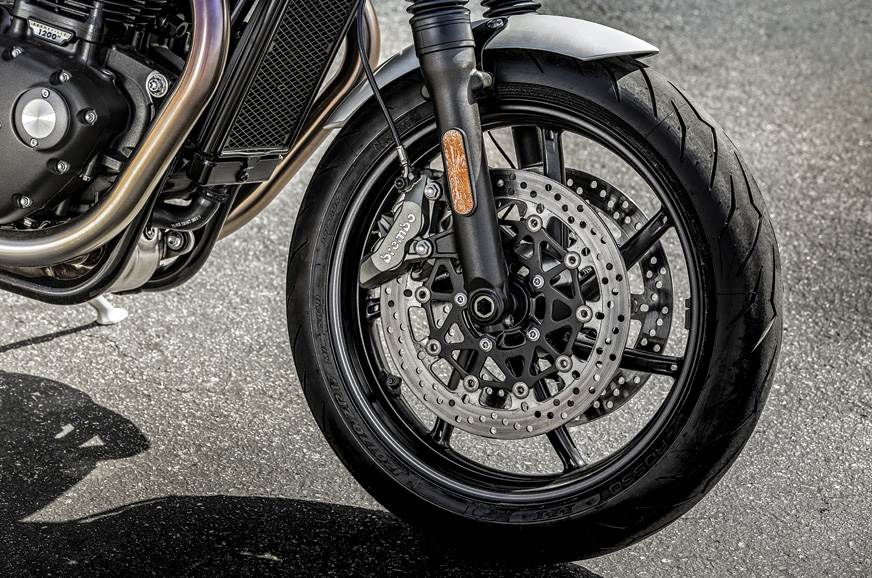 High-spec 4-piston calipers come as standard.
The Speed Twin also gets a larger fuel tank than the Street Twin, with a 14.5-litre capacity on offer and the seat height is thankfully (for taller riders) set at 807mm – the Street Twin's 760mm could begin to feel cramped over long distances. However, not keen on going overboard with equipment so as to keep costs in check, Triumph retained a conventional fork (from the Street Twin but with uprated internals) rather than opting for the Thruxton's USD big-piston fork; and it went one better on the Street Twin by offering a 305mm twin-disc setup (as opposed to a single disc) with Brembo four-piston calipers. Not one to skimp on electronics of late, Triumph threw in ride-by-wire, three riding modes (Road, Rain, Sport), switchable traction control and, of course, ABS, which makes the Speed Twin's premise as 'the new performance icon' believable. Is it, really, though?
Meters are cool, but maybe a little too cluttered.
The riding geometry certainly seemed to resonate. Viewed in profile, the Speed Twin has a noticeable forward hunch but the foot pegs are set further forward and lower than on the Thruxton. This results in a riding position that's sporty but not unreasonable like on your typical café racer. The twin-pod digi-analogue instrument cluster (bit overdone for my liking, but it's got every readout you'd need) takes centre-stage; and as you fire it up, the crisp but unmistakeably parallel-twin soundtrack from the new megaphone-style twin exhausts gives you a fair hint of what to expect. It's no bluff, as it turns out, because the Speed Twin launches off the line like it's late for a meeting (hey, that's an idea for a new motorcycle!). Being, both, lighter and less front-heavy than the Thruxton R, the Speed Twin feels ferocious as it accelerates strong, with the smooth (but mechanical-feeling) gearbox keeping progress tight. You can tell in an instant what this motorcycle can do with traction control turned off (read: long wheelies) and the responses are very impressive, but still within Triumph's typical approachability standards. A quickshifter would definitely spice things up further for the Speed Twin, but I suppose (or hope) that's reserved for the R version that will inevitably spring up in due course. On another note, the throttle did feel jerky at very low revs and this is something Triumph will need to address.
As we've come to expect of Triumphs, the Speed Twin delivers sufficiently on either end of the performance spectrum; it'll do 180kph like it's a walk in the park but will also cruise at 60kph in sixth. Unlike the original Speed Twin which featured a 360-degree crank, though, the new one goes with the 270-degree configuration, which works well to keep vibrations down to zilch. Over fast mountain roads (certainly a bit too fast for my talent), I was happy to discover I could stay in third or fourth gear for the most part, with the thick spread of torque helping hugely.
Also immensely helpful around mountain roads is the handling. Triumph has gone pretty aggressive with the chassis geometry and it shows in how the Speed Twin responds to inputs. It's immediate without being volatile and its agility doesn't come at the expense of enthusiasm or stability; you have the longer wheelbase and the rake/trail, among other details, to thank for that. Another sound choice are the Pirelli Diablo Rosso III tyres which offer tremendous grip and feedback, apart from holding up impeccably under hard braking as well. Braking, by the way, is super sharp although the Brembo front-end set-up is perhaps overkill for that conventional fork. While it works fine, it just lacks the premium and a sophisticated USD unit would bring about more progression and exploit its potential even better. Overall, though, the Speed Twin feels more rewarding than the Thruxton R on the road, without being as fatiguing – a fair trade-off for not making you look as cool in shop windows, right?
The Speed Twin is hugely entertaining while remaining impressively stable.
So, why would you buy a Thruxton R at all, then? For its exquisiteness and timeless café racer looks, certainly, but let's not forget that it's due for an update as well and the next one (which should arrive later this year) is naturally going to be a significant step up. Another bit of good news for India is that the Speed Twin will be manufactured in Thailand as well, so the bike that comes to India will be priced within reason – around the Rs 10.5 lakh mark (ex-showroom) and squarely between the T120 and the Thruxton R. Does that mean Triumph has hit the nail on the head with the Speed Twin? On a personal (and therefore, subjective) note, I feel it could have been more 'classic' than 'modern' (say, with wire-spoke wheels at the very least) given what the original Speed Twin stood for. In fact, I also secretly hoped the nameplate would be reserved for something more consequential in the larger scheme of things – say, the smallest-capacity twin Triumph is working on with Bajaj – than what is essentially a variant. However, it is perhaps best for history to be recreated than emulated – that just gives us more to be excited about, right? And in that sense, the Speed Twin does deliver justice to its nameplate, by simply being a lot of fun to ride. Now, if only Triumph could make one to go with my new pair of jeans...