Double-wishbone suspension, Apple CarPlay and a reverse mode... on a motorcycle! We get a taste of the new Honda Gold Wing.
The most American motorcycle to come out of Japan has to be the Gold Wing. Essentially developed for the North American market, the motorcycle started life in 1974 as a 265kg tourer. Expectedly, the Gold Wing got on an American diet as well, and its weight grew by almost 100kg in a span of just two decades. Thankfully, that has changed with the latest-generation Gold Wing – it is now around 41kg lighter and more compact than its predecessor.
I was recently in Malaysia, attending the Honda Asian Journey 2018, to ride from Penang to Kuala Lumpur on a variety of Honda bikes. One of the bikes I had the opportunity to ride was the 2018 Gold Wing, which (despite being smaller than its predecessor) is huge! I was riding the top Gold Wing Tour model that comes with a luggage top box that makes it look even bigger. In fact, this behemoth of a tourer is just 1.5 feet shorter in length than the Tata Nano. For 2018, Honda has redesigned the bike to make it more aerodynamic. It is also narrower and ditches some of its bodywork to put the lower section of its massive engine on display. The all-LED lighting, electronically adjustable windscreen and sharp design also make the motorcycle a lot more contemporary.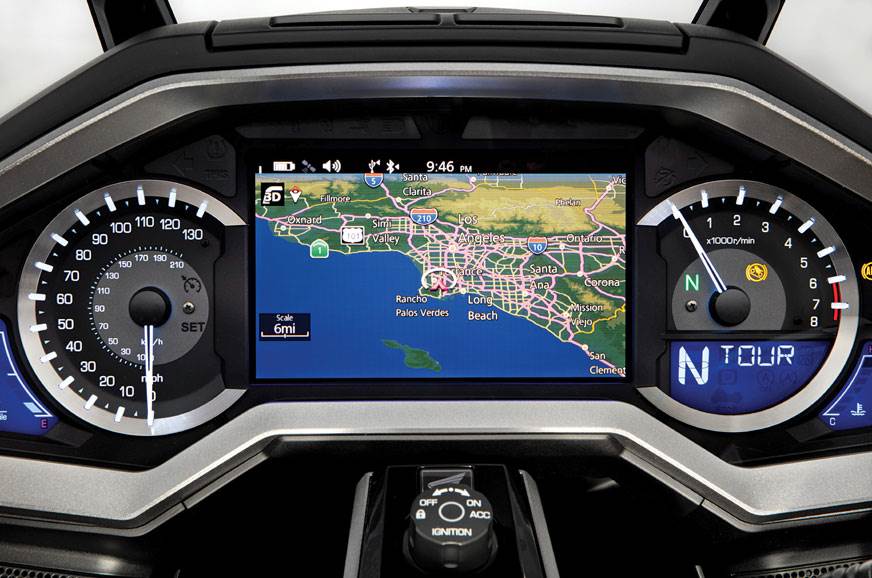 Smartest instrument cluster around.
The latest-gen model also leaves behind the multiple-button interface for a simpler set-up. The new 7.0-inch full-colour LCD features Apple CarPlay (Hey, shouldn't it be called BikePlay?), and is controlled via a straightforward button layout and two toggle switches. The left-hand side switchgear also houses the button for a reverse mode. The switchgear on the right side, meanwhile, has a riding mode switch and cruise control settings.
Powering the Gold Wing is a colossal 1,833cc, six-cylinder, liquid-cooled horizontally-opposed engine. However, Honda says much has been done to make it more compact, more fuel-efficient and lighter – 6.2kg lighter to be precise. This updated engine makes 126hp and 170Nm of torque. Other updates include four valves per cylinder instead of two, a new ride-by-wire throttle and four riding modes (Tour, Sport, Econ, and Rain). Rain and Economy, both feel very similar and cut power and throttle response significantly. The throttle response in Sport, however, was extremely sensitive at low speeds and didn't feel right on the big tourer. Unsurprisingly, Tour mode best-suited the Gold Wing and this is the mode I ended up using the most for its creamy-but-instant power delivery.
The saddlebags hold 30 litres each.
The six-cylinder engine in the Gold Wing has always been known for its silky-smooth character, which this model retains. The motor makes a smooth, pleasant sound that changes to a deep roar once you twist open the throttle. The bike I was riding happened to be the 6-speed manual model and not the 7-speed DCT variant, which is the only model available in India. Despite being one gear short on the manual model, cruising speeds of 140kph have the engine sat at just around 3,000rpm in sixth.
Honda has also equipped the bike with a new frame and a single-sided swingarm with a new pivot-area structure. At the front, the Gold Wing uses a new double-wishbone suspension, which Honda opted for to improve weight distribution by moving the mass forward. Suspension at the rear is taken care of by a single 'pro-link' shock absorber.
The ride quality on the Gold Wing feels extremely plush and it will be interesting to see how it performs on our roads. While I didn't get the chance to tackle sharp corners on the Gold Wing, I did manage to take on a few long sweeping corners at high speeds; Honda has done a really good job with the dynamics of the 379kg cruiser. After a brief acclimation, I was neither seriously intimidated by the weight, nor did I find it twice as heavy as everything else I am used to riding – which is really commendable. That being said, the nutty dimensions of the Gold Wing took time getting used to, especially in traffic.
With a bike this size, you need impressive stopping power. The new model features radially mounted front callipers and larger, 320mm rotors. These brakes also use electronically controlled combined-ABS that works to distribute braking force to the front and rear wheels and changes according to the riding mode you are in. For instance, Sport mode applies more pressure to the rear when the front brake is applied. While these brakes did a good job at slowing down the behemoth, I wish they offered a bit more force at the front, at least in Sport mode.
India only gets one version of this motorcycle, the Gold Wing Tour DCT, which costs Rs 27.79 lakh (ex-showroom, Delhi). This model features a 7-speed, dual-clutch transmission, a top case, Honda Selectable Torque Control (HSTC), heated seats and electronic adjustability for the monoshock. Along with being among the most extravagant, the Gold Wing continues to be one of the largest motorcycles in the world, despite the new-gen's weight loss. A bike of such characteristics isn't really built for most of our roads, but it is only when we ride it here that we can we give you a full review.