Its design might be timeless, but the new Heritage Classic is surprisingly contemporary in its riding experience.
The Heritage Classic has always been a transition model between the Harley-Davidson's traditional Softail range and their bigger, fully loaded Touring line. It's also been one of the company's best-selling models, internationally. For 2018, the Heritage Classic has seen some big updates as part of the new Softail line-up, and while it does keep some of the more classic features that it has been known for, it also amps up its game in many departments. We rode it along with a few of its other Softail siblings on some incredible twisty roads on the outskirts of Barcelona. Here's our quick take on the new Heritage Classic.
HEY GOOD LOOKIN'
The new Heritage carries this wonderful vintage 'Dresser' look, with its blacked-out engine and forks. Compared to the outgoing Heritage, there's visibly less chrome in use, along with plenty of blacked out detailing and that does lend the bike a bit of modernity along with plenty of elegance. More modern touches can be found in the headlight cluster, which, while maintaining its three-pod layout, has switched to a full-LED setup for both beams as well as daytime running lights. There are lots of useful features such as ABS and cruise control, which come as standard, as well as a detachable windshield. The old leather saddlebags have been ditched for new rigid, leather-wrapped ones. The best part is that these are now lockable, in addition to being water resistant, so doing some long-distance riding in adverse weather shouldn't be a problem at all.
GET YOUR MOTOR RUNNING
The underpinnings of this motorcycle are shared with the 2018 Softail range, i.e. the brand new chassis and motor. We've discussed setup in detail in our Harley-Davidson Fat Bob review, but here's the gist of it. The new frame is claimed to be 65 percent more rigid than the outgoing frame, has half the component parts, fewer welds and has the engine solid-mounted to it (without rubber mounts). Not only has this helped the Heritage Classic shed 17kg, it has also done wonders for its handling abilities. The front end gets the Showa dual-bending valve forks mounted at a 30-degree rake while at the back, there's a new monoshock hidden under the seat that connects to a swing-cage-type swingarm. What you get is a clean, hard-tail-type look, but thanks to longer, better controlled suspension, it has increased passenger and payload capacity.
The motor is the Milwaukee-Eight 107 that's also available on the other Softails coming to India. It makes 144Nm of torque and Harley says that is enough for this new Heritage to make the 0-100kph run 10 percent faster than the previous bike powered by the High Output Twin Cam 103B engine. The new motor features 'precision oil cooling' – a term Harley uses for describing oil cooling of the exhaust valves as well as cooling the engine oil itself, with a compact oil-cooler tucked away between the frame's downtubes. This has allowed for lower perceived heat when on the bike and also let Harley engineers bump up the engine's compression. Hence, the improvement in power.
HEAD OUT ON THE HIGHWAY
As great as the Heritage Classic is from an aesthetic standpoint, it's utterly mind blowing when it comes to the riding experience. For a bike that exudes the appearance of an old-school highway cruiser, and one that weighs a whopping 330kg, it turns in alarmingly quickly. Compared to the earlier Heritage, there's more cornering clearance to be had on either side, but even then, before you know it, you're scraping the foot boards through the corners. At the same time, though, it never feels unsettled. There's a precision to the way it handles corners like we've rarely seen in any Harley-Davidson motorcycle before; there's plenty of grunt in the motor to exit out of corners at a rapid pace. In fact, if you're ham-fisted with the throttle, it's also possible to break the rear tyre's traction when it's leaned over.
There's something undeniably charming about taking a bike that looks this classic and chucking it around a twisty road like a big sport naked. That said, it handles highway duties perfectly well. The seat is ample and comfortable, the riding position is relaxed and the motor is happy to chug along at about 2,250rpm when cruising at 100kph in sixth gear. The new assist-clutch is lighter than before, but still feels a bit firm. Yet, it shouldn't be too much of an issue as, considering the vast torque spread of this motor means, you don't need to shift gears as much. The Heritage offers an archetypal Harley-Davidson cruiser experience and the fact that the only (slight) concern is edge-grip of the tyres really says something.
CLASS ACT
The new Heritage Classic is a delightful motorcycle that will make for a great companion on long highway journeys. It looks what an old-school Harley-Davidson is supposed to look like and at the same time has the road manners of a modern motorcycle. We can see no problem in it appealing to long-time Harley loyalists as well as attracting a raft of new customers who haven't considered these traditional American motorcycles before. The Heritage, along with its other Softail siblings will be launched in mid-October, with an expected price between Rs 17-17.5 lakh (ex-showroom).
Also read:
2018 Harley-Davidson Street Bob review, test ride
2018 Harley-Davidson Fat Bob review, test ride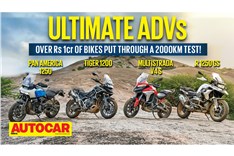 BMW vs Ducati vs Harley vs Triumph - 2000km ADV road trip...
6147 Views|7 months ago
Harley-Davidson Road Glide Special video review
6610 Views|11 months ago