Most of the models featured in this price bracket of Rs 2 lakh to Rs 4 lakh serve as stepping stones to the world of premium bikes in India. They are good learning tools before graduating to bigger, more expensive machines.
Classic 350 dominants with nearly 30,000 units sold
Newly launched V-Strom SX sells 1,729 units
KTM records triple-digit figures for 250s and 390s
The data for the bestselling motorcycles in the following list has been taken from the monthly report by the Society of Indian Automotive Manufacturers (SIAM).
1. RE Classic 350: 29,959 units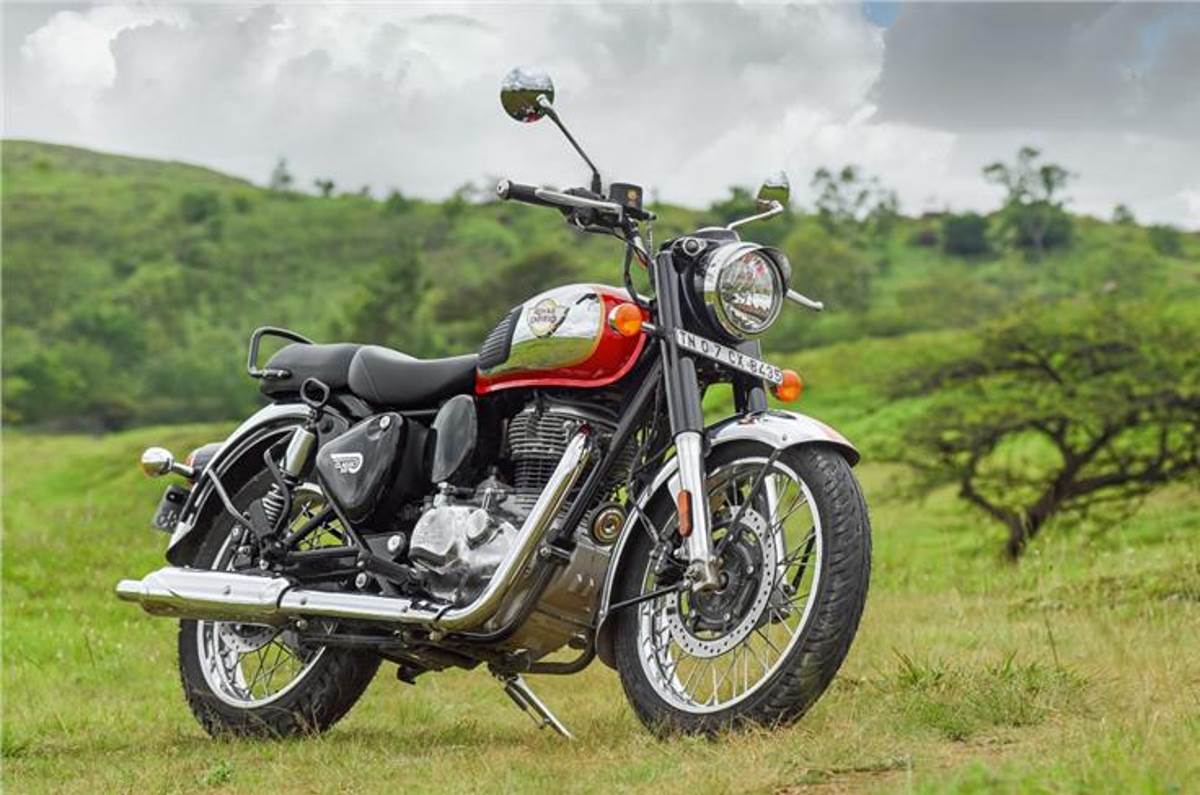 The recently revamped Classic 350 continues to dominate the sales chart in this segment, much like it has done since its inception, selling nearly 30,000 units in May 2022. The brand-new Classic 350 is based on the new J-series engine that first debuted on the Meteor 350 in 2020. The Classic 350 is priced between Rs 1.9 lakh-2.2 lakh.
2. RE Meteor 350: 8,209 units
The first bike to feature RE's latest J-series engine, the Meteor was launched in 2020 to replace the Thunderbird. It seems to have captured the popularity of its predecessor and is one of the nicest cruiser options available at this price point. With three variants priced between Rs 2.05 lakh-2.21 lakh, the Meteor 350 managed to sell 8,209 units in May 2022.
3. Honda H'ness CB350: 3,308 units
Honda's answer to the Classic 350 is the H'ness CB350, but since it is limited to the brand's BigWing dealer network, it can't quite compete in terms of sales figures. Nevertheless, it managed to sell a respectable 3,308 units in May. The H'ness is priced between Rs 1.95 lakh and Rs 2.05 lakh.
4. Royal Enfield Himalayan, Scram 411: 3,272 units
The Himalayan was the only true adventure bike available in this price bracket for a long time, which has earned it a rather staunch following. Despite having received more competition recently, the RE ADV continues to be popular, with its recently launched derivative, the Scram, also chipping in to boost numbers. The two bikes are priced from Rs 2.03 lakh-2.2 lakh and sold 3,272 units between them last month.
5. Suzuki V-Strom SX 250: 1,729 units
The newest entrant in the small-capacity ADV bike segment, the Suzuki V-Strom SX 250 has gotten off to a strong start, occupying a nice little niche in the ADV market between the Honda CB200X and the KTM 250 Adventure. It managed to sell 1,729 units in May 2022.
6. Royal Enfield Interceptor 650, Continental GT 650: 1,357 units
The largest displacement bikes here by some margin, the Interceptor 650 and the Continental GT 650 continue to sell in steady numbers. Priced between Rs 2.88 lakh and Rs 3.31 lakh, they still managed to rack up better numbers than more affordable offerings from other brands, with 1,357 units sold in May 2022.
7. Bajaj Dominar 400: 769 units
The Dominar 400 is a motorcycle that has improved appreciably over its time in our market, and as a result, it continues to soldier along on the sales charts. Updated for this year with some touring-focused accessories and priced at Rs 2.2 lakh, it managed to sell 769 units in May 2022. While it isn't exactly flying off the shelves, it is faring better than the more expensive KTM 390 line-up on which it is based.
8. KTM 250 range: 642 units
KTM's 250cc range comprises the 250 Duke, priced at Rs 2.29 lakh, and the recently launched Adventure 250, which costs Rs 2.32 lakh. Both were intended to serve as more affordable and approachable options to their manic 390 counterparts, and they are fulfilling their purpose, increasing footfall in KTM showrooms and contributing to sales numbers as well. Their more accessible price tags saw them shift 642 units in May, compared to the 390 line-up's 558.
9. KTM 390 range: 558 units
The KTM 390 line-up was once sold by the thousands, but numbers have dwindled in recent times, and in May, it ranked ninth on the list. There are three distinct models to choose from – the 390 Duke, the newly updated RC 390 and the 390 Adventure. All three bikes have received updates and improvements over the years but have also become more expensive as a result. They now cost between Rs 2.87 lakh and Rs 3.28 lakh, depending on the model you pick, which places them almost exactly on par with the Royal Enfield 650cc twins. Their sales figures, however, are a more humble 558 units in May 2022.
10. TVS Apache RR310: 385 units
Developed in collaboration with BMW and launched in 2017, the TVS Apache RR310 has been consistently updated with new features to keep up with its competition. Retailing for Rs 2.64 lakh, the RR 310 managed to sell 385 units in May 2022.
Do note that this report does not contain data for the BMW 310cc twins and the recently launched Yezdi models, both of which should be reasonably strong performers in this segment.
All prices, ex-showroom, Delhi.
Do you own any of the bikes featured in this list? Let us know in the comments section below.