Contrary to what any company would strategies to tap into the huge potential of the Indian two-wheeler market at the very entry point, Piaggio Vehicles is considering a larger displacement, internal combustion-engined scooter, to offer better performance, power and better handling.
"It is going to be a big jump from what we currently see in the Indian market and will also preview what could come in the market afterwards," said Diego Graffi, managing director and CEO of Piaggio Vehicles in an exclusive interaction with our sister publication Autocar Professional.
The company has recognised the massive boom in the middleweight (200-300cc) motorcycle segment in India and expects it to grow even faster in the next three to five years. "Even though that kind of displacement for scooter application may still be too early, but something between 150-200cc is very much possible to happen, not just from us but even from the competition," revealed Graffi.
Customised to suit India
"We are developing the scooter right now and it is going to be a fully customised Indian development. Whatever we develop in India, in collaboration with the R&D centre located in Italy, is specifically meant for the Indian market," he said.
The new scooter will be launched under the Aprilia brand and Piaggio aims to introduce it over the next 18 months.
Looking closely at the company's share in the 'premium' scooter segment (125-150cc), Piaggio Vehicles holds a good 9-10 percent of the total scooter market in India, and also has the highest brand recall in the segment.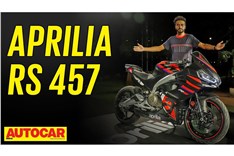 Aprilia RS 457 walkaround video
1150 Views|7 days ago
2022 Aprilia SR 160 video review
7846 Views|1 year ago
Suzuki Burgman Street vs Aprilia SXR 125 comparison video
16698 Views|2 years ago