There is a significant amount of buzz surrounding the upcoming Kawasaki Ninja ZX-25R ever since it was unveiled at the 2019 Tokyo Motor Show. This quarter-litre sport bike is expected to offer some serious performance for its size, while its inline-four engine format is nothing short of sweet music to the ears of sport bike enthusiasts. In the run up to the international launch and subsequent release of specifications and other bits of info, Team Green has released a new teaser video of the Ninja ZX-25R, this time in action.
The setting is at the Circuit de Jerez, Spain where Kawasaki WSBK riders Jonathan Rea and Alex Lowes are seen talking about the bike's design (looks similar to the Ninja 400) before the Rea hops on the bike and takes it for a spin – it's a thrill to watch a WSBK champion put a new bike through its paces and as it appears as if Rea is giving it his all.
The video shows the bike blitz past the cameras as the lovely wail of an inline-four engine screaming at high revs fills the air. A couple of frames also reveal the part-analogue, part-digital instrument cluster with the tachometer redlining at 17,000rpm! That's a seriously high-revving engine and it goes to show that Kawasaki seems to have squeezed the best possible performance from the little mill. Rumours suggest the engine develops somewhat between 40-50hp. To give you a point of reference, the KTM Duke 390's single-cylinder engine produces 43hp.
For now, we can only get an idea of the ZX-25R's performance potential as it's seen hitting a top speed of 160kph in fifth gear before the top gear is selected on Jerez's main straight. It will be interesting to see what the performance is like once the actual specs are revealed.
You'd be mistaken assuming the ZX25R is a low-rung 250cc motorcycle with a paltry equipment list. It is loaded with features such as traction control, a quickshifter and power modes. The hardware list is impressive as well. This baby Ninja has a Showa SFF-BP fork at the front and Kawasaki's back-link rear suspension (basically a link-type monoshock).
Given the equipment list, the ZX25R won't be cheap by any measure. That said, the prospect of a focused, quarter-liter sport bike with modern day electronics is quite interesting.
Quick News Video, September 17, 2023
971 Views|11 days ago
2022 Kawasaki Ninja 400 video review
8993 Views|10 months ago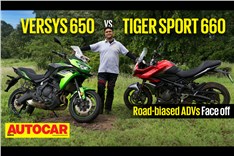 Kawasaki Versys 650 vs Triumph Tiger Sport 660 comparison...
9503 Views|11 months ago