In July 2018, Bajaj confirmed that it would be bringing the Husqvarna brand to India this year by launching two motorcycles – the Svartpilen 401 and the Vitpilen 401. Well, we're in November now, so the company has one month left to make that happen; and dealer sources have confirmed to us that Husqvarna is on track with its plans, and deliveries for the motorcycles will begin in January 2020.
Husqvarna was acquired by KTM in 2013; and considering Bajaj's partnership with the latter, the announcement of these bikes making their way here didn't come as a surprise. According to our sources, dealers have been advised to expand their showrooms to accommodate the new brand and the additional signage that the motorcycles will require. While the exact details are still unclear, it will be interesting to see how the dealerships will be modified to accommodate another brand.
As we already know, KTM has big plans for India Bike Week 2019. Not only will the company have its updated 2020-2021 line-up on display, but also launch the highly-awaited 390 Adventure at the motorcycle event in Goa. Other motorcycles we may also see at the event are the 250 Adventure, as well as the 790 Adventure, which has been confirmed to be launching next year.
It wouldn't come as a surprise if Husqvarna shares the stage with KTM at India Bike Week 2019. Husqvarna can be expected to launch its motorcycles there. If not, it won't be long after, considering the bikes' delivery plans as confirmed by the dealers. We expect pricing to be at a premium over the KTM 390 Duke's price tag of Rs 2.48 lakh (ex-showroom, Delhi).
Husqvarna Bikes
Husqvarna Svartpilen 250
₹ 2.17 lakh
Husqvarna Vitpilen 250
₹ 2.17 lakh
Husqvarna Svartpilen 200 image gallery
5805 Views|3 years ago
Husqvarna Svartpilen 250 image gallery
7500 Views|3 years ago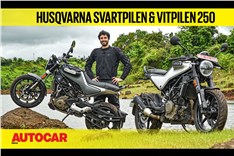 Husqvarna Svartpilen 250, Vitpilen 250 video review
18583 Views|2 years ago
Husqvarna Svartpilen 250, Vitpilen 250 first look video
23922 Views|3 years ago