While its more sizeable counterpart Hero MotoCorp is gearing up to make its first foray in the electric vehicle business, Hero Electric is looking to consolidate its advantage in the segment. The company has announced a partnership with Sun Mobility to deploy 10,000 battery swappable electric two-wheelers by the end of the 2022-'23 financial year.
Sun Mobility is an energy infrastructure company led by Chetan Maini, founder of Reva. Its role in this partnership will be to set up the battery swapping infrastructure to support these two wheelers, as well as provide the battery packs that will be circulated in this ecosystem.
Hero Electric, meanwhile, will provide the electric two-wheelers themselves, which presumably will have the option of being bought without the battery pack. Certain currently available Hero Electric models like the Photon HX already feature removable batteries, and these models are likely to form the basis for this arrangement, with Sun's batteries being made compatible with Hero's scooters.
The partnership mentions a pay-per-use model for battery swapping where customers will be charged according to the number of swaps they make. This is quite similar to some of the ownership models for the recently launched Bounce Infinity E1 electric scooter, which can also be bought without the battery pack, and run via a battery leasing subscription plan. Click here to read our review of the Infinity E1.
Would you rather buy the battery pack up front, or get it via a subscription model? Tell us in the comments below.
Also See: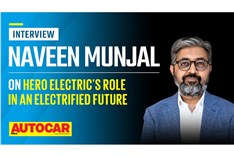 Naveen Munjal on Hero Electric and its future
3324 Views|1 year ago
Hero Electric AE-47 first look video
10683 Views|3 years ago