Ather is set to begin full-fledged operations in Chennai, the second city the EV start-up will be available in after its hometown of Bengaluru. This weekend, the company organised an event for potential customers who expressed interest in the Ather 450. Bookings were originally scheduled to begin only on July 9, however, owing to the interest expressed at the event, online bookings were opened and the first batch has already been filled!
The Ather 450 is priced at Rs 1.31 lakh, on-road in Chennai, with the booking amount set at Rs 5,000. The first batch of deliveries will begin in September, followed by the second batch in between November and December. Post that, deliveries will take place February 2020 onwards. Just like with its scooters in Bengaluru, Ather has also listed a lease programme in Chennai, with rentals starting at Rs 2,517 per month. Though more details on the same are currently unavailable on the company's website, they should be available in the near future.
Ather had earlier revealed an ambitious target of achieving one lakh units by June 2021 and is working on expanding to multiple cities over the next couple of years. Ather began setting up its AtherGrid infrastructure in Chennai a couple months ago with multiple charging points set up across the city.
The Ather 450 was recently approved for the FAME II subsidy, thanks to which its on-road price saw a Rs 5,000 reduction to Rs 1.23 lakh (on-road, Bangalore). Nevertheless, the 450 still costs almost twice as much as the big 125cc sellers. However, we'd earlier reported that the company is working on a more affordable offering and it will certainly attract a larger consumer base.
Following its introduction in Chennai, Ather is planning on setting up operations in Pune, followed by Mumbai and Delhi, next year.
Also see:
2018 Ather 450 review, test ride
Ather Bikes
Ather 450 Plus
₹ 1.41 lakh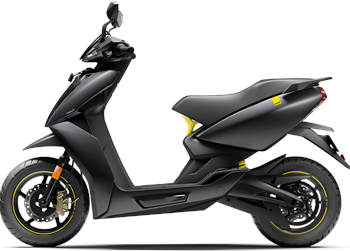 Ather 450X
₹ 1.63 - 1.64 lakh
Ather 450X Gen 3 video review
6193 Views|4 months ago
Yamaha Aerox 155 vs Ather 450X drag race video
11921 Views|9 months ago