Kawasaki recently launched its new Ninja 400 in India. It is the seventh Ninja offering in the country and sits between the Ninja 300 and Z650 in terms of pricing (more on that later). Speaking about the Ninja 400, Yutaka Yamashita, Managing Director of India Kawasaki Motors said, "Ninja 300 is mainly made for beginners and Ninja 650 is popular among experienced riders. However, Ninja 400 fits the bill for those who are willing to buy a sports bike between 300 and 650cc." This brings us to the Ninja 300 he's mentioned, which is part of this comparison.
The two other contenders come in form of the Yamaha YZF-R3 and Benelli 302R, which, like the Kawis are twin-cylinder sports bikes. We have not considered the RC 390 since all the bikes in this comparison are powered by twin-cylinder engines.
Styling and features
Yes, styling is subjective but contemporariness isn't, and there is no denying that the Ninja 400 and the YZF-R3 both look more modern than the Ninja 300 and the 302R. The styling of the Kawasaki Ninja 400 is sharp and sporty. It also comes with split-LED headlights, which are its standout design element. Kawasaki itself says that the 400 "boasts futuristic new Ninja styling inspired by the mighty Ninja H2 and that the large-volume bodywork attracts attention, and gives the impression of a larger machine." This, for the most part, is true.
Kawasaki's Ninja 300 has been around from quite some time now and it now looks like it uses the manufacturer's older generation's design. The Japanese bike maker has done a good job with the aggressive graphics on the motorcycle that freshen up its styling and hide its age. However, the headlights, wheels and the entire rear-end looks a bit last-generation. It is also the only bike in this comparison to not feature ABS.
Yamaha's contender, the YZF-R3 was recently updated for 2018 with a Euro-IV-compliant (same as BS-IV-compliant) engine, dual-channel ABS and Metzeler M5 tyres. The bike also got new colours options – Racing Blue and Magma Black – which have done a fair bit in making the motorcycle more chic. The Yamaha's twin headlamps look sharp, and the pilot lamp in the centre looks good, too.
Thanks to its big-bike size, the 302R easily stands out in a crowd, but the proportions do seem a bit off with a long silhouette and a rather front-heavy look. Thankfully, Benelli has tidied-up the graphics and it doesn't look quite as busy as the pre-production bike. However, the bike does feature ABS and was the first one in its segment, to do so. Furthermore, it is the only bike in this comparison to feature an upside-down fork and twin front disc brakes, although our experience with the bike reveals that it deserves sharper braking performance.
Dimensions
Ninja 400
Ninja 300
YZF-R3
302R
Wheelbase
1370mm
1405mm
1380mm
NA
Seat height
785mm
785mm
780mm
785mm
Kerb weight
173kg
172kg
173kg
198kg
Performance on paper
The Kawasaki Ninja 400 does have an unfair advantage here, being the highest capacity motorcycle here with a competitive weight. It has a lighter trellis frame and smaller fuel tank than the Ninja 300 which has put it almost on par with it in terms of kerb weight. This also means that it has an impressive and highest-in-class power-to-weight ratio of 283.2hp/tonne.
With a kerb weight of 172kg and power figure of 39hp, the Ninja 300 has a power-to-weight ratio of 226.7hp/tonne. This figure doesn't sound too bad when compared to the heavy 198kg Benelli's figure, but it does when compared to its international replacement – the Ninja 400. It also produces the second-lowest torque figure here – just 0.5Nm more than the Benelli.
Yamaha's R3 fairs decently in terms of power to weight ratio with 242.7hp/tonne. It does this thanks to its 173kg kerb weight and its motor making 42hp. However it does lack in terms of torque when compared to the higher-capacity Ninja 400. It makes 29.6Nm while the Ninja 400 produces substantially more at 38Nm.
Benelli's 302R is really lacking in this department, it makes the least power and torque figures of all the motorcycles in this comparison at 38.2hp and 26.5Nm. The 302R, disappointingly, is also the heaviest of the lot at 198kg, resulting to an unimpressive (for its segment) power-to-weight ratio of 192.9hp/tonne. This is felt on the road, too; but the Benelli does produce an excellent exhaust note which can be mistaken for a much bigger bike.
Powertrain
Ninja 400
Ninja 300
YZF-R3
302R
Engine
Twin-cylinder, DOHC
Twin-cylinder, DOHC
Twin-cylinder, DOHC
Twin-cylinder, DOHC
Fuelling
Fuel-injection
Fuel-injection
Fuel-injection
Fuel-injection
Displacement
399cc
296cc
321cc
300cc
Max power
49hp at 10,000rpm
39hp at 11,000rpm
42hp at 10,750rpm
38.2hp at 11,500rpm
Max torque
38Nm at 8000rpm
27Nm at 10,000rpm
29.6Nm at 9000rpm
26.5Nm at 10,000rpm
Gearbox
6-speed
6-speed
6-speed
6-speed
Power-to-weight ratio
283.2hp/tonne
226.7hp/tonne
242.7hp/tonne
192.9hp/tonne
Does the Ninja 400 present a good deal?
The Ninja 400 does offer more performance and technology while weighing the same as its rivals. It is also the sharpest and most contemporary looking of all the bikes in its segment and will likely be great fun to ride, too. But all of this comes at a price; and a hefty one at that – Rs 4.69 lakh – a premium of Rs 1.09 lakh over the Ninja 300. This appears to be the case just for the Indian market as the Ninja 400 costs exactly what the Ninja 300 used to in the USA, while the price has risen in the UK by £350 (Rs 32,000).
The Ninja 300, on the other hand, would interest you more if you were just looking to get yourself a 'Ninja' and were not looking for the best performance figures. Priced at Rs 3.60 lakh, this the cheapest Ninja money can buy. Yamaha's R3 appears to offer the nicest deal, with impressive power figures and the most affordable price tag of Rs 3.48 lakh. The Rs 3.62 lakh (all prices, ex-showroom India) 302R from Benelli, is without a question, targeted at buyers looking for a big-bike sound and feel rather than an actual fast and exciting riding experience.
Price (ex-showroom, Delhi)
Ninja 400
Ninja 300
YZF-R3
302R
Price
Rs 4.69 lakh
Rs 3.60 lakh
Rs 3.48 lakh
Rs 3.62 lakh
2022 Kawasaki Ninja 400 video review
7103 Views|7 months ago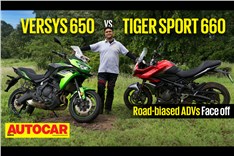 Kawasaki Versys 650 vs Triumph Tiger Sport 660 comparison...
7722 Views|7 months ago