The Achiever 150 is a commuter that doubles as a surprisingly capable off-roader.
The Hero Achiever 150 is a true-blue commuter and I have attested to its suitability to that role in my previous long-term report. I've used it to get to work every day and I am not disappointed. The relaxed throttle, easy handling, soft suspension and upright seating geometry all come together to make easy work of daily commuting.
One morning, as I rode to work, I passed the same barren field I do every day. Except today, it caught my eye: an early morning shower had rendered its otherwise dry, tightly packed mud wet and mucky, puddles interspersed with pebbles and construction debris. Suddenly, the very attributes that made the Achiever 150 a great commuter also made it a great off-road bike.
So, I drove right in. The position of the foot pegs, shape of the tank and upright handlebars made it easy to stand on the bike, the relaxed throttle provided good control, low-end grunt from the engine helped keep revs manageably low, tall gearing eliminated the need for frequent upshifting and the soft suspension handled rocks, bumps, lumps and crests laudably well. The overall slimness of the Achiever really helped with manoeuvrability, allowing me to carve narrow trails through random debris, scary-looking puddles and the occasional boulder. When I couldn't avoid obstacles, I just went for it – the Achiever felt like it could handle it all.
By the time I was done, my shoes (ill-suited for this rogue exercise) were dripping wet. I spent the rest of the day uncomfortably moving about in soggy, icky socks. Worth it!
I was hoping I could take the Achiever for a more extensive off-road session but unfortunately, our time with it had come to a close. I can't call it the best commuter I have ridden, but it certainly is a memorable one.
Hero Karizma XMR video review
7228 Views|21 days ago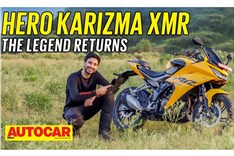 Hero Karizma XMR walkaround video
4071 Views|22 days ago
Quick News video: July 30, 2023
3034 Views|1 month ago