The latest updates to the Suzuki Gixxer and Yamaha FZ-S have made choosing between them easier than ever before
Reminiscing about your firsts is always an intimate affair. The feelings are such that they are difficult to put into words. Ask a motorcyclist about their first bike, and you will see their face light up, as memories come whirling into their head – it's a huge question, that.
Let me elucidate what happens when I get asked that particular question. My mind, within seconds, rewinds to 2010, to the night of the day my first motorcycle was delivered. I vividly remember sitting on the swing in my garage for hours admiring one of the best decisions I made – the FZ-S. It was the bike that taught me the art of motorcycling – as it did for many others, I'm sure, because it had become Yamaha's most popular model. It achieved demand and respect of this nature as well, as the FZ-S was the first of its kind – one that combines a commuter and an entry-level naked sport bike.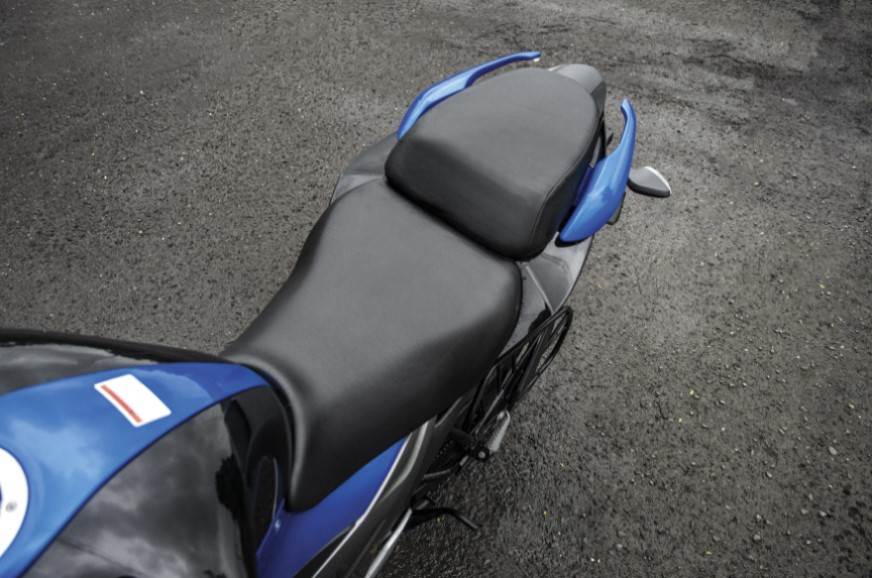 Split-seat setup on the Gixxer looks sportier, but is not as roomy.
It took the Gixxer for Suzuki to catch up with Yamaha in 2014. Unfortunately, it didn't witness as far-reaching a success, but anyone who loved riding admired how good of a commuter it was, while having a slight edge over the FZ when the pace increased. Many years have passed since then; but in 2019, we now have the FZ-S and the Gixxer in their latest forms. And I couldn't resist the opportunity to see how things stand.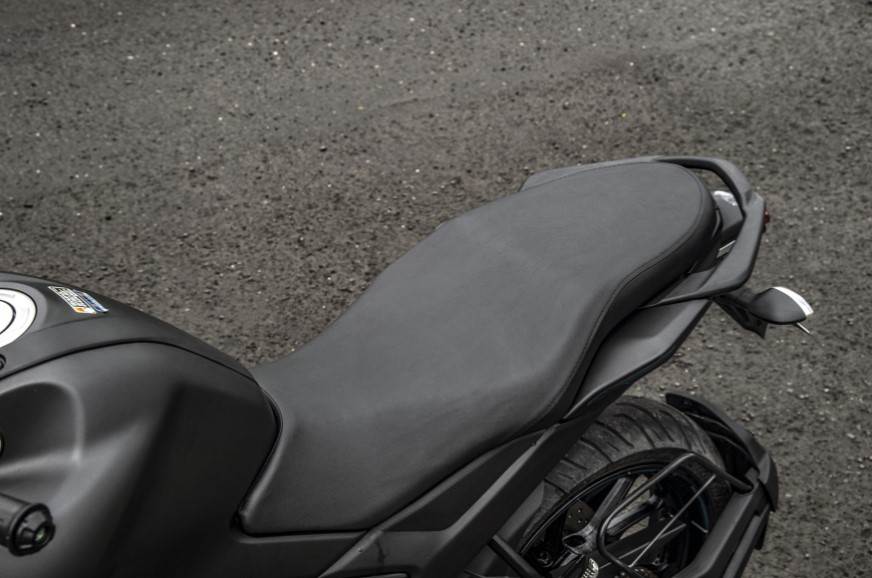 The FZ's large seat will be appreciated by pillions too.
The strong bond I had with the FZ-S made it the first bike I wanted to sample, and after having a good look at it, it's safe to say that Yamaha knows what it's after. People loved the muscular styling of the original model, and this one makes the original look scrawny in comparison. However, the wide fuel tank and shrouds that extend towards the motor make the bike look bulky and nearly disproportionate because it sits on hardware belonging to a 149cc bike. While it may look like it has been skipping leg day at the gym, the design is not all that bad – it flows well and continues to have the mean-looking front-end. Since this is the FZ-S and not the standard FZ, it features a belly pan and chrome trim around the faux air-intakes; the latter is a fussy detail that it could have done without.
When it comes to design, it's a lot simpler on the Gixxer. The flat LED headlight stands out and is acceptably powerful too, unlike the FZ's unit. The tank, meanwhile, looks largely unchanged but the new shrouds do freshen things up. The rear end is shared with the SF, and it has a much sportier sharp rake to it and a simple, albeit elegant V-shaped LED tail-light. Overall, it is the cleaner-looking bike and has the sportier stance. Moreover, the Suzuki's fit-finish and material quality is noticeably better, too. As for their instrument clusters, both bikes have fully digital units to display basic information. The FZ-S also misses out on a gear-position indicator.
The Suzuki's display is larger, and clearer to read.
The Yamaha's slightly raised handlebar, low seat height and mid-set foot pegs put you in a friendly upright riding position, which is really easy to get used to. The Gixxer's position also remains largely unchanged, and remains sportier as compared to the FZ-S. When you sit, you're slightly more leaned forward because the handlebar is a bit lower, so the seat's a tad higher, in comparison.
Negative LCD display on the Yamaha looks a little more contemporary.
Companies put a lot of thought into setting up the riding positions of a motorcycle, and they are a clear indication of a motorcycle's intent. For 2019, the FZ also gets a wider and more comfortable single-seat, whereas Suzuki has now gone the compact split-seat way. The Yamaha's seat is definitely roomier and far more comfortable, for both rider and pillion.
Comfort cravings
Almost all potential buyers will intend on using these bikes every day. They will be used to get to college or the office on weekdays and corn on the cob from a nearby hill station on the weekends. A lot is expected of these simple machines, and an amalgamation of a comfortable and sporty ride is right up there on the list.
To achieve this, both run a telescopic fork and a monoshock for suspension, with single downtube diamond frames. They also run 17-inch wheels with identical MRF 100/80-17 tyres at the front and 140/60-R17 tyres at the rear. As a result, both have a really similar ride. Most potholes and bumps are handled without you feeling the brunt of it; however, they both lack the softness you'd find on all-out commuters, or the plushness you'd experience on more expensive motorcycles. If we were to pick one of the two based solely on ride quality, it would be the Yamaha, as it feels slightly more comfortable. The more relaxed riding position and seat could contribute here.
You do feel a bit more of the road on the Gixxer, which is not such a bad thing, especially if you are looking for a slightly more communicative and sportier experience. In the corners, the Suzuki is happier to change direction, thanks to a quicker and more responsive turn-in. Interestingly, it is also the Gixxer that feels lighter on its feet, despite weighing 140kg – 3kg heavier than the FZ. The MRFs on both leave nothing to complain about, but if you value a sporty connection from your motorcycles, the Gixxer is a clear step ahead.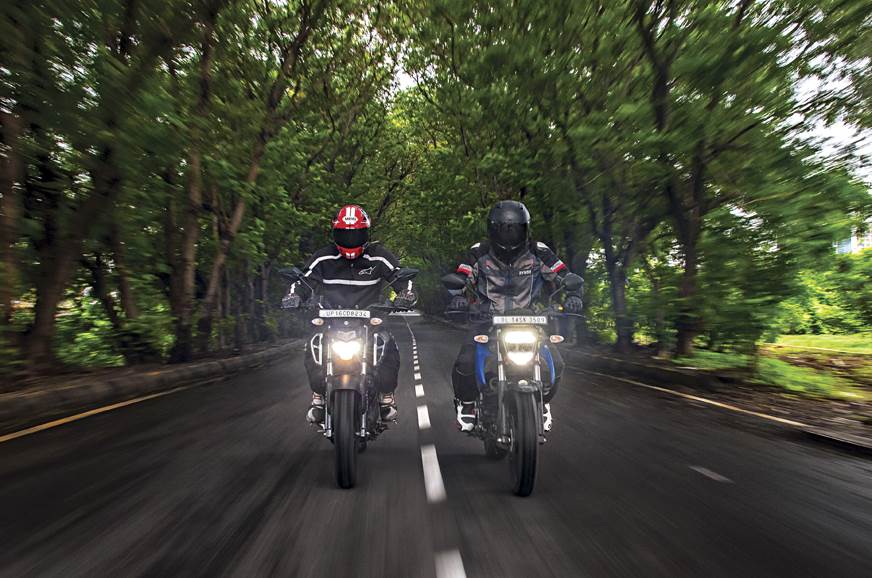 Two important aspects left to address are how the bikes go and how they come to a stop. Let's begin with the latter – safety first, you see! For starters, single-channel ABS is standard on both, as are rear discs in all variants. The previous-gen models of both had outdated rear drum-brake variants, which we are happy the companies have done away with. The disc brakes on the two are of a similar size at both ends and the calipers on both are manufactured by ByBre. However, the calibration on the FZ is much more effective and confidence inspiring. It has the stronger bite and the greater modulation. In our tests, the Yamaha came to a standstill from 60kph in 16.71m while the Suzuki took a slightly longer 16.89m.
A need for speed
The outcome is quite different when it comes to 'going' though, where the Gixxer trounces the FZ-S in every way. Before we dive into that, let me break the bad news that both new iterations are slower than the originals.
Yamaha chose to reduce the power on the FZ with the version 2 model in the quest for more efficiency – and that state of tune continues here. So why has the Gixxer's power dropped? Well, that's a slightly different story. Suzuki says that this is a result of changes made in preparation of the upcoming BS6 emission norms. In their current forms, the FZ produces 13.2hp and 12.8Nm of torque, while the Gixxer makes a healthier 14.1hp and 14Nm of torque. While a difference of 0.9hp and 1.2Nm of torque doesn't seem like much, here's how it reflects in terms of performance numbers.
Specifications
Suzuki Gixxer
Yamaha FZ-S
Engine
155cc, single-cylinder, air-cooled
149cc, single-cylinder, air-cooled
Power
14.1hp at 8000rpm
13.2hp at 8000rpm
Torque
14Nm at 6000rpm
12.8Nm at 6000rpm
Gearbox
5-speed
5-speed
Wheelbase
1335mm
1330mm
Ground clearance
160mm
165mm
Kerb weight
140kg
137kg
Seat height
795mm
790mm
Fuel tank
12 litres
12.8 litres
Front suspension
Telescopic fork
Telescopic fork
Rear suspension
Monoshock
Monoshock
Front brake
Disc
Disc
Rear brake
Disc
Disc
Tyre size (f/r)
100/80 17 / 140/60 R17
100/80 17 / 140/60 R17
The Suzuki Gixxer does 0-60kph in 5.47sec, while the Yamaha FZ-S does it in 5.63sec. While 100kph comes up in 19.11sec on the FZ-S, it only takes the Gixxer 17.45sec. However, the older-generation Gixxer managed that in a much quicker 15.54sec. Still, not only is the Suzuki quicker, but it's also slightly more refined and happier at higher revs. The vibrations on the FZ-S are a lot more apparent beyond 6,000rpm. Below that, though, it feels equally smooth.
Performance
Suzuki Gixxer
Yamaha FZ-S
20-50kph in 2nd
3.78s
3.59s
30-70 in 3rd
6.82s
7.43s
50-80 in 4th
7.43s
8.21s
0-60kph
5.47s
5.63s
0-100kph
17.45s
19.11s
60-0kph (distance)
16.89m
16.71m
So there you have it: the new-generation models of both motorcycles now have clear distinctions between sport and comfort, making your decision to buy either easier than it has ever been. To sum up, the FZ now leans even more towards comfort while the Gixxer has taken on an even sportier role than before, albeit at the cost of some performance. The FZ packs sharper brakes, but the Gixxer, on the other hand, offers a better headlamp and superior build quality. The feature lists on both are almost the same; and so are the prices, separating the two bikes by only Rs 2,000.
So it all boils down to what you want from your sporty commuter. For me, even though it hurts to say this, I would definitely pick the Suzuki Gixxer over my old flame this time around.
Price
Suzuki Gixxer
Yamaha FZ-S
Price (ex-showroom, Delhi)
Rs 1.00 lakh
Rs 98,180
Special mention: TVS Apache RTR 160 4V
With 16.5hp (16.8hp on the fuel-injected model) and 14.8Nm of torque, it goes without saying that the TVS Apache RTR 160 4V is the performance king in the 160cc segment. It's capable of doing 0-60kph in 4.7sec and 0-100kph in just 14sec. The RTR 160 is also enthusiastic in the corners, and not lacking in any way, despite having a narrower 130 section tyre at the rear. Moreover, it comes with segment-first features like a 4-valve cylinder head and instrumentation that displays a host of information, including a lap timer — and it does it all at just about the same price!
Suzuki Gixxer SF 150 image gallery
9696 Views|3 years ago
Suzuki Gixxer SF photo gallery
52459 Views|7 years ago
2019 Suzuki Gixxer vs Yamaha FZ-S v3.0 comparison video
9917 Views|3 years ago
2019 Suzuki Gixxer buyer's guide video
9379 Views|3 years ago
2019 Suzuki Gixxer SF 250, 150 first look video
10132 Views|3 years ago