Rally-spec TVS Ntorq SXR ride experience
It's hard to imagine calling a scooter that, but the TVS Ntorq SXR proves us wrong. We put it through the grind.
Published On Oct 13, 2018 06:00:00 AM
48,942 Views
Follow us on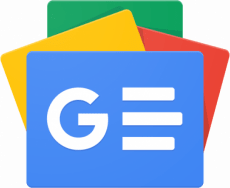 The convenience, utility and sheer effortlessness of riding a scooter has ensured it's never going to be obsolete or irrelevant. A scooter simply gets things done with no fuss or drama. It also eliminates the need to walk anywhere, which is invaluable to someone cocooned in a sedentary lifestyle, such as myself. There is a small bunch of people, however, who think it's a very good idea to go rallying on scooters, and the TVS Racing team is one of them. If that airborne scooter you see here is anything to go by, it sure is a good idea, eh?
Kicking up slush was never as easy, thanks to the Ntorq SXR's inherently dynamic genes.
I'll hold nothing against you if you thought this scooter was a TVS Ntorq 125 which blew up its pocket money at the sticker shop, but that's far from the truth. This scooter is called the Ntorq SXR and, for starters, it's not even a 125. No, it's not on sale either, but this is TVS Racing's entry into the INRC circuit in the scooter category (up to 210cc). There's the small matter of it having won in its debut rally outing in Nashik earlier this year and a third-place finish at the Sportscraft Monsoon Scooter Rally, a typically unforgiving event, is no small feat either. I spent the first half of the day witnessing Syed Asif Ali, TVS' off-road ace, raiding the treacherous slushy trail on the SXR and it's his very own machine I'm supposed to sneak a ride on later in the day. Asif, an incredibly polite and genial chap, isn't visibly impressed with the thought given that this is his steed for the rest of the season.
TVS has re-bored the Ntorq's motor to suit the classification's 210cc ceiling, but it won't (and isn't bound to) divulge too many details. All I'm thrown at is a '20hp' figure, which is enough to make my jaw drop, putting my few surviving teeth on public display. Asif isn't visibly impressed with this either.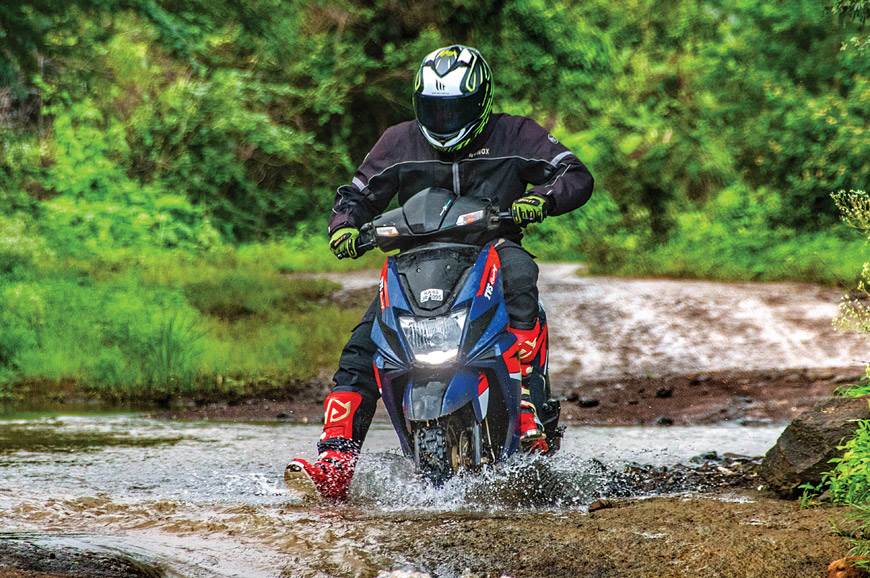 Water crossings are always tricky, but the SXR wades through with poise.
Having partly recovered from the shock, I circle the SXR pensively, trying to absorb the details and looking for any obvious giveaways. The 12-inch pressed-steel wheels, replacing the smart, blacked-out alloys on the production scooter for the benefit of impact absorption, are easy to spot and so are the knobby Pirelli Scorpion MX tyres. All of the Ntorq's bodywork has been retained, although it sits distinctly higher for reasons of ground clearance, with the front fender raised to good effect as well. The suspension appears stock, if taller, although the internals of the telescopic fork have been upgraded to a seriously high spec, considering the abuse it's destined for. The exhaust end-can, meanwhile, looks like it was made using tinfoil and in exactly three minutes, but having seen Asif go about his job earlier, I knew it made a rather thrilling racket. Everything else looked bone-stock, if a bit chipped and battered for obvious reasons.
That's how TVS Racing's Asif Ali tackles water crossings – makes me look stationary!
After an attempt to give it a wipe-down (pointless, given the weather) for photography's sake, I was signalled to take over. Unlike the challenges you would usually associate with simply getting on (or into) a racing machine, the Ntorq SXR posed none in terms of hopping on-board. It even featured a key, just like on a standard scooter, and save for the higher saddle height, everything seemed normal. Until the moment I thumbed the starter, that is. The Ntorq SXR makes a loud and racy soundtrack, and it sure doesn't sound like something you'd want to go buy groceries on. With my fingers crossed (not literally), I hoped that all this noise was the by-product of some serious grunt and, rather mindlessly, squeezed open the throttle twist grip. TVS has endowed the SXR with a quick-throttle, something I learned about approximately five seconds too late. I've never seen a scooter dart off the line like such a madman!
Exhaust end-can looks homemade, but sounds thrilling!
To be honest, there's nothing you have to do to keep the Ntorq SXR going and, the basics aside, you don't need much of a learning curve either. It's fast, alright, but there's no new skill you need to acquire or contribute. Rather than intimidating the rider, the Ntorq SXR enables you to do normal scooter things, with the bonus of being able to do it faster and in a more entertaining manner. If you have some experience of riding off-road, you apply pretty much the same principles to riding the SXR – flared elbows, appropriate leg out, and shifting fore and aft in the seat. The sole drawback, if a rather evident one, is the lack of a fuel tank to grip and knee one's weight into, but the expert league of scooter rally riders substitute the tank with the seat. I didn't bother, largely because the SXR is hardly disobedient or much of a taskmaster.
Quick-throttle really does live up to its name.
It's shockingly confident, in fact. Over a temptingly long straight, I wring the throttle open and the SXR commits to a heady velocity a bit too quickly. A series of disconcerting bumps line the straight, camouflaged by the slushiness of it all. It's too late to take corrective measures now, so I instinctively pull back on the handlebar and stretch all the way to the pillion seat. That's all it took, and I've got no broken bones to show for it.
The first corner I encounter demands a tight, uphill, right-angled trajectory and while I ride through it gingerly at first attempt (unimpressed Asif is keeping a close watch with his sinewy forearms crossed), I do the next few runs for the camera much, much faster and it's impossible to accept how compliant the Ntorq SXR is. It's almost as if someone draped a scooter's bodywork over a small dirt bike!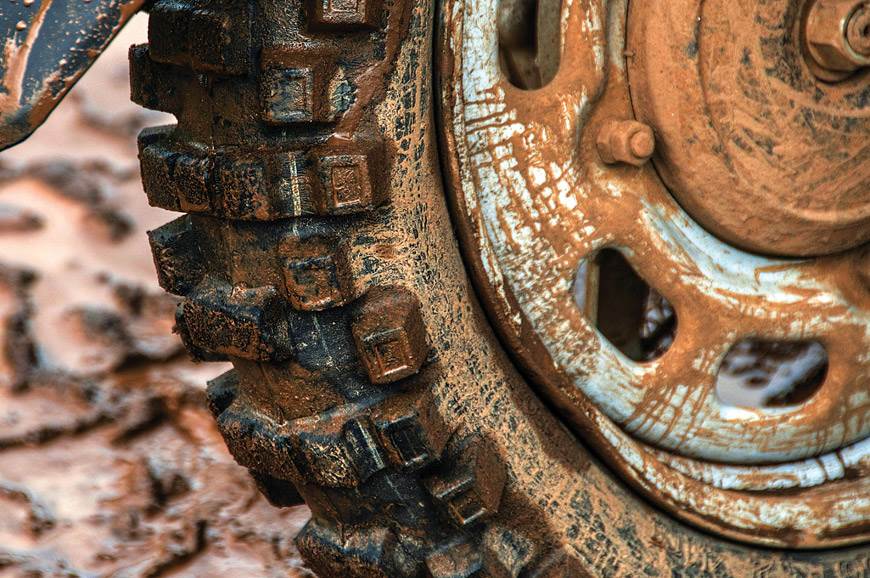 Knobby Pirellis a must-have off-road.
What certainly helps are the Ntorq's inherently good genes – even the production scooter does a commendable job of tackling the rough stuff – but with its raised stance and purposeful rubber, it's a real mud plugger, as good as any motorcycle of a similar displacement category can be. In fact, given
how uncomplicated operating any scooter is it's more encouraging a machine to explore the thrills of off-roading on. On a motorcycle, you have a lot more bodywork to potentially get trapped under and spectacularly shatter your bones.
And then there is its fondness for getting airborne. I must confess to having chased similar adventures on scooters before, but none of them have absorbed hard landings and overall abuse the way the SXR does. I will go on to say that TVS should ideally replace the production model's suspension with the SXR's – our terrible roads certainly make a case for it. It goes without saying, however, that more than a handful of you will prefer the lovably throaty standard exhaust over the SXR's cop-magnet unit.
Increased ground clearance helps immensely.
It's nearly dark by the time the TVS chaps have wrestled the SXR from under me, but I genuinely don't want to let go. I'm not sure whether I like it more for being so capable, or for the simple idea that something as straightforward as an automatic scooter can be turned into such a thrilling machine. What's next? A library chair built for space travel? Either way, I'm hugely impressed with what TVS has achieved with the Ntorq SXR. Here's a scooter that's in its maiden rally season, and considering TVS has been racing for 35 years, you can only guess what it's going to evolve into over the years. Hey, Asif, is it alright if I come back for a second helping?
Also see:
Copyright (c) Autocar India. All rights reserved.